Before we know it, we'll be packing school lunches — that is, if you aren't doing it already. I'll admit that sandwiches are my go-to because they're so easy, but my kids don't like eating the same thing everyday anymore than I do. So this year, I'm planning ahead by researching some great non-sandwich school lunch ideas.
Of course, using our dinner leftovers for lunch is always an easy way around sandwiches, but if you need even more inspiration, try one of these creative ideas. Your kids will thank you.
Top: Cheese Plate School Lunch | Eazy Peazy Mealz
Related: The essential school lunch shopping list: Everything you need to make packing lunch easy
Rachael at Eazy Peazy Mealz has 16 fantastic lunch box ideas to help get you out of the sandwich/chips/drink school lunch rut. I especially love her simple, why-didn't-I-think-of-it Fruit Salad with Yogurt idea (above) and Cheese Plate School Lunch (top). Hop on over to see all of her lunch ideas and tips on where to find great school lunch packing supplies too.
Tortilla wraps make a fun variation on sandwiches, and this post with 5 kid-friendly wrap recipes at Kids Eat by Shanai has lots of great ideas that the kids will surely find yummy. Plus, they just look really fun when you open up that bento, and we know how much presentation counts!
DIY Ham Lunchables | What Lisa Cooks
My kids always beg for Lunchables, but let's be honest, they're not the healthiest lunch around. We found 5 DIY Lunchables that give the kids what they're looking for, with a little of what I'm looking for too — easy and healthy!
Related: 5 things that happened when I made my kids pack their own school lunches.
These Lunch Box Pizzas at Self-Proclaimed Foodie require a little planning ahead, but what a fun, unexpected lunch for the kids! Make these the night before and let the kids heat them up at school. Or eat them cold, since cold pizza is a favorite anyway.
My kids flipped when we had an Apple and Pear Nachos bar for dinner one night using this idea we found at Oh Joy! I'm sure they'd love it for lunch, too, with toppings packed separately for a DIY meal once they get to the lunch table.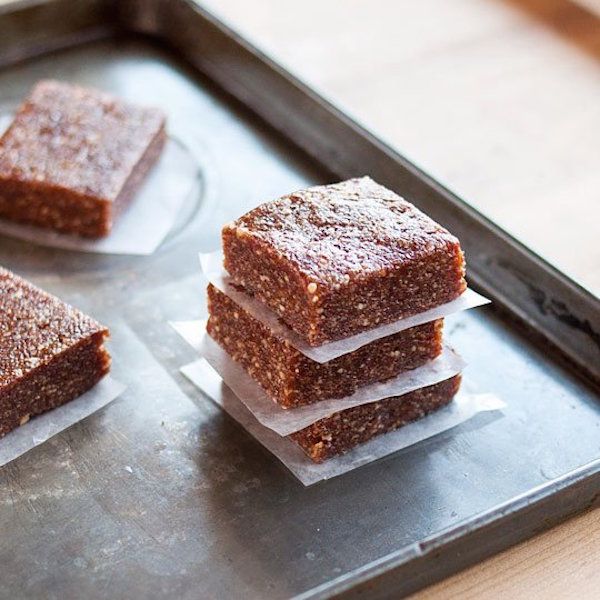 I always keep energy bars on hand because they're a great addition to any lunchbox, not to mention a great breakfast when we're running late. I love this recipe for 3-Ingredient Energy Bars that we found at The Kitchn, because they're so easy. And since I go through a batch in about two days, this is perfect with nothing more than a cheese stick, some pita chips, and sliced veggies on the side.
Related: Make-ahead school lunch recipes you can store in the freezer for easier mornings.
Ditch the boring tuna salad sandwich and go with these Chipotle Tuna-Stuffed Avocados that we found at Wicked Spatula instead. If the kids don't like avocados, pack the tuna salad in a container with some crackers and celery sticks on the side. If they do like avocados, wrap them separately by pressing plastic wrap over the surface to make an airtight seal and keep them from browning. Then, the kids can scoop the tuna in when the get to school.
If your kid loves sandwiches but you want a fun twist — or they claim to hate sandwiches, but you're skeptical — go with these Sandwiches-on-a-Stick at Two Peas and their Pod for a change of pace. Because lunch on a stick is always better than lunch not-on-a-stick, even if it's all the same going down.