I can't believe that we're already thinking back-to-school, and that in some parts of the country kids are already in their classrooms. Whoa! Those early morning wake-ups are going to be brutal, and my kids are going to need all the energy that they can get to make it through the school day. So to avoid that late afternoon slag and the crabby after-school grumps, I've been searching for high protein school lunch ideas.
From sweet to savory, mains to snacks, I've found some lunch box ideas that will pack in the protein and, more importantly, make the kids happy.
Top: Simple lunchbox idea at Easy Lunchboxes | Chicken Taco Salad Jars at The Seasoned Mom
Related: The essential lunch box pantry list.
To start, keep it really easy with yogurt, meat, and cheese like this smart lunchbox idea at Easy Lunchboxes. If you like the simplicity of this, be sure to click through and check out the other simple, but tasty lunch box ideas. No PhD in Bento boxing required.
No-Bake Energy Bites | Gimme Some Oven
My family loves these No-Bake Energy Bites that we found at Gimme Some Oven, which is why we're sharing them here again. They basically taste like chocolate chip oatmeal cookies, but are packed with energy-boosting protein. My tip: Keep them in the freezer. They'll keep longer and are delicious frozen!
Whenever you eat Mexican for dinner, use up those leftovers in these Chicken Taco Salad Jars at The Seasoned Mom. Not every kid is going to love the idea of salad for lunch, but the beauty of this is that you can pick and choose what to include. Or skip the lettuce: The chicken and black beans are the protein-packed stars here. And go ahead and call them burrito jars if that makes the kids feel better.
Related: 6 kid-friendly non-meat sources of protein.
These Hardboiled Egg and Avocado Bowls at Eating Bird Food look so delicious and good-for-you that I can't wait to try the simple recipe. I'd boil the eggs and chop the peppers the night before, then toss that avocado in lime juice at the last minute to keep it from browning before lunch starts. If that doesn't help enough, you can always pack the avocado separately: Our editor, Stacie, cuts it in half, removes the pit, and presses plastic wrap right up against the flesh to keep air out and brown away. Her kids scoop the avocado right from the shell.
Tuna salad is a lunchbox staple, but we want to make it a little more interesting with this recipe for Chipotle Tuna Stuffed Avocados at Wicked Spatula. Of course, if you don't think your kids will eat the avocado, send it with crackers instead—tuna is the part that matters for protein. If they will eat the avocado, pack it separately using Stacie's tip above.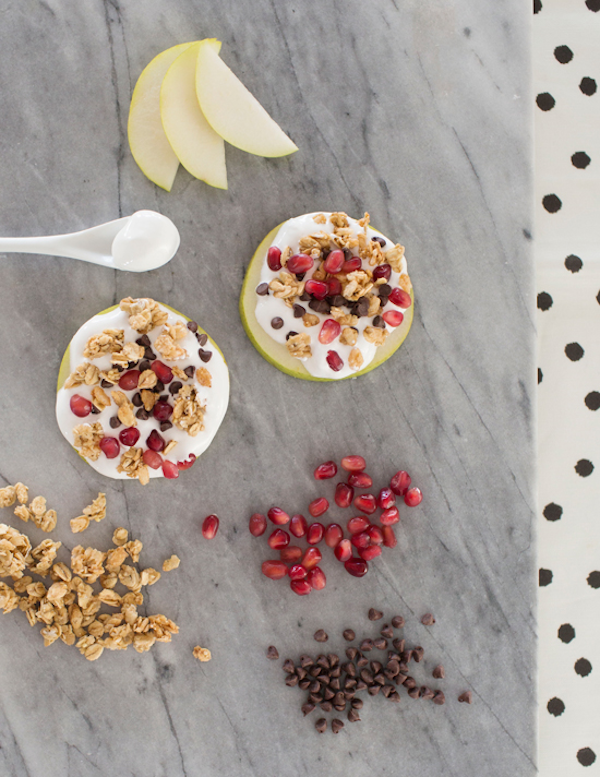 Apple Nachos | Oh Joy
Our kids love to make the Apple Nachos we found at Oh Joy. Loading up the sliced fruit with nut or seed butter, granola, and coconut adds the extra protein we're looking for. But for lunch, I suggest turning these into apple sandwiches by adding an extra slice on top to keep everything together. Then pop the whole thing in a plastic bag, just to make sure these don't make a huge mess.
Kick up your edamame game with this Mexican-inspired recipe for Spiced Edamame at Dizzy, Busy, and Hungry. We'd pack this up with some lunch meat and cheese for a healthy, energy-packed lunch that their teachers will appreciate. And if your kids don't like spice, you can use the recipe, but swap in your kids' favorite seasonings.
Related: High protein roasted chickpea snack recipes.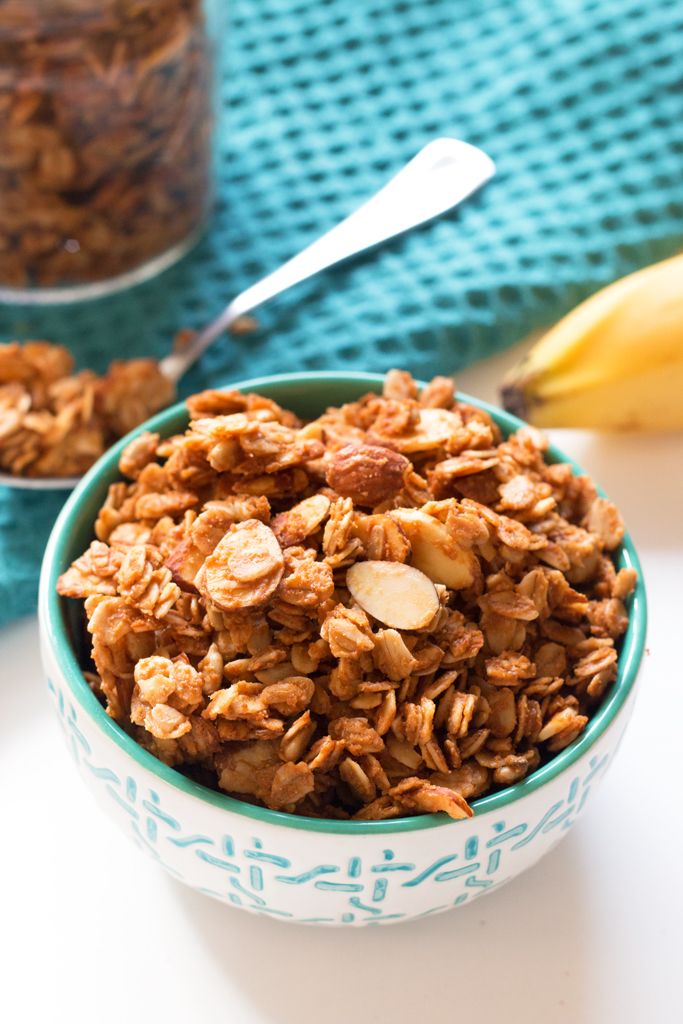 Peanut Butter Granola | Grain Changer
This Peanut Butter Granola that we found at Grain Changer tastes like dessert, but it's got plenty of protein to get your kids through the afternoon without fading. Pack it with hard boiled eggs or Greek-style yogurt to make it a protein-packed breakfast-for-lunch meal.
We love the idea of turning your protein shake into pudding with this high protein, high fiber Chocolate Pudding recipe at Ancestral Nutrition that makes a great lunch box snack. Plus, our kids will think that we've sent them to school with dessert, so it's a win all the way around.
Can you believe this "dessert" Cookie Dough Yogurt recipe at Dashing Dish has a whopping 26g of protein and only 8g of sugar? This makes a seriously great lunch box snack. In fact, I might go ahead and make a week's worth. . . then wait and see how long it really lasts. Yum.