It's happened. Finally. I grew tomatoes, and they are perfect. My family and I are eating them up, but I also want to save some so that I can relish summer's goodness long into winter. If you've ever wondered about how to preserve tomatoes, I'm here to assure you that it doesn't have to be hard. So set aside some of this year's haul, whether from your garden or local farmer's market, because we've got 6 easy ways for you to save your sweet tomatoes to last until next summer. That is, if you can keep your hands off of your stockpile.
Before we get into it, I want to be clear: Though simple, most of these recipes take time, but not a lot of hands-on time. It's just some waiting while your tomatoes stew or slow bake and you can attend to other things while they're cooking. Look at it as an investment, like money in the bank. Come a gray November day you'll be able to taste real summer flavors and feel like the sun is shining down on you.
Related: How to make corn stock, plus delicious ways to use it.
Freeze them!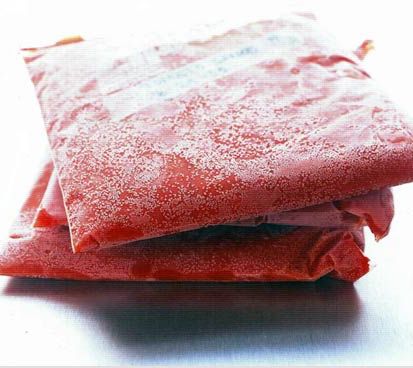 Freeze whole tomatoes:
The easiest way to save summer tomatoes is to freeze them, which is usually done by blanching whole tomatoes (i.e., dunking them in boiling water for a minute, then into an ice bath), removing their stems, skins and cores, and placing them in freezer-safe bags. It's quite a process, which is why I'm thrilled to have found this easy freezer method for preserving tomatoes by chef David Tanis that does not require blanching. Genius.
Freeze tomato sauce:
Still, I prefer to make a tomato sauce and freeze it. Leite's Culinaria has an incredibly easy freezer tomato sauce recipe (above) that takes only minutes of hands-on time and is delicious.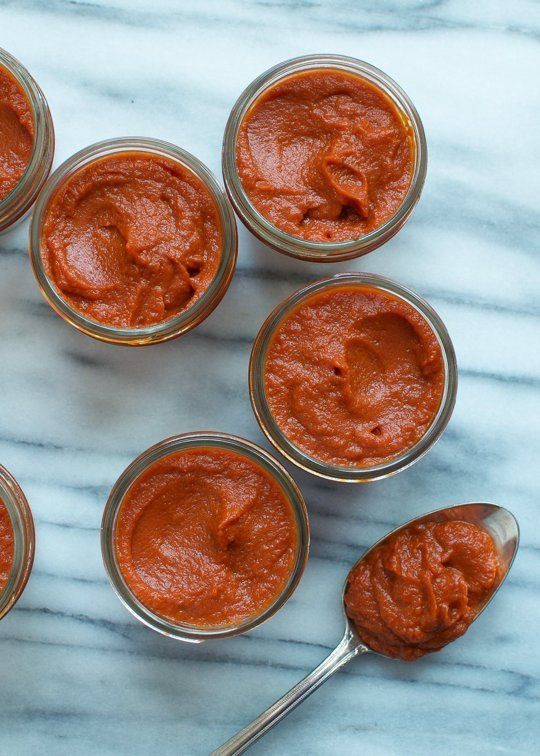 Freeze tomato paste:
Another easy way to preserve tomatoes is to make and freeze a tomato paste. While time consuming, homemade tomato paste is worth the effort because it's so decadent. It's much richer than the store-bought version and just a spoonful of the thick, hearty tomato concentrate can deepen the flavors of stews and sauces. Marisa McClellan of Food in Jars gives a step-by-step tomato paste tutorial at The Kitchn.
Related: How to make perfect pesto, and 4 mouthwatering recipes to use it all up.
Dry them!
Oven-dried tomatoes:
How do you feel about sun-dried tomatoes? They were a bit overused for a while, carelessly added to many dishes in restaurants. However, chef and cookbook author Yotam Ottolenghi has opened my eyes to their beauty and I'm back with them. There is one recipe of his in particular, Stuffed Portobellos with Taleggio, that I can't get enough of.
If you want to take a stab at drying your own tomatoes, Big Girls Small Kitchen shows you how to make sun-dried tomatoes without the sun (above). I guess they should really be called oven-dried tomatoes. Nevertheless, they're slow dried and chock full of flavor. Again, while they're quite time consuming—it takes over 5 hours to dry them—this recipe take barely any effort. It's just time in the oven. Once they are done, they'll last in an airtight container in the refrigerator for a couple of weeks.
Turn them into jam!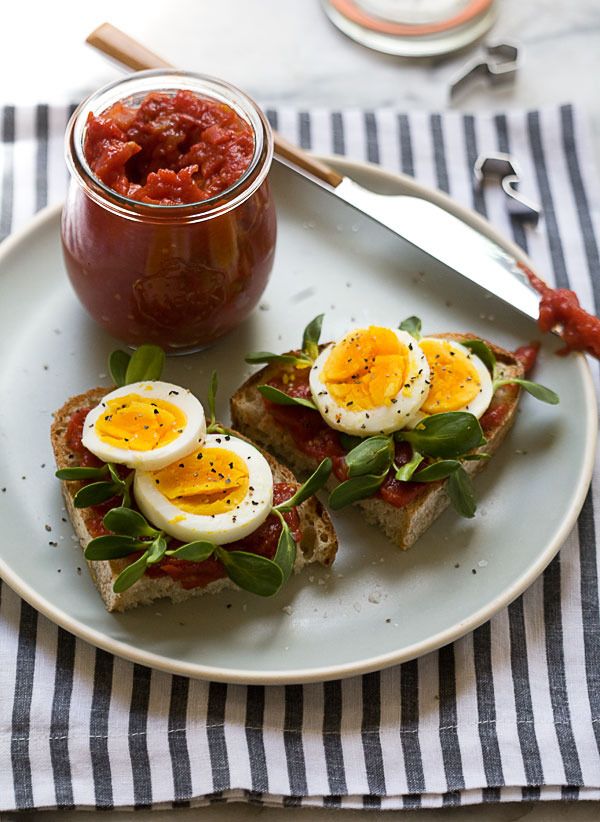 Another tomato-preserving option: jam. I made tomato jam for the first time a few years ago and was taken with the sweet, sticky spread. I especially like it on a baguette with a smear of fresh ricotta, but almost any cheese will do, from soft, runny brie to a crumbly, sharp cheddar. This Heirloom Tomato Jam at A Cozy Kitchen is a super-simple recipe that will last for 2 weeks in the refrigerator without canning.
Use it in place of mayo on a BLT, or try it as a ketchup substitute on an egg sandwich. Or forget ketchup: Make the easiest fancy sandwich ever and smear it on crusty bread and top with slices of hard boiled eggs and greens.
Related: How to cook pasta perfectly, even ahead of time.
Can them!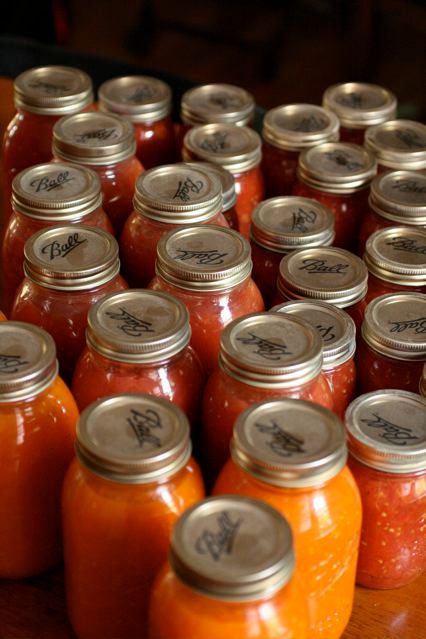 I don't want to scare you, but I can't sign off without talking about canning. It's the most traditional way to preserve tomatoes and is really, truly not that hard. But I admit that it takes time. And you have to learn the process. Once you do, though, it's very straight forward. And, speaking of straight forward, you'll never get directions on how to can tomatoes easier than these at STL Cooks. And quick tip: To sterilize jars, just run them through a cycle in the dishwasher without soap. That'll do the trick.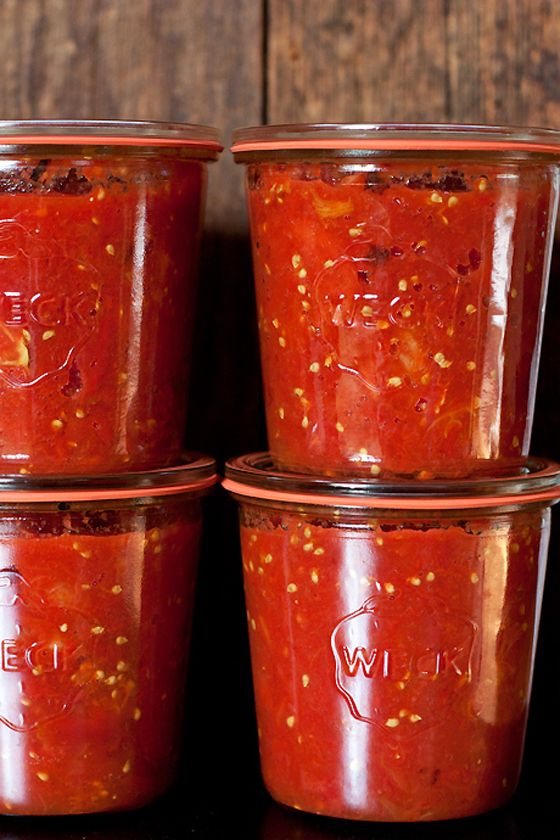 If you're willing to take on canning, consider trying my favorite: fire-roasted tomatoes. They are so delicious and make most any dish that calls for diced tomatoes even  better. Find out how to make and preserve fire-roasted tomatoes at Local Kitchen.
One last note on canning: If you don't feel like taking the time to can a big haul of crushed or fire roasted tomatoes, consider small batch canning your tomato sauce, paste, or jam. Canning in small batches is very manageable and, actually, a quick and handy way of preserving anything from a pot of marinara or plum barbecue sauce to apricot jam so that it keeps in your pantry for months. Here's a great guide on how small batch canning works by canning expert, Marisa McClellan, on The Kitchn.