I've always been a fan of yogurt, but became a super fan once I had kids. Not only is it delicious, healthy, and versatile, but most kids like it without fuss and it's good for them. (How often does that happen?) A well-known pediatrician once told me that yogurt is among the healthiest foods you can feed your family. The catch is, it has to be one that's not packed with sugar and other stuff you'd rather avoid.
That's why we're thrilled to welcome our sponsor Elli Quark, a new all-natural, German-style fresh cheese very similar to Greek yogurt, but without the sour tang that some kids don't like. Plus it has 15% more protein which is always a plus for snacking.
They describe it as naturally sweetened, without those added sugars you tend to see on ingredient labels like evaporated cane juice, honey, agave, or glucose syrup, and we really like that there are no artificial flavors or food dyes that so many kids are sensitive to, and absolutely no GMOs. It is honestly like nothing else out there right now.
I couldn't be more excited for this new addition to the yogurt aisle and, to celebrate, I've put together some excellent, healthy yogurt snack recipes that can also be easily made with Elli Quark for an even bigger protein punch with less sugar—that kids will love and you can feel good about.
— Don't miss a money-saving coupon from Elli Quark below —
Definitely check out Elli Quark next time you're in the yogurt aisle, even if you're just looking for a snack to eat out of the container. Think flavors like Sea Salt Caramel, Red Velvet, and Bananas Foster (oof). And yes, there's also plain Elli Quark to have on hand for plenty of uses from cooking to baking to…snacks! As you'll see here.
Frozen Yogurt Bark Recipe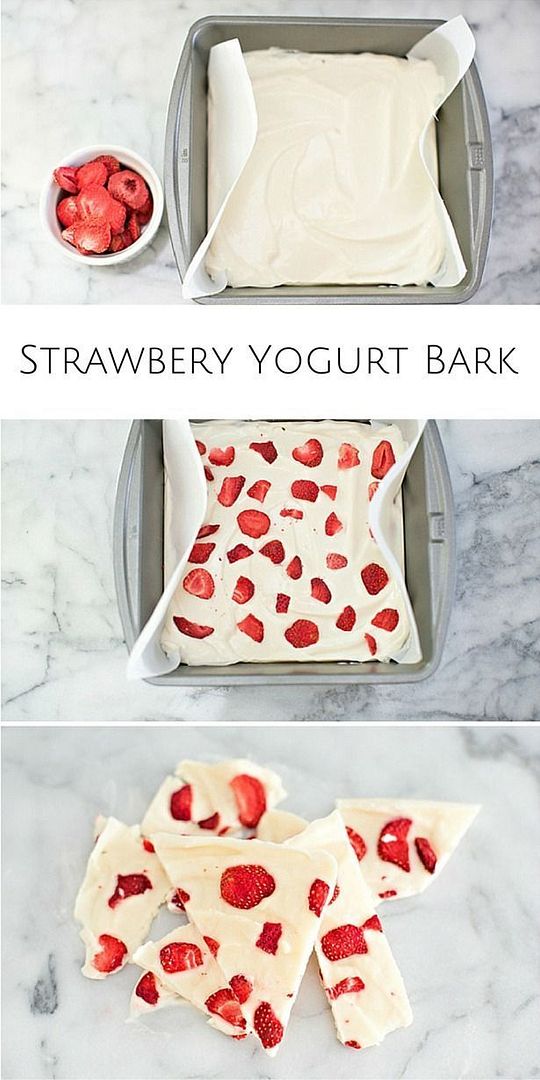 This Frozen Yogurt Bark recipe from Hello, Wonderful is such a creative way to serve yogurt. It's frozen, but you don't need a spoon to eat it. What kid isn't going to be into that? Agnes uses freeze-dried strawberries on top which is genius since, unlike dried fruit, when you freeze-dry it it's fairly low in sugar. She also uses Greek yogurt, but I think Vanilla Bean Elli Quark would be a perfect substitute. Or double up on berry flavor with their Strawberry quark for kids who will eat anything pink.
DIY Frozen Yogurt Squeezers Recipe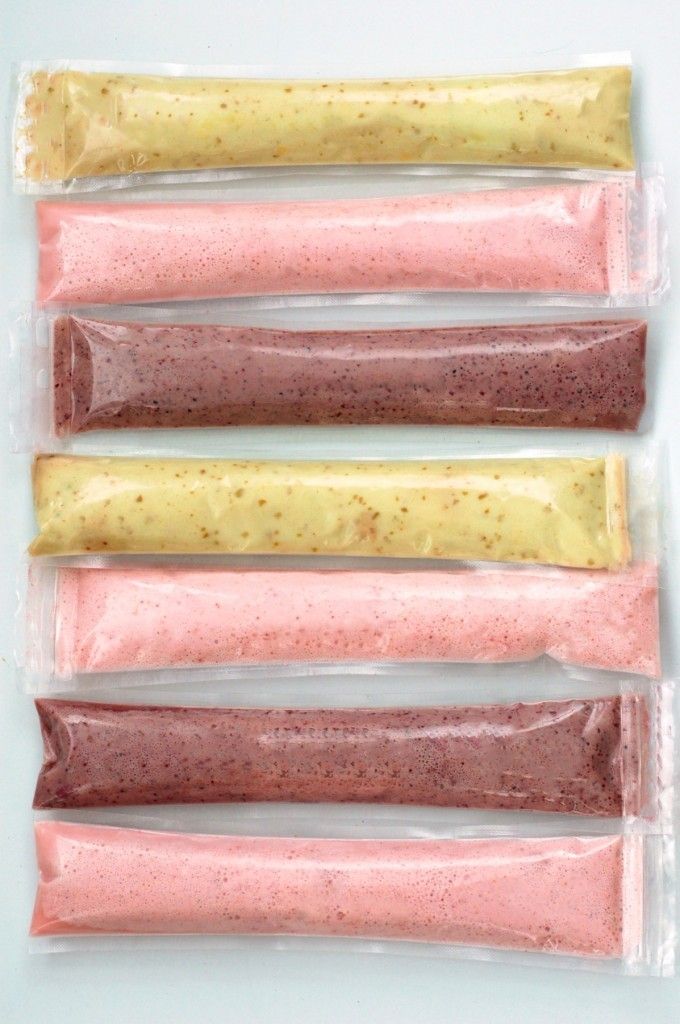 If your kid has developed a taste for those on-the-go yogurt squeeze tubes like Go-Gurt — or is always begging to try them—make your own healthy homemade version with this recipe for DIY yogurt squeezers  at Live Simply. The recipe calls for optional honey, but skip that if you're using a flavored Elli Quark. I'm thinking Sea Salt Caramel blended with fresh banana. Or, for an even easier recipe, flavors like Red Velvet and Bananas Foster can make delicious, healthy squeeze tubes all on their own.
Frozen Yogurt Covered Fruit Pops Recipe
When you start with fresh, whole fruit you've got a great base for a healthy yogurt snack recipe like these awesome Frozen Yogurt Covered Fruit Pops from In Sock Monkey Slippers. These are as fun to eat as they are to make, so pull the kids in the kitchen to help with this one. Meredith sweetens plain yogurt for her version, and you can do the same, or just skip the added sugar and use one of the fruity Elli Quark flavors. I'm thinking Peach quark to cover peaches for extra peachy goodness;  Blueberry quark over strawberries for a mixed berry treat; or Pineapple quark atop the kiwi for tropical vibes any time of year.
Parfait with Granola or Fresh Fruit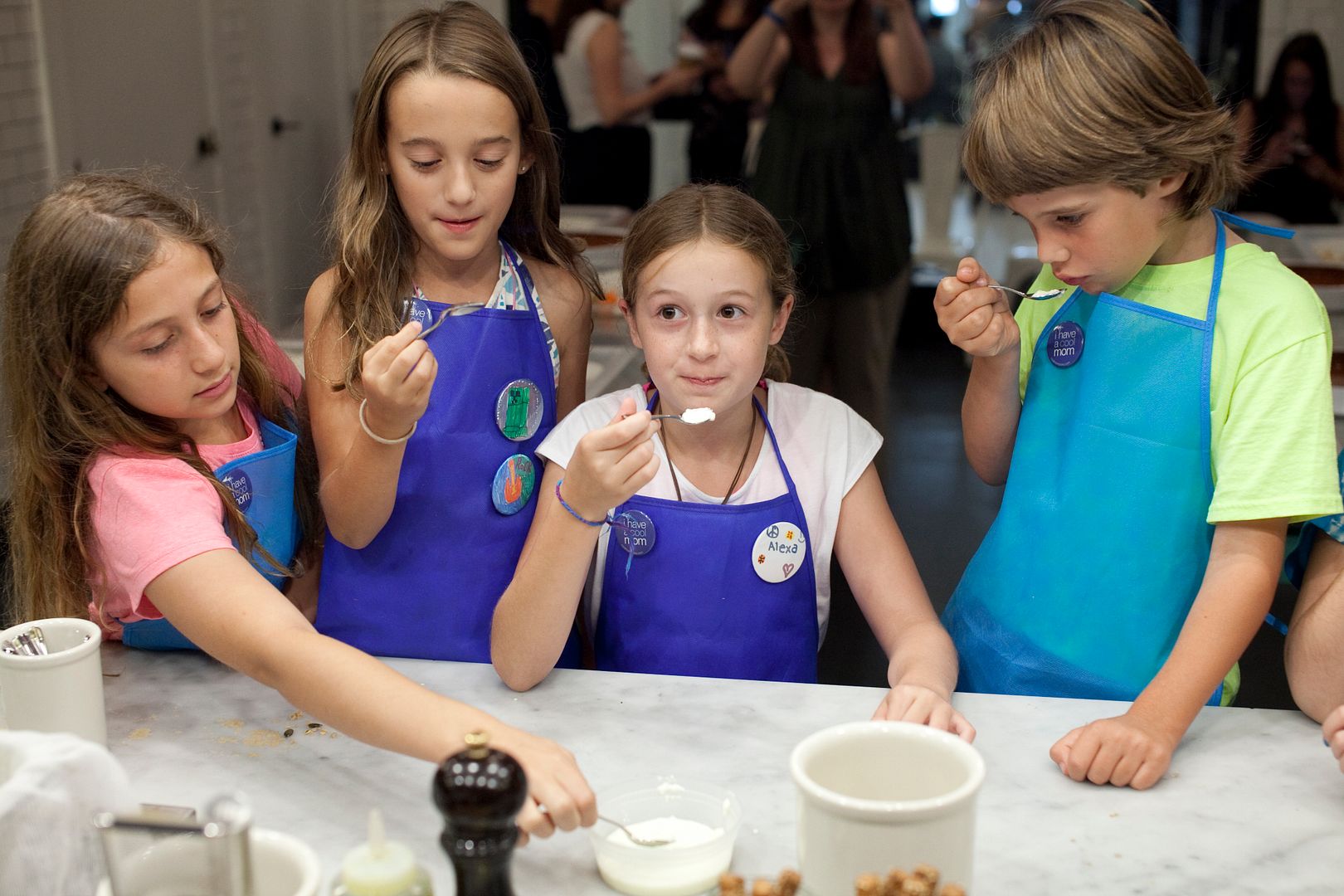 And, of course, there's always that easy standby: A homemade parfait made by layering yogurt or Elli Quark with fresh fruit and granola. We're fans of this homemade granola recipe from Haven's Kitchen NY that you can see our own kids making at a Cool Mom Picks event last year! The basic granola ingredients are pumpkin seeds, sunflower seeds, sesame seeds, coconut chips, and dried cherries, but you can add or leave out whatever ingredients you think will fly.
(You can even buy the granola right from Haven's Kitchen, though it is pretty fun to make.)
If you want to get even simpler, just add some freshly sliced berries or other fruit over any flavor of Elli Quark. You'll find that it's rich and creamy like Greek yogurt, but since it's technically a fresh cheese, it doesn't have the same sour bite that turns some kids off and goes beautifully with all kinds of toppings.
Meaning if you don't need to entice your family with novel presentation to get them to eat yogurt, just hand over a cup of this creamy, German-style quark and you may find a new go-to healthy snack.
Thanks to our sponsor Elli Quark for giving us a delicious, healthy way to snack with our kids. Visit the Elli Quark site to grab a money-saving coupon, and if you share Elli Quark with a friend, you can double your savings!
You can find it at Target, ShopRite, and other retailers nationwide. While you're at it, be sure to follow Elli Quark on Twitter, Instagram, and Facebook to get more savings, recipes, and news about this new product we're excited about.