Thanks to a long shelf life, I can honestly say there's always yogurt in my fridge, even when I'm just back from vacation. I use it all the time, especially for breakfast, snack time, lunch and dessert—and am always happy to taste test a new, healthy yogurt product. More than that, I'm happy to share my list of the best yogurts to buy so that you, too, can always have the most delicious and best-for-you yogurt on hand at all times.
Before we talk about my favorite yogurt brands, let's get something straight: Not all yogurt is created equally. Yogurt products are among the most successfully marketed foods in the supermarket, in large part because of yogurt's reputation for being healthy. But many flavored yogurts are packed with sugar and, worse, artificial flavors and colors.
Related: Love yogurt to go? Two perfectly portable, all-natural options we love.
To avoid icky stuff and make the most of yogurt's nutritional benefits, I usually stick to plain yogurt which typically contains half the calories of the same amount of fruit-added yogurt, almost twice the amount of proteins, fewer fillers, more calcium, and no added sugar. That said, brands are getting hip to the fact that we want tasty yogurt that's healthy, too, and there are more options that fit the bill than ever before.
Check labels for yourself paying particular attention to sugar, protein, and the ingredients (yogurt doesn't need much more than milk and cultures). In the meantime, these are my picks for the best yogurts you can buy that balance a lower sugar and higher protein content and, of course, great flavor.
Wallaby Organic low-fat Greek-style

Wallaby Organic makes Australian-inspired yogurt that's super smooth and creamy, due to the fact that it's heated very slowly in small batches. This process, common for making yogurt in Australia, also lends itself to a mild flavor that I especially love in their Greek-style yogurt, which has zero chalky taste or texture.
I love most of the Wallaby line, but their 5.3 ounce plain low-fat Greek-style has 17 grams of protein, more than their flavored Greek-style offerings, and just 4 grams of sugars. The flavored options have cane sugar added to the fruit, so the sugar content is notably higher, but at least it's just cane sugar. Plus, the coloring comes from natural fruit and vegetable juice. Overall, these are a great choice.
Fage 2% plain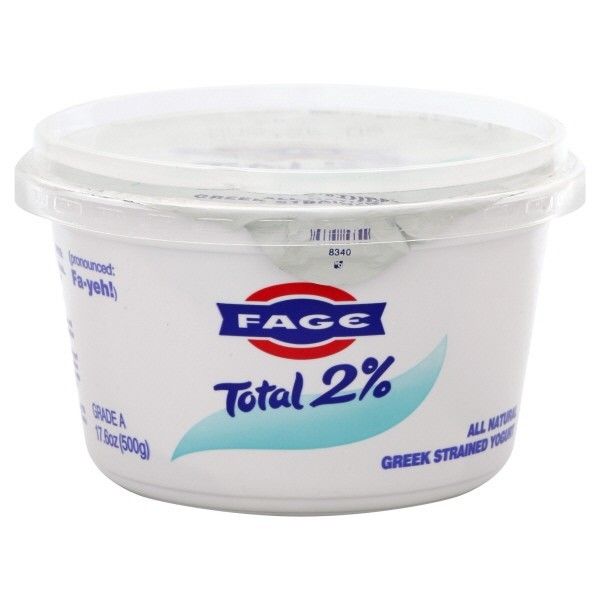 Fage is the OG of Greek yogurts and, honestly, it's still my favorite. I realize it may be a controversial choice here in the States, but it's among the most popular in Greece, so I've got that on my side. Plus, if you use yogurt beyond just eating it plain for breakfast, you can't beat Fage's super thick texture. It's perfect for making sauces like tzatziki, stirring into oatmeal, and using in baking. It also feels like you're eating full fat even though you're not.
A 7 ounce cup of plain Fage 2% has 20 grams of protein and only 8 grams of sugar. By contrast, the 2% split cups—the ones with the fruit on the side—only have 12 grams of protein and 16 grams of sugar. You can control the amount of fruit you add in, though it's hard not to add it all (and I'm not even a kid). Overall, even the fruity flavors are a good choice but, if you just add your own jam to the plain, you'll take in about the same amount of sugar and get way more protein.
Evolution Fresh non-fat yogurt with fruit on the bottom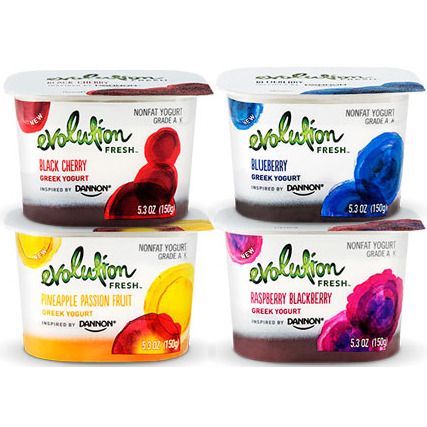 A new contender, Evoluton Fresh juice makers have partnered with Dannon to make Greek yogurts inspired by their fruit juice blends. And that's exactly the appeal here. The 4 tasty flavors—black cherry, blueberry, pineapple-passion fruit, and raspberry-blackberry—are all totally delicious. The fruit-on-the bottom is made with tapioca starch and pectin, so we're not talking 100% purity, but the flavor is spot on and not too sweet, perhaps because they use agave instead of cane sugar.
One 5.3 ounce cup of these yogurts contains 11-12 grams of protein, modest but standard for flavored Greek-style yogurt, and 15 grams of sugar which is on the lower side of the flavored yogurt spectrum. All-in-all, when you factor in the great taste, Evolution Fresh Greek-style yogurts are a good option for when you don't want just plain.
Related: The 4 best green juices for kids that will have them asking for more spinach, please.
Blue Hill savory yogurts

If you haven't seen Blue Hill Yogurts before, they might sound strange at first, but trust me that these savory yogurts are worth a shot. Made in 6 flavors—carrot, sweet potato, beet, butternut squash, tomato and parsnip—these completely natural yogurts are gorgeous, tasty, smooth, and creamy. They are pretty much everything a yogurt should be. I admit that they probably aren't eat-out-of-the-container yogurts for the kids, but they may be for you. And they are perfection for cooking. If you find some, pick up a container and check their site for how to use it. You will not be disappointed.
These yogurts are comparatively very low in sugar—think about 8 grams per 5.3 ounce cup—and like most other regular yogurts, also relatively low in protein. They contain lots of live cultures, one of the primary benefits of yogurt, and no fillers whatsoever. These are an absolutely wholesome choice that's also something different.
Smari Organic coconut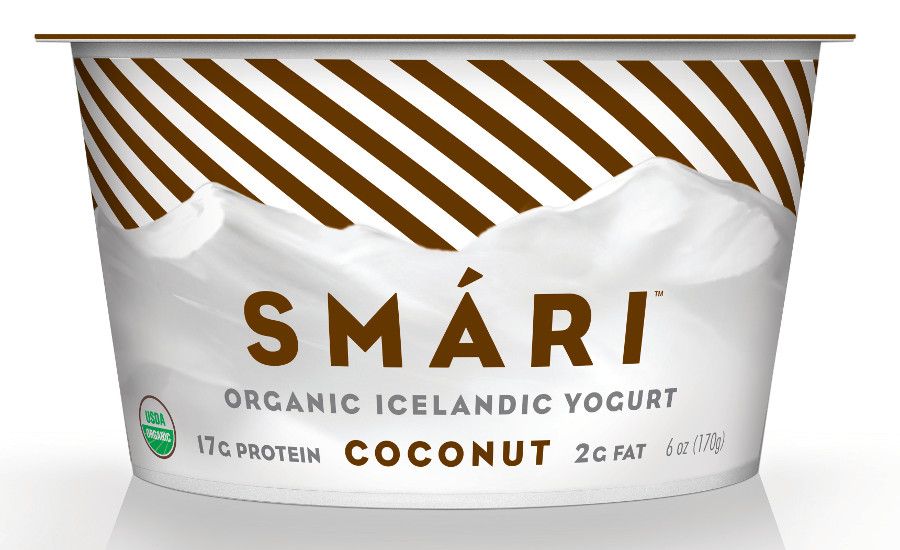 Smari Organic yogurt is popular among foodies, but I must admit that it's not really my thing. Though I appreciate that it's made from organic, grass-fed cow milk, ultimately, my kids and I find it chalky. That said, we all really like their coconut flavored yogurt. It has a super thick texture that, for some reason, especially works for this flavor. Plus, Smari adds only real foods to their yogurt and, for this flavor, that means actually shredded coconut is mixed in. Yum.
Smari is known for having among the highest protein content of yogurts available in the U.S.; Coconut has 14 grams.
Stonyfield Organic low-fat French vanilla

I admit that this choice is more about taste and texture than nutrition, but my family and I love the vanilla flavor of Stonyfield Organic yogurt, their original smooth and creamy yogurt, especially. There are so many fancy yogurts available these days, but this old standby has been treating us well for years and you can't beat a dollop of this stirred into warm oatmeal.
This yogurt is entirely organic from a brand that we trust. It does contain pectin, but we don't mind since it helps create a silky texture. A 6 ounce portion of their low-fat French Vanilla has 7 grams of protein, pretty standard for regular yogurt, and 21 grams of sugar, which I admit is high. Because of that, we either split a container between bowls of oatmeal or several smoothies, or save it for dessert with fresh fruit. If you'd rather check out other Stonyfield Organic yogurts—they have many!—you can certainly find some that give you the benefit of their commitment to organic with a slightly better protein-to-sugar ratio.
Blue Hill yogurt picture by Helen Rosner, via Saveur