If you're anything like me, when throwing parties you want to put out an awesome dessert spread without baking a 7 layer ombre rainbow cake or piling on several sugar-loaded desserts. That's why I found these 6 super impressive fruit recipes for a party that will inspire awe and offer your guests something healthy to go with a simple pan of brownies or cake from the bakery. These fruit desserts are so cool that they may steal the spotlight from the sugary treats—even with the kids.
Related: 7 chocolate dipped fruit ideas that go beyond strawberries.
I admit that some of these take a bit of time and effort, but we're talking celebration-worthy recipes here.
If you're not into making them yourself, then bookmark away. Maybe you can ask a caterer or super talented friend or family member who has more time to whip these up for you (we're looking at you grandma and grandpa!). Or, just ogle the hard recipes and go with the simple ones. There's certainly no need to drive yourself crazy hand-carving strawberry roses if that's not your thing, especially when you can just dip them in chocolate instead.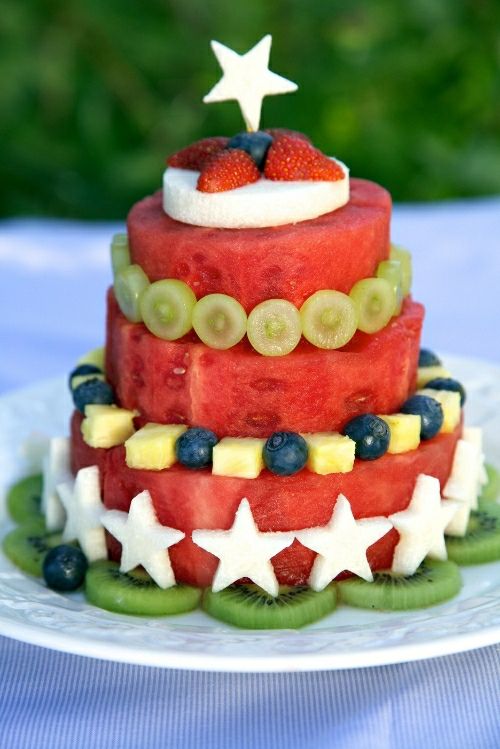 If you don't want to give up the idea of a cake, check out this Fresh Fruit Watermelon Cake at Apron Strings. Not to be confused with a "fruit cake." We are all pretty blown away by this option that's clearly gluten-free, dairy free, and nut-free. It's no chocolate layer cake (though, honestly, it might take you just as long to put together), but I guarantee that the kids will devour it just as quickly.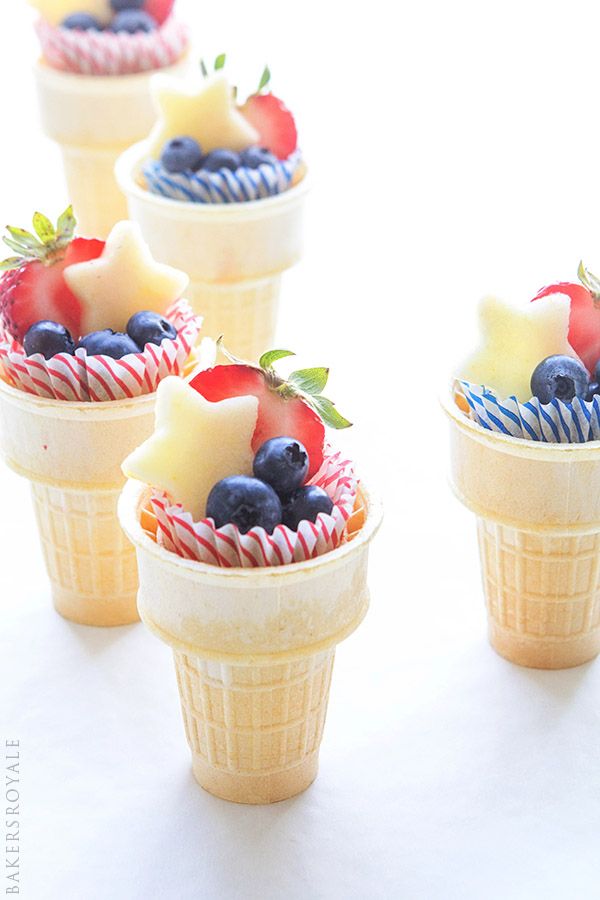 Looking for something easier? (Probably a dumb question, though I know some of you are overachievers.) The Fruit Salad Ice Cream Cones (also at top) at Bakers Royale have just as much kid-appeal as the melon layer cake, but are way easier to assemble. Just put a cupcake liner in each cone and fill with fruit salad. You can even match your fruit to your color scheme or theme like Naomi did for her 4th of July Fruit Salad Cones. Or, make these super simple and fill the cones with one type of fruit like blueberries. No matter how you approach it, be sure to check out Bakers Royale for tips so that they don't fall over.
Related: 10 easy no-bake dessert recipes.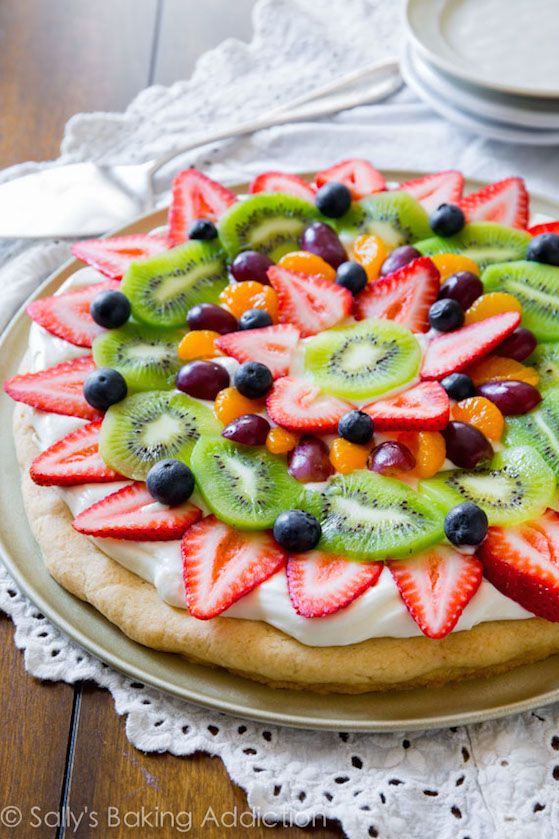 Check out Sally's Baking Addiction for another clever way to serve fruit, pizza style. The crust of this Fruit Pizza is a big sugar cookie, which is spread with dreamy cream cheese frosting. You can use any fruit you'd like for "toppings." Even though you're pairing fruit with something sugary, you still manage to work in a serving which, if you ask me, is the best of both worlds. To make this super easy, use store-bought dough and icing, though look for an all-natural brand like Immaculate Bakery to make sure that you don't cancel out all the good!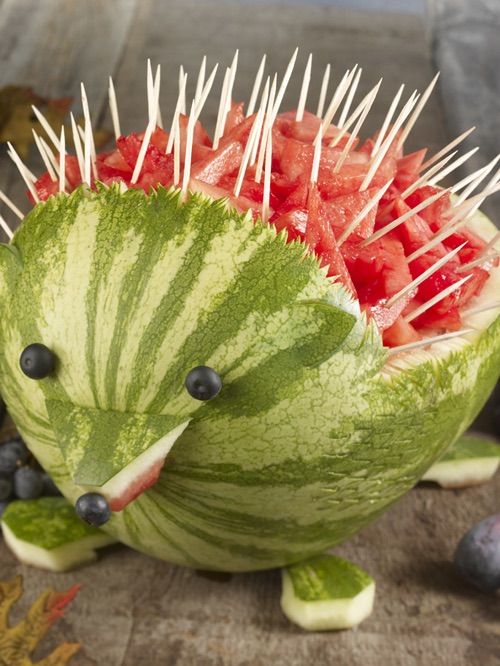 Okay, this cute little critter may take some ninja-like knife skills, but man is he cute. And very impressive. We found detailed directions on how to carve and create this this prickly watermelon hedgehog on Watermelon.org. If you're thinking of serving this quilled creature to tots, perhaps replace the toothpick with straws to prevent poked eyes.
Related 11 awesome ways to serve watermelon 
For you crafty types, these hand-cut strawberry flowers may be right up your alley. Yeah, carving strawberries is not for everyone — by the second one I'd probably decide to dip my strawberries in chocolate instead — but, for those of you up to the challenge, these are super sweet.
Related: 7 delicious, easy fruit dessert recipes.
As for those dipped strawberries I mentioned, Marla Meredith dips fruits in dark chocolate and then rolls them in sprinkles to make these gorgeous chocolate-dipped strawberries. Tried and true, I know, but always tasty and attractive, which is exactly why they're a classic to begin with.