Everyone loves chocolate dipped strawberries and with good reason: Fresh fruit with a light touch of chocolate is still mostly healthy—especially if you use a high-quality chocolate without icky ingredients added—and totally delicious. So why don't we often see other chocolate dipped fruits? I've seen my fair share of chocolate dipped bananas, but so much more is possible. These chocolate dipped fruit snack recipes are proof. Holy deliciousness.
Make these now while fruit is at its best. Then make them again in winter when out-of-season fruit needs a little help. These recipes make an easy, healthy snack all year around.
Related: 5 healthy 3-ingredient snacks that won't ruin your kids' appetite for dinner.
My kids love kiwis and they also love chocolate. One day I had the genius (or obvious, depending on how you look at it) idea to put the two together to make these frozen Chocolate Covered Fruit Pops (above). You can find the how-to at my site, One Hungry Mama, where you will learn how to make homemade magic shell. That's right: Two all natural delicious treat recipes in one.
Chocolate Dipped Watermelon is all new to me. Have you ever tried this before? My family can't wait to give this snack from Give Recipe a go. I have a feeling it will be going in to heavy rotation for the rest of the summer.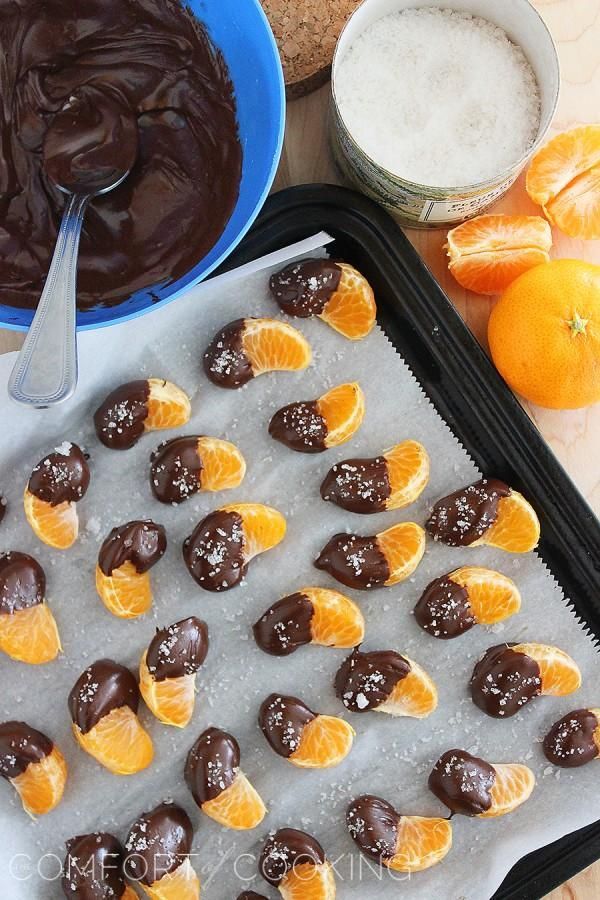 We originally spied Chocolate Dipped Clementines at House of Treats, but have since found lots of recipes that take this snack further like these Chocolate Dipped Clementines with Sea Salt (pictured) at Comfort of Cooking. I typically think of citrus as being winter fruit, but we just had a batch of clementines that were the best we've had all year. These recipes are definitely going to serve us well all year long.
Related: 10 easy, healthier popsicle recipes for kids that let you say yes to frozen treats.
Cherries only come around a couple of times a year and, when they do, we want to eat them any way that we can. Fresh is scrumptious, but so are fresh cherries dipped in chocolate like these gorgeous Ombre Chocolate Dipped Cherries that we found at Style Me Pretty. These are perfect for a party or special occasion. Otherwise, regular chocolate will do just fine.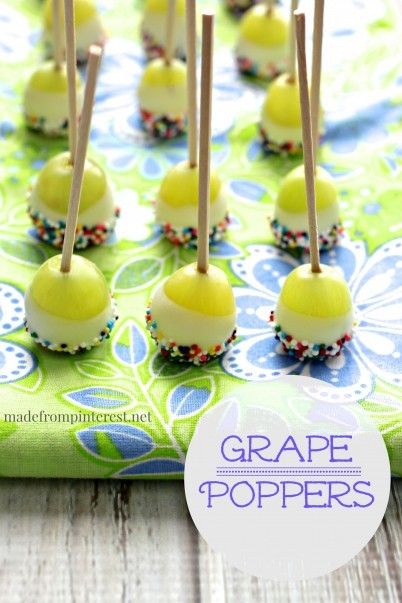 Just like cherries, grapes strike me as the perfect size and shape for dipping—and no pits! These Grape Poppers at Made From Pinterest turn plain green grapes into a delightful snack that can go in a lunchbox, serve as an after school snack, or even fit on a dessert table at a party. You can dip them in any color sprinkles or go natural with chopped nuts or shredded coconut.
Dark Chocolate Coconut Dipped Peaches at Baker By Nature are filled with a curry honey mascarpone filling. Sound delicious if you're an adventurous eater, but you can easily stop at peaches, chocolate and coconut for a tasty treat that even picky eaters will love.
Related: 7 delicious fruit dessert recipes for lazy summer evenings.
Why stick to one fruit when you can dip a whole bundle of fruits! These super fun Banana Split Bites at Our Family of Seven pair strawberries, pineapple, and banana with chocolate and a sprinkle of nuts (which you can skip if you're a nut-free family). If these are a hit, you can get creative and pair other fruits. I bet that if you put your kid's favorite fruits all together and dip them in chocolate you'll find your kids eating way more fruit. Just a theory.