Unless you've been living under a rock (AKA you have a lot more self-discipline when it comes to social media than I do), you've probably heard about the miraculous properties of coconut oil. From the kitchen to the makeup bag, and even the changing table, knowing how to use coconut oil is way more useful than you might expect—and can even save you money by helping you skip pricer alternatives.
Coconut oil is harvested from the meat inside of mature coconuts and has an impressively long shelf life that can last up to 2 years (just keep in mind that it's totally normal for it to turn solid at room temperature). Some experts say it's healthier than fat from meat or dairy due to the fact that it raises HCL, or good cholesterol. While I can't verify all the touted benefits of coconut oil, I have found many of the claims totally legit and incredibly helpful. Here are a few of my favorite ways to make use of that jar in my kitchen cupboard.
Related: 10 unexpected uses for lemons, from the perfect pot of rice to relieving bug bites.
In the kitchen
Use as a non-dairy creamer.
If you can't tolerate dairy but also can't go without your morning joe, coconut oil may be a great alternative. Or if you're just looking for a new spin on your coffee, try this Healthy Coffee Recipe from Wellness Mama, which also uses coconut oil and butter. It's a delicious version of the bulletproof coffee you've been seeing in your local café.
Sauté at high heat. 
Coconut oil has a very high smoke point, which is perfect if you need to sauté at a higher heat without risking the smoke alarm. Plus, the subtle flavor tastes good on, well, everything.
Make superior popcorn.
Try popping your kernels on the stove top with a light coating of coconut oil for an even better flavor. (Coconut oil is apparently what gives movie theater popcorn its distinctive flavor!) Next, melt some coconut oil to use as a butter substitute and sprinkle with salt for serious yum.
Make chocolate coconut fondue (or homemade magic shell!). 
I had to throw this one in there since I adore fruits dipped in chocolate, and this is such a simple way to make it. Just add 1 tablespoon coconut oil to 2 cups melted chocolate and enjoy. The same simple combination of coconut oil and chocolate can also yield DIY magic shell that makes the best homemade sundaes.
Butter your toast.
This may sound silly, but it had honestly never occurred to me to use coconut oil instead of butter on toast until I followed a suggestion in our editor Stacie's post on 5 healthy ways to top your toast. Now that I've tried it, I'm a complete believer. I love the barely sweet taste and the slightly  tropical flavor. The simple pleasures.
Related: Move over avocado toast: 5 new, healthy ways to top your toast.
Beauty
Moisturize.  
Coconut oil is an amazing moisturizer, even if you use it in its completely raw form. Or if that feels a little heavy, try using this lovely Whipped Coconut Oil for Hair and Skin from the Free People Blog (above).
Remove makeup. 
I've used some odd things to take off my makeup in a pinch (including chapstick), but coconut oil is a much better alternative if you run out of proper makeup remover. Or make it your go-to product, since it's cheap and works just as well.
Use as shaving cream.
This is another great cost-saver, since good quality shaving cream can be pricey. Avoid nicks and cuts by using a thin layer of coconut oil (not too much that it clogs your drain). Bonus: Coconut oil moisturizes as it helps protect and soften skin.
Make under-eye cream. 
Coconut oil is safe enough to use even on the delicate skin under your eyes and helps minimize fine lines and baggy circles. Just apply a little before going to bed, or get crafty and make your own Homemade Eye Serum like the one at Makeup and Beauty (below).
Related: An all-natural skin care line that's seriously awesome. Even if the name is silly.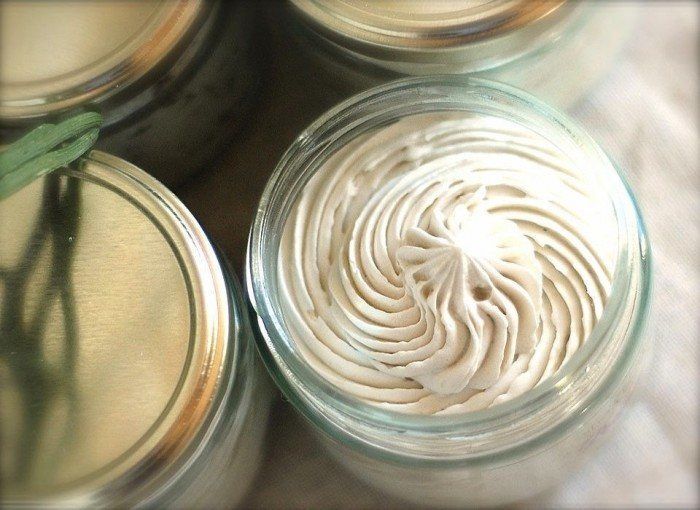 Homemade Eye Serum | Makeup and Beauty
Kids
Relieve the itch. 
This trick has been coming in particularly handy now that it's summertime and mosquitoes are everywhere. Plus, it works just as well for dry skin. Apply a little to the itchy area to soothe and moisturize.
De-tangle. 
The viscous property of coconut oil makes it perfect for combing out tough tangles. Just melt a small amount, apply to wet hair with fingers (make sure it's not too hot!), and use a wide-tooth comb to work out the problem areas. No tears required.
Prevent and soothe diaper rash. 
Coconut oil has healing and anti-bacterial properties, making it a great fix for diaper rash. Applying to a clean, dry bottom creates a barrier to protect skin from the diaper and soothes irritated skin. Your little one will thank you.