This summer I've made more than one of the mouthwatering Meyer Lemon Ice Box Cakes that I found at She Wears Many Hats, plus my kids have been selling lemonade like crazy. So you can imagine that I've been stocking up on lemons.
With so many around the house, I decided to look into how else I could use lemons beyond cooking and have found quite a few ideas that are really helpful. Check them out and stock up the next time you're at the grocery. I think you'll find these unexpected uses for lemons incredibly useful, too.
Related: How to tell if food is fresh: Awesome kitchen tricks for 7 pantry staples.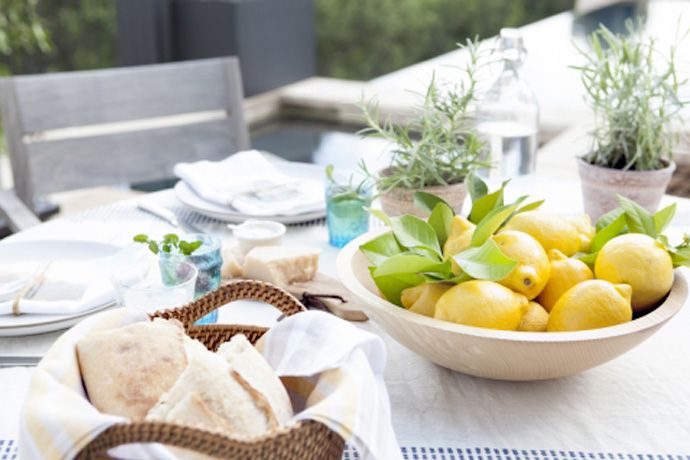 Besides, lemons are way prettier to keep on the counters than cleaning products and bug spray.
(photo: Camille Styles)
In The Kitchen
Use the rinds as bowls.
Save your lemon rinds after making homemade lemonade and use them as individual bowls for sorbet like we found at The Proper Pinwheel. So pretty.
Get rid of unwanted smells.
Slice a lemon in half and use it to scrub down a cutting board or refrigerator drawer that's taken on an nasty smell. If your microwave emits a gross whiff of popcorn and pasta sauce when you open the door, squeeze each half and place the rinds in a bowl with 1/2 cup of water and heat for 3 minutes. Let the water sit for another 5 minutes and then wipe down your microwave to make it as good as new. (Or smell like it, at least.)
Cook perfect rice.
If your rice tends to come out on the sticky side, add a spoonful of lemon juice to the water as it cooks. It will turn out a perfectly cooked and not-at-all sticky pot of rice. (If you're serving Mexican for dinner, squeeze some lime juice instead and add chopped cilantro for yummy citrusy rice.)
Clean your disposal.
With all the trash and junk that goes down your disposal, it's a good idea to clean it out every once in a while. Cut a lemon (or any citrus fruit) into quarters and throw them into your running disposal one at a time. Your pipes will smell clean and you'll get rid of any fruit flies that might have gotten the idea to take up residence in your plumbing.
Keep fruit from turning brown.
My kids complain about their apple slices turning brown by lunch time at school and, of course, there's those unfortunate bowls of brown guacamole. Yuck. Fresh lemon juice will help your fruit keep its natural color longer. That way you aren't throwing away food that's perfectly fine to eat just because it's taken on an unappetizing brown hue.
Related: How to brew sun tea and great tips to make it even more delicious.
In The Bathroom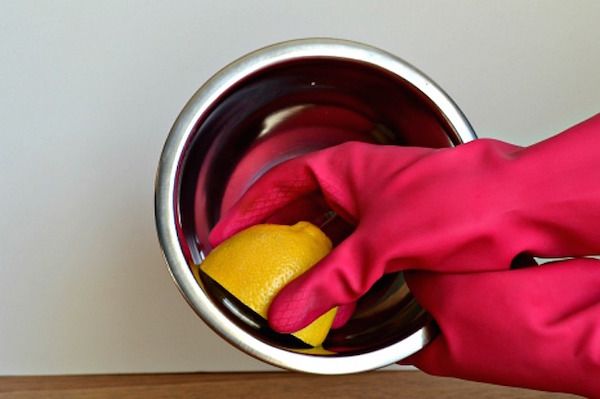 Shine your bathroom fixtures.
If your shower knob and sink fixtures are look sad with lots of watermarks on them, cut up a lemon and wipe it across your surfaces. It will give your chrome and glass the shine they've been needing (picture via HappyMoneySaver).
Quick-fix hand sanitizer.
Squeeze fresh lemon juice on your hands for a quick antiseptic if soap and water isn't available. Just be careful you don't have any open cuts — whew, it stings.
Stop nose bleeds.
Lemon juice is a natural blood thickener, so it will actually help stop bleeding. If your kid comes to you with a bloody nose, squeeze some lemon juice onto a cotton ball and very gently stick it in their nostril. Just make sure they don't push the cotton ball into their nose — then you have a whole other problem. Also, lemon juice + cuts….well, you know. So I might not stick it on a fresh scrape from the playground.
Calm the sting of bug bites.
My daughter is so sensitive to mosquitos and chiggers, it's not even funny. The poor thing is miserable when she gets bit, so I'll definitely try putting lemon juice on her bites (or rashes like poison ivy) next time she gets one. Experts say that the acidity calms the sting and takes the itch away.
Related: 7 tips for keeping your car seat clean.
In The Home
Make your place settings pretty.
We love using lemons to decorate our table. A lemon set at each place setting, like at this pretty table by Belle and Chic, is a bold but simple way to add color to your table and it's always nice to have something organic and fresh on the table.
Create an everyday centerpiece.
With all these creative ways to use lemons, you're going to want to keep a lot of them on hand (trust me). How convenient that they happen to look really pretty stored in a vase on the kitchen table. Keep it simple — just a bowl or vase and lemons — or add a few fresh, green leaves to make a casual, but elegant centerpiece like the one Camille Styles made for her pool party (top).
Freshen your home every day.
If you're not inclined to use store-bought air fresheners, for either health reasons or because they often smell so…fake (let's be honest), lemon to the rescue. For a natural air freshener that will make your house smell delicious, put a pot of water with lemon peels, cinnamon sticks, apple peels, and cloves on the stove to simmer for a couple of hours, or until the water simmers down. The spicy, citrusy smell will fill your home with the scent of "someone's been cooking all day" instead of "chemical perfume laboratory." Lovely.
Top photo: Karpenkov Denis via Shutterstock