At the center of my pumpkin carving memories is a heaping pile of slimy pumpkin guts tangled with smooth-skinned seeds, which, unfortunately, were always thrown into the trash. But last year I learned how to roast pumpkin seeds (without a recipe!) and it was so easy that we're making it a new tradition in my house.
Crispy roasted pumpkin seeds make a terrific fall treat that you can feel good about serving to the kids. They're loaded with nutrients, minerals, and fiber—and they just taste really good, sweet or salty. Here's my simple method for how to roast pumpkin seeds, plus a few stellar recipes if you feel like getting fancy.
Related: How to host a no-stress pumpkin carving party for kids: 5 tips to keep it fun and easy.
How to roast pumpkin recipes: Five simple steps
1. Separate. Scoop out the pumpkin guts, seeds and all, and dump them into a colander. Rinse under the faucet, gently pulling the seeds from the pumpkin fibers. Don't worry too much if you don't get every bit of pumpkin off; step two helps take care of that.
2. Precook. Boil the seeds in salted water for about 10 minutes. Strain and lay them out on a dry kitchen towel, then pat them dry.
I know that this step is debated. Some cooks just coat the seeds with oil or butter and put them directly in the oven after step one. But since several of my favorite trusted sources do the precook and it makes for a shorter time in the oven, I do it too.
3. Season. Toss the seeds directly onto a baking sheet with a little melted butter and salt. You can also toss the seeds with oil (vegetable, canola, or melted coconut oil all work), but I love how butter gently browns in the oven, imparting a deliciously nutty aroma and flavor. You can, of course, add spices or sweeten them with sugar and cinnamon—more on that with the recipes below!
Related: How to use pumpkin seeds: 9 creative recipes from deliciously healthy to totally decadent.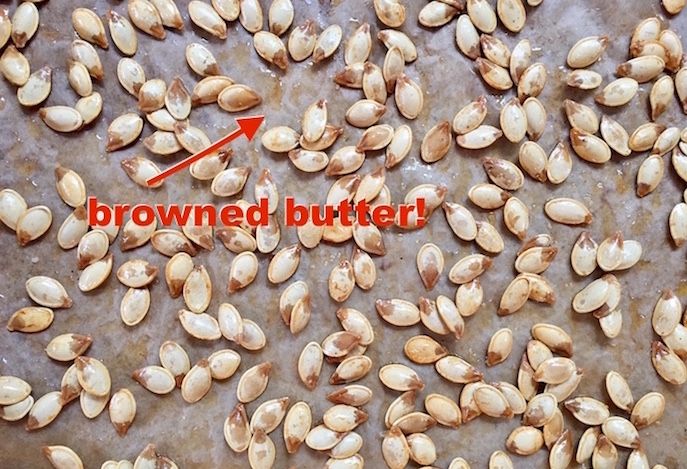 4. Toast. Roast the coated pumpkin seeds in a 350 degree oven for about 10-15 minutes. Be careful: These little guys can quickly go from golden to burnt, so start checking on them after eight minutes or so.
5. Cool. Once you take them out of the oven, let your seeds cool so that they take on a nice crisp texture. If you eat them warm, they may be a little chewy.
Related: All the pumpkin spice recipes that you'll actually want to eat.
How to roast pumpkin seeds: Four easy recipes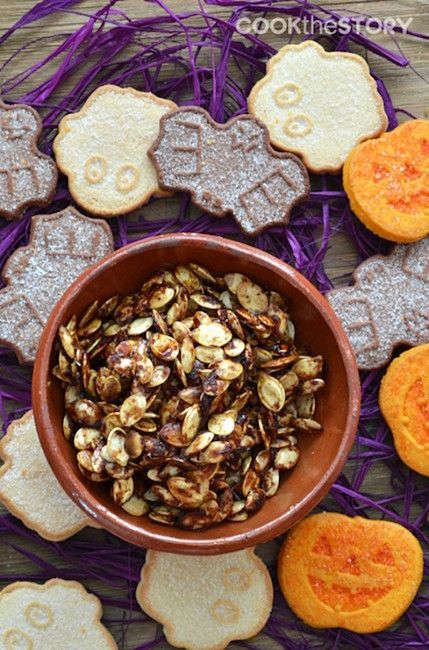 I can only imagine how amazing the Maple Pumpkin Spice Roasted Pumpkin Seeds at Cook The Story will make your kitchen smell. Warm, fall spices coat pumpkin seeds for a sweet and salty snack. Good luck making these last.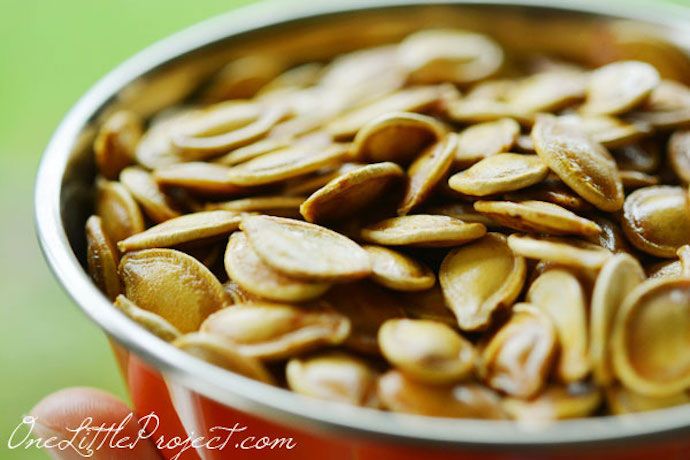 I'm super intrigued by the tutorial on how to bake pumpkin seeds at One Little Project because Debbie gives her seeds a salt water soak overnight before popping them into the oven; the salt soak replaces my second step of boiling the seeds. This is great if you're carving at night and don't want to roast the seeds until the next day.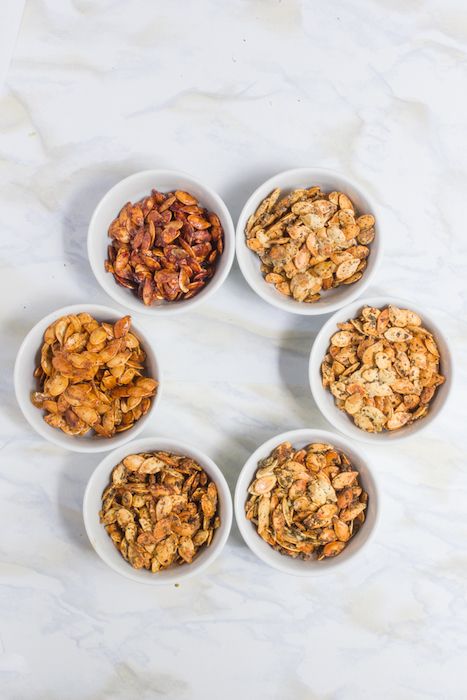 Whether you're a novice or a seasoned roaster, the Roasted Pumpkin Seeds, Six Ways at Back to Her Roots are worth a look. Cassie offers a clear step-by-step tutorial, plus six irresistible flavor combinations.
Take a look at this flavor bomb at Foodie Misadventures: Cinnamon Sugar Pumpkin Seeds. Yes, they're covered in sugar and butter, but it's still healthy on the inside. And it's what's inside that counts, right? Alright, fine: I bet you can cut back the sugar and these will still be excellent.