When our editor, Stacie, asked me to look into how to clean burnt cookie sheets, I wondered if my husband had called her to stage an intervention. I use and abuse my cookie sheets, also known as rimmed baking sheets, and as a result, they have become seriously ugly. I have accepted the dreadful stains as part of their personality, because no more dishwashing.
That is, until this assignment.
The good news is that even though I'm changing my ways, I still feel lazy about it and will only accept an easy solution. Here are two that I tried, and well, you can take it from there.
CME is an Amazon and rStyle affiliate.
Related: Testing household hacks: How to clean the 5 biggest kids messes.
How to clean burnt cookie sheets: Method #1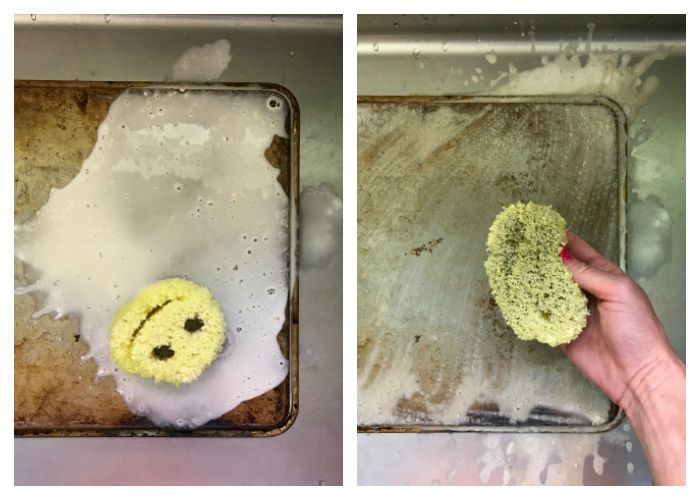 Bar Keeper's Friend + a tough scrubby
Bar Keeper's Friend is an awesome, inexpensive ($2 at my Target!) all-purpose cleaner that has worked miracles on kitchen and bathroom stains in my house. But I never thought to use it on my aluminum cookie sheets until now.
Method
Mix a little water in a bowl with a generous amount of Bar Keeper's Friend powder. Rub the paste on the cookie sheet with a wet scrubber, let stand for a few minutes, and then scrub like hell.
Outcome
The solution definitely cleaned some grime off of the sheets, as you can see above, but the amount of effort and time it would take to clean my horribly dirty pans wasn't worth it. If you just have a few stains, this could be a great solution with minimal effort.
Related: Non-toxic spring cleaning with salt: 8 unexpected uses in the kitchen beyond cooking.
How to clean burnt cookie sheets: Method #2

Hydrogen peroxide + baking soda
This recipe for the Kitchen Miracle Cleaner at One Good Thing by Jillee calls for only two ingredients and seems to be one of, if not the, most popular DIY cleaning remedies on the Internet.
Method
Mix hydrogen peroxide and baking soda to form a paste that you rub over the entire cookie sheet. Allow the sheet pan to sit for a few hours before scrubbing off the grime. Rinse and watch it go.

Outcome
Winner, winner! There was a clear improvement after I let the Kitchen Miracle Cleaner paste sit a while, although I admit that it took a bit of elbow grease. My pans were truly out of control, which makes it even more impressive that, had I kept at it, I could have gotten my pans even more clean. If you're pans have just a few burnt spots, this DIY solution will do the job easy breezy.
BONUS TIP! Just in case you're in the market for squeaky-clean new trays, I recommend the affordable Nordic Ware Baker's Half Sheet and Quarter Sheet at Amazon. These are my personal favorites!