Is it just mine, or do all kids get excited when I'm topping a cracker for snacktime? Whether it's a Triscuit or graham cracker, my kids love the idea of an edible canvas — and the more colors, the better.
So if you want to get out of a sugary snack time rut like we often do, I've got 24 creative ways to top crackers for kids, including plenty of dairy-free and gluten-free options. All of these ideas are no-cook, easy prep, and friendly for all ages.
In fact, make extra for yourself.
Related: The internet's favorite two-ingredient cookies: Worth it?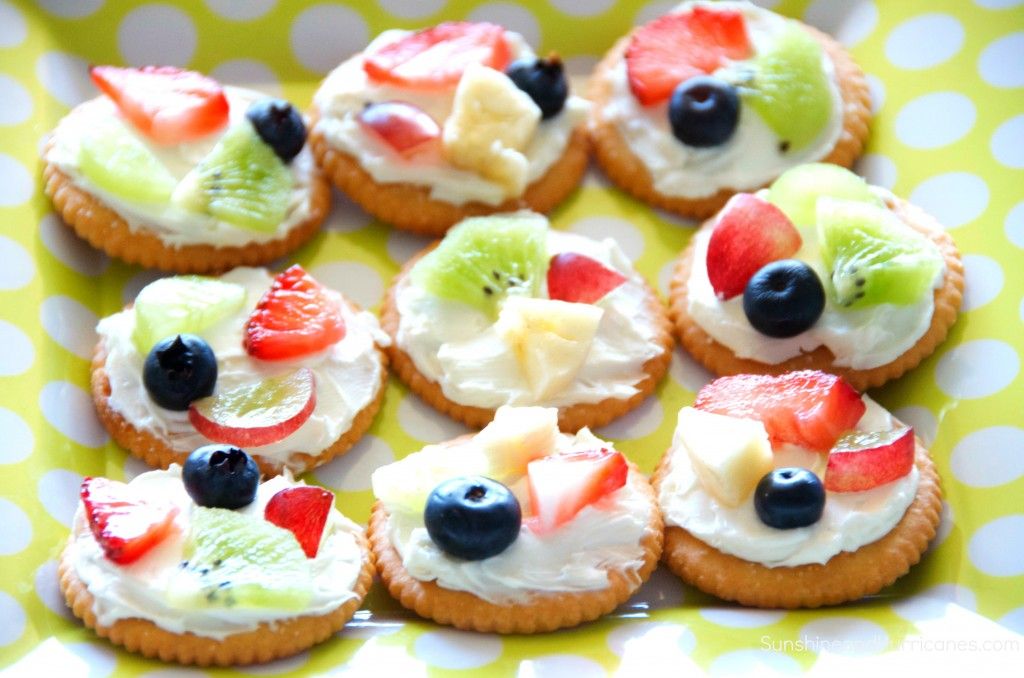 1. Easy Fruit and Cracker Pizzas at Sunshine and Hurricanes: What a clever idea! Visit her site for inspiration, to see what fruits she uses to make each one fun. (And any crackers at all would be great if you're not a Ritz fan.)
2. Cheddar cheese + sliced apple or grapes
3. Cheese + salsa
4. Cream cheese + jam or preserves
5. Greek yogurt + dried or fresh fruit
6. Ricotta + honey (I love freshly ground black pepper on mine but kids may not)
7. Cucumber + avocado
8. Mozzarella + tomato
9. Mozzarella + pesto + roasted red pepper
10. Mashed chickpeas + olive oil + feta
11. Sour cream + smoked salmon + cucumber
12. Goat cheese or cream cheese + pickle
13. Leftover chicken, tuna, or egg salad
Dairy- and gluten-free cracker toppers
Even if you're not dairy-free or gluten-free, these are all delicious options for kids and adults.
14. Nut butter + fruit (grapes, raisins, berries, bananas)
15. Nut butter + maple syrup
16. Hummus + olives or cherry tomatoes
Related: On-the-go gluten-free snacks: 5 delicious ideas that are more than just carbs.
17. Hummus + shredded carrots or bell peppers
18. Edamame hummus
19. Avocado + mango + salsa
20. Avocado + halved cherry tomatoes
21. Sliced hard-boiled egg + dash of extra virgin olive oil (I add a few capers or fresh dill on mine)
22. Olive tapenade (or any tapenade really)
23. Guacamole
24. Nutella + banana
(Okay so this one is sweet. But you all know we can never resist Nutella, right?)
As for the crackers, if you're looking for great gluten-free crackers, I learned about  Mary's Gone Crackers from the wonderful Gluten-Free Girl, Shauna James. For even more gluten-free cracker suggestions, GFF Magazine  is a great resource too.