It's Friday! Which means time to start thinking about your meal plan for next week. With the weather so hot out there, I'm all about easy salads, finger foods, and low-maintenance "grazing dinners" right now. You too? Check out these 5 easy dinner ideas that will get you and your family through the busy week ahead.
Just grab a pen (or your favorite shopping app), make your shopping list, and stock up before the weekend's over. And if it's easier for you to do that from your inbox, be sure to sign up for our weekly meal plan emails. You'll love them!
Top: Hummus Quesadillas | Cookie + Kate

Being July and all, I was thrilled to read Marsha's recent post about 8 creative pastas salads that also happen to make nice, light summer dinners. She called Recipe Tin Eats' Vietnamese Noodle Salad With Shrimp the 'pasta' salad that everyone talks about after the picnic or potluck is over." But I wouldn't save this rice vermicelli noodle-based salad for potlucks. If your kids don't do shrimp, swap in your protein of choice.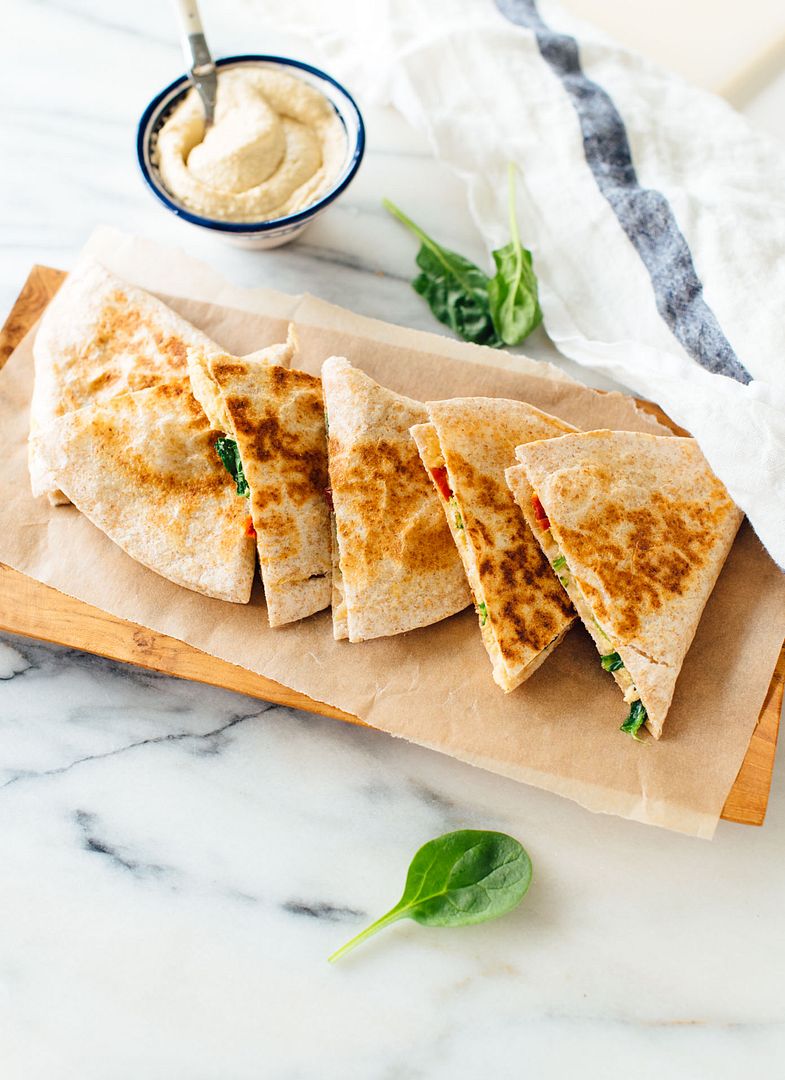 Stacie shared this recipe last year, and she had me at "my kids' favorite quesadilla recipe." They're actually Hummus Quesadillas from Cookie + Kate, and I can't think of a more perfect, easy dinner when you're feeling too hot to eat a full roast (ha, yeah right) and feel like more of a grazing dinner. An easy green salad on the side would be perfection.
Find lots of inspiration in this post about how a store-bought roast chicken can make vacation meals easy. But I say, use these tricks at home too. Even Martha agrees! In fact, I've got my eye on this easy Rotisserie Chicken Tostada Salad from Martha Stewart. It requires pretty minimal stovetop time, and if the kids are squeamish about greens, let them load their chicken and toppings in ready-made taco shells or tortillas.
Zuchini + noodle shapes = zoodles! They make a smart, no-cook dinner idea for summer weeknights, and we're fans of this 15-Minute Zucchini Pasta from Half Baked Harvest. They make the most of summer's bounty of fresh veggies and herbs, and while she tops with a poached egg for protein, my kids would probably prefer a slab of buffalo mozzarella or if we're feeling really indulgent, burrata. (Mmmm…burrata.)
Related: We've got 6 no-sweat, no-cook dinner recipes to keep you cool all summer long.
When we're home and not grilling, I often forget that hot dogs can still be an easy summer dinner option. There is so much inspiration in Anne's post about 13 creative hot dog toppings besides mustard (or ketchup, if you're my brother). I especially loved her idea for changing up the bun to keep things fun — and then I came across this recipe for Jan's Pretzel Dogs at All Recipes and I was like, yes yes yes! Her recipe uses full-on from-scratch dough, but I bet you can adapt it with pre-bought pretzel dough from Trader Joe's or similar, and your own favorite dogs.
But I have to say, I'm firmly on on team mustard for topping a pretzel dog. My brother just has it all wrong.