Do you have a love-hate relationship with the kitchen these days? On one hand it's like OMG BAKE ALL THE THINGS! FAMILY DINNERS! EXPERIMENTING WITH COUSCOUS! On the other, I hit 12 or so each day it's like, wait.. I have to think about this again?
So, hi. Raising my hand here as someone who's been phoning it in at lunchtime but wishing I had more options than standing at the fridge while I eat baby carrots out of a bag.
As someone who's generally worked out of the home or at least eaten out of the home for lunch most days, ready-made, easy lunches at home 7 days a week is a new world for me. I know I'm not alone here. Of course there are always sandwiches, grilled cheese, or avocado toast. But I wouldn't mind having to think about lunch ideas less than that.
I want to just open the fridge and say, "oh look! Lunch!"
So for you — and definitely for me — I've started asking friends and the members of our Recipe Rescue community for easy lunch ideas we can make in advance, then throw together easily to grab when we're hungry.
(You know, before we just shrug and dive into the Oreos.)
They've offered such creative, easy ideas! So much so, now I'm a little excited to do some lunch prep on Sundays or Mondays to make the rest of my week easier. Not that I won't still be eating peanut butter off a spoon once in a while. I reserve that right.
Related: 7 freezer essentials you should always have, to make weeknight dinners sooooo much easier
Cook these 9 foods in bulk and you'll make dinner a snap
Easy make-ahead lunch ideas for home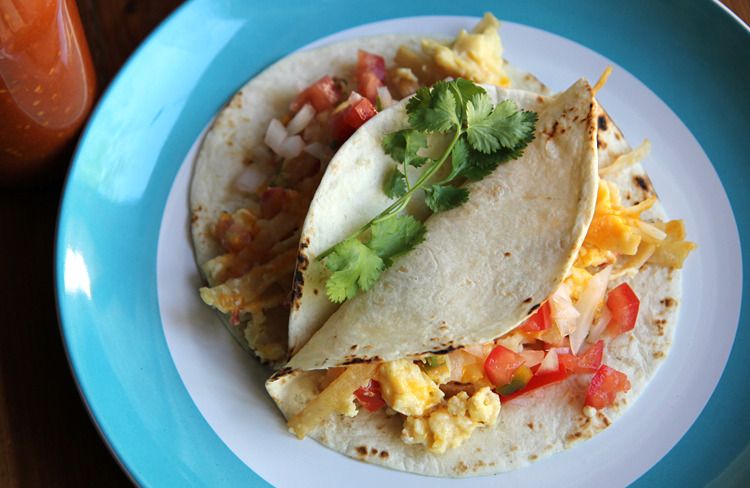 Migas Tacos at Hilah Cooking
– Taco fixings– I'll be honest, I do get tired of leftovers because, variety. But when you change up the flavors, it helps. So if you're making a basic grilled chicken or steak over the weekend, use the leftovers to pop into a tortillas with some Mexican fixings for a super easy and balanced lunch.
Readers also suggested scrambling up some eggs in a sec for a spin on a breakfast taco. Isn't everything better in a tortilla?
– Hard boiled eggs. Speaking of eggs, whip up a half dozen or more perfect hard-boiled eggs each weekend using these tips. Now you've got the makings for a protein-packed salad topping, an egg salad sandwich, eggs on toast — or just a couple of eggs accompanied with some apples or veggies or a slice of good toast, which seems to do the trick for me many days.
I got some fantastic recommendations for boiled egg toppings on this Instagram post, and now my favorite is smoked paprika plus a garlic-pink salt blend, or some Everything But the Bagel Seasoning Blend mix. Yum!

Spinach Lasagna Rolls | She Loves Biscotti
– Lasagna…with a twist – Don't think of pasta trays or casseroles just for bringing to other people's homes. A nice pan of veggie lasagna should hold you over for a while if you like a heartier lunch. Or, I've love this idea for spinach lasagna rolls since I first saw it. Prep them as a make-ahead lunch, then just heat when you want to eat them.
– 7 layer bean dips made in individual cups – My friend Terre tells me that her daughter loves to make these, so she can grab one out of the fridge each day for lunch or a big snack. This individual bean dip recipe from The Recipe Critic looks simple and fun, and you can include whatever you'd like from her list. Just keep in mind that you don't want to add ingredients like guacamole (it will brown) or chips (they'll get soggy) in advance. And I'd be sure to use reusable plastic or glass containers instead of disposable cups.
– Pre-sliced meats, cheeses for a charcuterie plate – It's just a fancy name for a cheese plate, but it's one of my favorite and I'm so glad that Kim reminded me of it. Add some almonds, sliced apples, you name it. By pre-slicing the salami or cheese or whatever you're going to be eating, it just makes it that much easier to pull it together before you're at full-on hangry stage.
– A fridge salad bar  – Think of how easy a salad bar lunch is, because everything is cut, cooked and ready to go. So make-ahead what you can: slice up some peppers, cucumber, tomatoes, shred some carrots, pre-wash the lettuce, crumble up feta or blue cheese, and stash each in individual reusable containers. Then you can just pop them together as you like.
if you're stuck in a rut, check out these ideas for 20 creative salad toppings that will make your salad pop.
You can try to pre-portion a few days worth of salad, like the image at very top.
and to keep things interesting, reader Sabrina suggested that she pre-makes a jar of salad dressing each weekend to use up during the week. Maybe make two different ones — say, a cool, creamy one plus a mustard-based dressing — and the days won't blend together so much. (Did I say that out loud?)
– Pasta salad – It doesn't keep forever, but some pasta salad recipes do better than others. Like a bowl of tortellini tossed with with an easy homemade pesto (mmmm) or easy sesame noodles — top with leftover chicken just before eating, to add some protein. And hey, noodles aren't just Italian! Don't forget options like a chicken chow mein to help change up the flavors.
– Quinoa or couscous – Our reader Giovanna shared that she makes a big bowl at the beginning of the week so she can improvise different salads each day. Or, just eat it simply, with a little olive oil drizzle, some parmesan, and salt and pepper.

 Quiche Lorraine | Recipe Tin Eats
– Quiche – Either whip up one big veggie quiche or a Quiche Lorraine that you can eat all week, or make minis in muffin tins so they're ready for snacks, too. Minis also makes it easy to go crustless, if you're gluten-free or watching the carbs, as Lindsay reminds me.
– A Spanish tortilla – it's basically a potato frittata but if you've ever had an authentic Spanish tortilla, you'll crave them forever. Nice alternative to quiche.
– A big bowl of soup. I could make a batch of easy gazpacho and eat it for an entire week and never get sick of it. And if you make it right, then NO it is not salsa. Geez.  Other readers suggested soup ideas like minestrone or pasta e fagiole. Plus, soups freeze well, so you can double the recipe, and eat them even longer.
– A batch of cooked garbanzo beans plus some rice –  Our reader Amanda shared this smart idea. She uses the chick peas to add into salads, mix them into plain yogurt and spices, or eat with tortilla, bread or crackers. Add the rice that you also make in advance, and now you've got options for burrito bowls, quesadillas, or fried rice with veggies or leftover meats. You can also fry that rice into easy crispy rice cakes — I've wanted to try this recipe from the Spruce Eats for a while now, and I think I might just do that this week.
Top image:  Ella Olsson on Unsplash