There are times when a totally clear kitchen countertop looks fantastic. But then there's the real world, where the kitchen is often a swirl of activity and the center of home life. Things — many, many things — will inevitably land on the countertops. However, this doesn't mean it has to look cluttered or chaotic. You can actually make it look pretty and organized with a few quick additions. Here are 5 totally beautiful kitchen countertop storage ideas to help you do just that.
Covered Butter Dish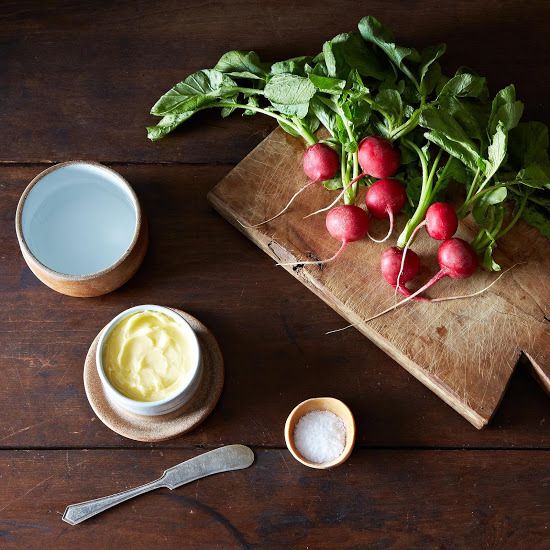 Listen. If you want to get on my bad side, serve me rock-hard butter. Do not want. So the idea of keeping that golden goodness warm and ready to serve perched on your countertop makes a lot of sense. To store creamy, soft butter on the counter safely, you'll need a butter crock like this French ceramic butter keeper made by Sawyer Ceramics in San Diego, California.
Butter crocks like these work by adding water to the base of the keeper so that an air-tight seal is created when you close it. Air-tight storage equals preservation without refrigeration. Simple and genius. I'm already envisioning my toast sidling up next to this lovely number. ($110, Provisions by Food52)
Related: Organize under your kitchen sink with these 4 affordable products
Stoneware Utensil Crock
Why rummage through the kitchen drawer for your trusty whisk when you can have it right there at your fingertips along with your other must-have cooking utensils? You can keep the honey theme going with this Beehive Utensil Crock from Woodstock, Vermont's Farmhouse Pottery. The small stoneware crock is perfect for all your kitchen tools from whisks to wooden spoons or uses it to store dry goods that can hang out without needing a cover. Or use it as a vase for flowers. The crock is safe in the microwave, oven, and dishwasher. ($85, Provisions by Food52)
Stoneware Honey Pot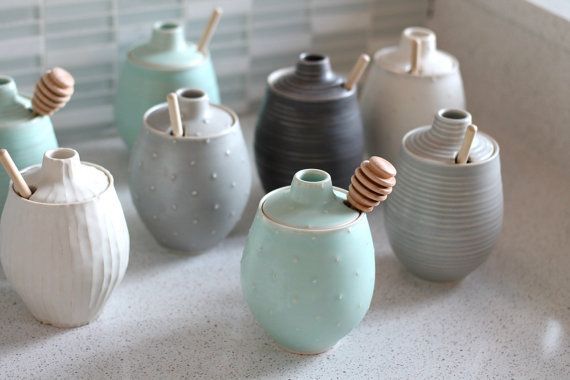 How cute are these? Talk about a sweet way to store and display honey. This small, stoneware honey pot is made to order by FringeandFettle on Etsy. It comes either covered in darling polka dots or grooved in muted colors like sea foam, soft gray, and frosted white. Plus, the honeycomb stick is included. The 5-inch tall honey pots are food and microwave-safe, but hand washing is definitely recommended.
Not only would these add a spot of sweetness and color to your kitchen counter, but, man, wouldn't these also be great as a hostess gift? Keep in mind, since they are custom, it takes 3 to 4 weeks before you can hold one in your little hands so order now if you have a Labor Day weekend invite. ($48, Etsy)
Related: Herb-infused honey and other sweet homemade food gifts.
Ceramic Berry Bowls
These ceramic berry bowls, I know, but they're very good-looking and super useful, which is good enough for me. I keep several of these around for both countertop and refrigerator storage. Keep washed and dried berries in these so that they can easily go from fridge to table and back to fridge again. Or store apples, oranges, pears, or plums on the counter so that fruit is always available to grab for a healthy snack—and to give a nice pop of color. I especially love that these can also make your table look effortlessly chic when you have people over. Oh this fruit, I just picked it at the local farm this morning. ($59, John C. Pottery)
Modern Bread Bin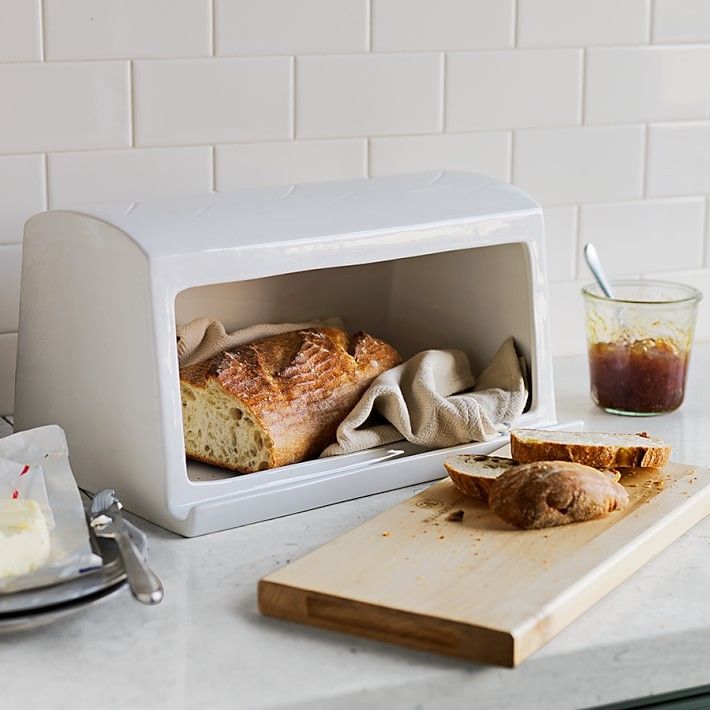 We've got butter storage down, now it's time to perfect bread storage—in style. I'm a recent convert to old-fashioned bread boxes that help keep bread and other baked goods fresh a little longer, even stored when out of the refrigerator. Sure plastic food storage bags can do the job, but they also make baked goods go limp. Plus, I'm so done with having plastic bags clutter my counter. If you're with me on this, check out this simply designed ceramic and wood bread box at Williams-Sonoma. It's not easy to make a box look elegant, but they seem to have figured it out. And the side lid turns into a cutting board. Sold! ($119.95, Williams-Sonoma)
CME is an rstyle affiliate