We're barely a month into the school year and already my girls are groaning about boring sandwiches. When PB&J or turkey and cheese loose their appeal, even if just temporarily, I change up the game. My trump card: packing healthy dips for school lunch.
Kids love dips—and not just the little ones! My middle school girls are still suckers for a tasty dip and the assortment of carbs and veggies that go with them. It must be something about the variety and control they offer. Dips make you feel like you're in charge of your food, even when someone else has packed lunch for you. Plus, they're delicious. At least these are, which is why I'm keeping these healthy dip recipes in my back pocket all school year long.
Related: 7 creative ways to pack vegetables for school lunch so that kids actually try them.
9 Dips for School Lunches
1. Lemon Garlic Yogurt Dip
Plain yogurt makes a tasty base for all kinds of dips. Greek yogurt is a great option for its high-protein content, as is Siggi's Icelandic-style yogurt. On the Siggi's site, they share a super simple recipe for a  Lemon Garlic Yogurt Dip (above) which sounds delicious — even for me! — and goes great with carrots, peppers, or cucumbers and side of toast or crackers for some carb action.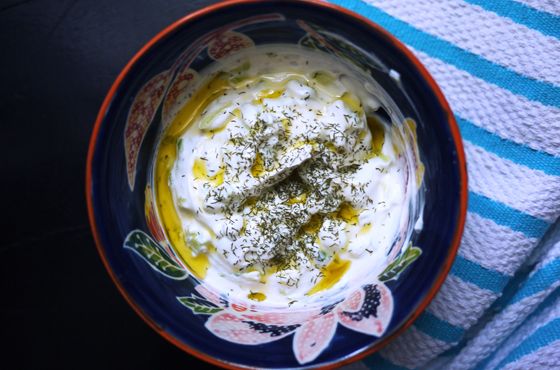 2. Cucumber-Greek Yogurt Dip
Another great yogurt-based dip is this Greek-Style Cucumber Yogurt Dip made by our very own editor, Stacie, at One Hungry Mama. While on her site, be sure to watch Stacie's video, where she shares several tasty dip recipes for school lunch. She also shares helpful tips and, by watching, you can see just how quick and easy it is to make a lunch box dip. Sandwiches have nothing on these recipes!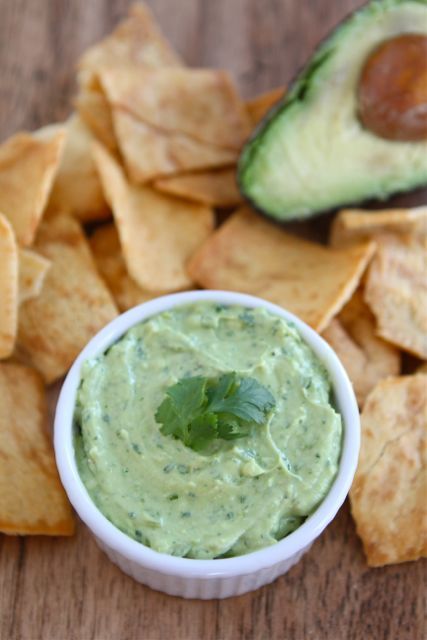 3. Avocado Yogurt Dip
If you'd like to take advantage of yogurt's health benefits, but have a kid who doesn't like it much, try this recipe for Avocado Yogurt Dip at Two Peas and Their Pod—they won't even know yogurt is in there! And if it falls flat at lunch time, use the rest on taco night. At the very least, you'll love this as tasty dip as an alternative to guacamole with your chips.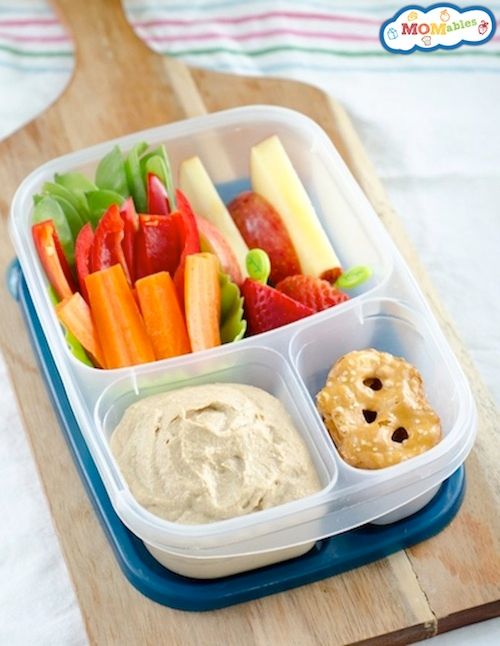 4. Homemade Hummus
I think of hummus as being the ultimate family-friendly dip. Though I'm sure not every kid is a fan, it does seem like most love dunking fresh veggies into the protein-packed chickpea dip. Over at the Huffington Post, Laura Fuentes from MOMables gives a quick overview of how to make hummus, as well as packing tips to make the most of this healthy dip recipe. Definitely flavor it to taste for your kids though (despite her Greek father's insistence not to); you can always leave out the cumin, and adjust the lemon juice and garlic.
Related: 6 easy, healthy, nut free spreads for school lunch ideas.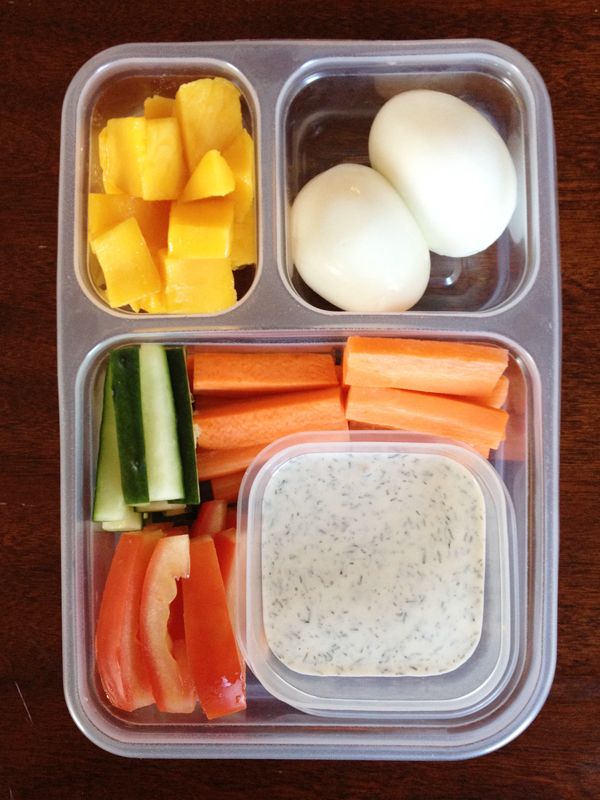 5. Homemade Ranch Dressing
Ranch dressing is another kid favorite. You can pack it with just veggies, along with a hard boiled egg for some protein, the way you see here, or I love the idea of pairing it with rolled up deli turkey or left over grilled chicken. Either way, you end up with a lunch that works for any kid, including one who follows a special diet like gluten-free or paleo. While this creamy herb-packed dip is ubiquitous—there are tons of bottled versions and you'll even find it in fast food joints—homemade Ranch Dressing like this quick recipe at Our Paleo Life is still best.
6. Edamame Tofu Dip
If you're looking for a dairy-free dip, try Melissa Clark's Edamame Tofu Dip featured at the New York Times. Packed with protein, this dip is also rich in fiber and calcium. Pair it with pita chips or rice crackers and you've got an incredibly nutritious lunch.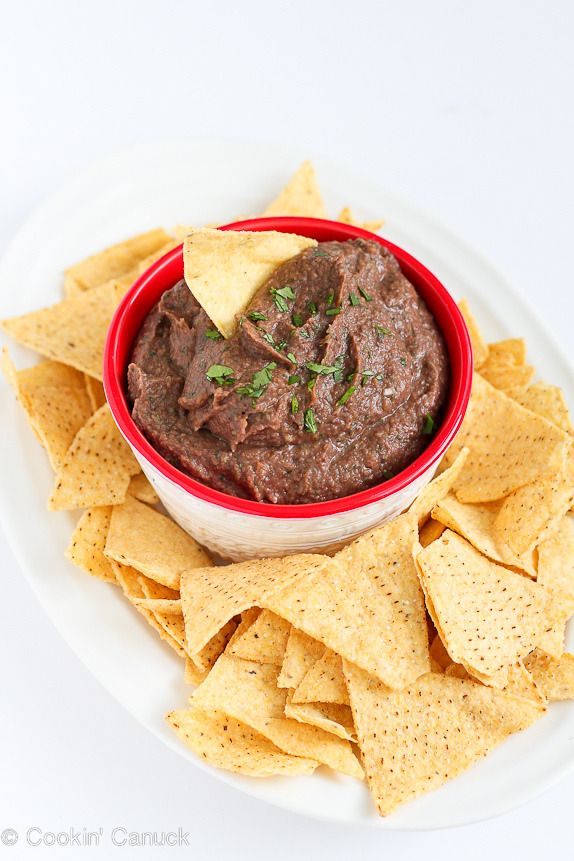 7. Five-Minute Black Bean Dip
While all these dips can serve double duty at lunch time and snack or dinner time (so that I can have some for myself, too), this 5-Minute Black Bean Dip that we found at Cookin' Canuckone is particularly party-worthy. It makes a great taco night addition or, even better, game day dip.
Related: Rock the Lunchbox: Where to find healthy school lunch inspiration galore.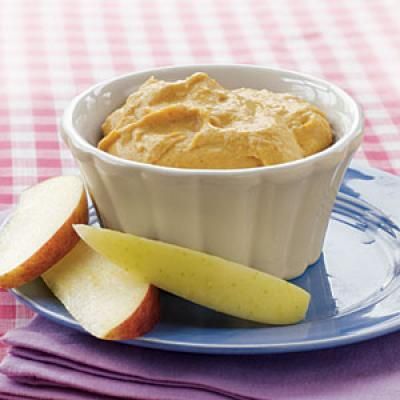 8. Sweet(ish) Pumpkin Dip
There's no need to stick only to savory dips; sweet dips can also boost your kid's nutritional intake. This tempting  Pumpkin Dip at My Recipes delivers a good dose of vitamins A and C, as well as beta-carotene in a sweet treat. Pack this alongside sliced apples and kids won't even realize what they're getting besides a good scoop of deliciousness.
9. Peanut Butter or Sun Butter Yogurt Dip
guaranteed winning combination: yogurt and a nut butter (or, for those with nut allergies or classroom restrictions, a spoonful of SunButter). Weelicious has a a great  recipe for Peanut Butter Yogurt Dip, plus lots of ideas for what to dip into it.
While there, you'll find a number of other creative dips including Lentil Walnut Dip and Carrot Ginger Miso Dip, which also make great additions to any lunch box.