I've been seeing the #MeatlessMonday hashtag in my Facebook feed for a while now, but have been slow to jump on the bandwagon. Other than the trusty black beans and rice that I cook when I forget to thaw meat for dinner, I don't have many vegetarian meals in my repertoire that I think my kids will eat. I like the idea of cutting back on meat, though, and love the idea of my kids eating more veggies, so I've scoured my favorite foodie blogs to find kid friendly vegetarian recipes.
These recipes are classics with a vegetarian twist—family-friendly choices that I hope will cover us for the next couple of months of meatless Mondays. And maybe you, too. Are you game? Here we go!
Related: 8 family-friendly zucchini recipes with major kid appeal.
Stir Fry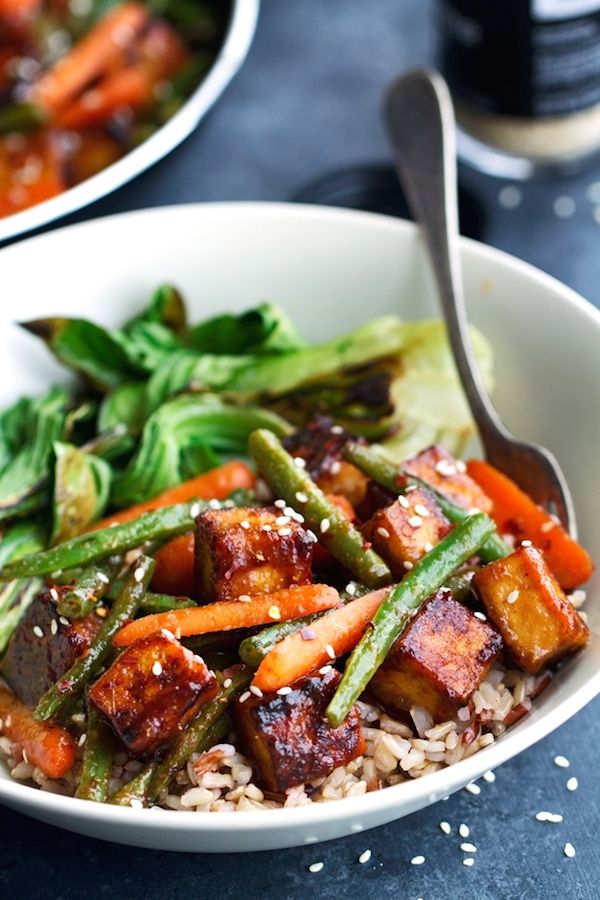 Other than a few basics like green beans and raw carrots, my kids seem to prefer their veggies with added flavor. I hate to smother them with cheese because, well, that kind of misses the point of developing a taste for vegetables. Instead, I've found that stir fry is a great way to add extra flavor, even if you go light on the sauce (as I tend to do). I make stir fry as a main sometimes, but often do it for side veggies, too. I think I could even trick my kids into eating tofu with this delicious Sesame Ginger Tofu and Veggie Stir Fry recipe at Little Spice Jar. Holy yum.
Burgers
Yes, I have served very picky, chicken-tenders-only preschoolers black bean burgers for dinner. And they ate every bite. I'm convinced that it worked only because I never told them they were veggie burgers, which is also my plan for these Eggplant, Quinoa, and Black Bean Burgers at Dreamy Leaf. I'll probably leave off the guacamole and mushrooms for the kids, but these are so hearty and savory that I bet they'll eat them and never know the difference.
Pizza
We do Friday pizza nights at our house, so I think my kids would flip if they came home to pizza on Monday night, too. We'd start with this Heirloom Tomato Flatbread with Lemon Ricotta at Superman Cooks, but I'd go ahead and set out some other toppings for the kids to choose from, as well, including regular old mozzarella cheese. You know, for those who might find the lemon ricotta too fancy—my kids included.
Pasta
I have made this One Pot Wonder Tomato Basil Pasta recipe from Cooking Classy for my family too many times to count, because it's so, so easy and so, so delicious. You literally put everything in the pot and let the pasta absorb the liquid as it cooks. It has enough flavor to stand alone as a main dish, but also makes a great side dish with some grilled fish or a piece of chicken on a not-Meatless Tuesday.
Related: 9 spectacular one-pot recipes for dinner that everyone will love. Especially those on dish duty.
Tomato Soup & Grilled Cheese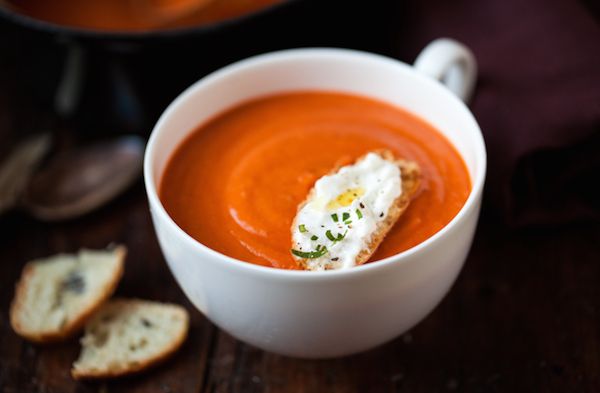 It's been cold and rainy here, so I'm craving a bowl of homemade tomato soup with a crispy grilled cheese sandwich. It's my kids' favorite too—they love dunking their grilled cheese in that tomato goodness—and a no brainer Meatless Monday meal. I think this idea from Tablespoon is so fun: Make tiny grilled cheeses with a baguette, then skewer them over the top of a bowl of the Cream of Roasted Tomato Soup at Family Style Food. I think I'd like my sandwich served like this, too!
Breakfast for Dinner
Between getting the kids back in their school routine and getting me back in my work routine after a weekend of fun, Mondays can be killer. One way to make it easy on yourself—especially at the end of killer Monday—is to make breakfast for dinner. These Ricotta Scrambled Egg and Asparagus Tacos that we found at A Couple Cooks are a perfect contender. That said, good asparagus might be hard to find this time of year (we can hear our kids cheering), so you can replace it with peppers or even mushrooms, if your kids are like mine and happen to love them. Really, any veggie your kids like will work.
Yeah, yeah,  Meatless Monday is probably meant to be a healthy movement, but I admit that I won't hesitate to add this Cinnamon Roll Cake at The Baker Chick to our breakfast-for-dinner menu. I mean, there's no meat in it, so we're good—right?