This Thanksgiving I want to add some desserts to the table that my kids will be thankful for, too, because, sadly, their palates just aren't sophisticated enough to appreciate the amazing Brûléed Bourbon-Maple Pumpkin Pie recipe that we found. Instead of taking on another complicated recipe, I'm going with fun Thanksgiving desserts for kids that feel festive and are super easy to make. In fact, we can start most of these recipes—or buy pre-made—and let the kids finish them by decorating them on their own.
I'll just make sure that they try a bite of their aunt's Brussels sprouts before they start taking bites.
Related: The essential guide to 10 Thanksgiving pies: 5 classic recipes, plus 5 unexpected twists.

If making sugar cookies sounds fun to you, you can create these Iced Turkey Cookies at The Decorated Cookie from scratch. That said, I'm just going to grab some sugar cookies from the bakery and let the kids decorate them. I'll help out with the eating.

This recipe for Pumpkin Spice Muddy Buddies (or puppy chow, as we call it) at A Pumpkin and a Princess calls for 5 simple ingredients and can be made ahead of time. In fact, it will stay good for a few days—if you don't finish it off in one sitting, that is.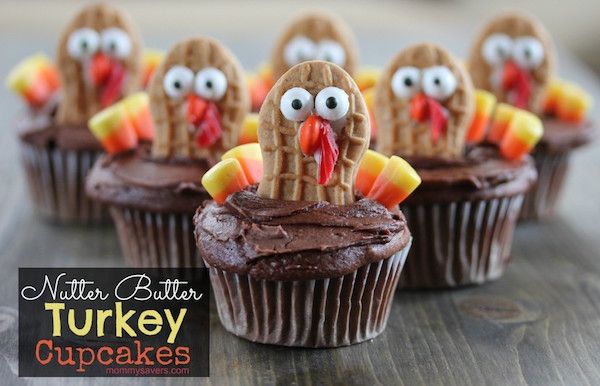 How adorable are these Turkey Cupcakes at Mommy Savers? Those eyes are killing me! If you have little kids helping, you might want to assemble the Nutter Butter faces while they're at school. Then let them go crazy sticking the cookies and candy corn into the cupcakes which, by the way, can totally be store-bought. Easy and so cute.
Related: Color Me Thanksgiving Cookies: The perfect Thanksgiving activity (and treat) that's no stress for Mom and Dad.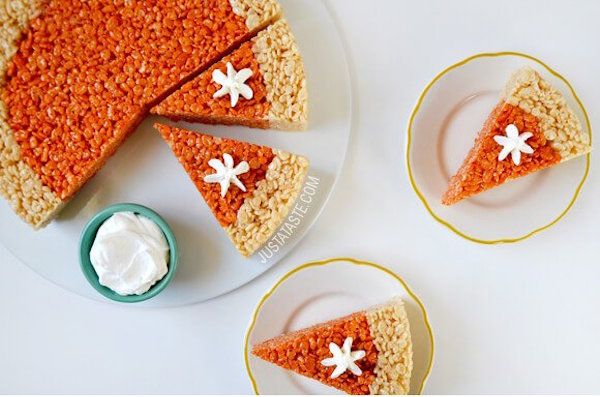 My kids don't like pumpkin pie, which is something that I will never understand. (It's my all time favorite!) The only thing making me feel better about the fact are these unexpected and totally hilarious Pumpkin Pie Rice Krispies Treats at Just a Taste. My kids will certainly love this recipe and, well, I can hardly blame them.

These sweet-and-salty Harvest Flower Pretzel Bites at Two Sisters Crafting are just the right size for a little after-dinner sweet bite. And other than the brief job of melting the chocolate (so that the candies will stick), this is one the kids can do completely by themselves.
Everybody gets a wishbone! These Chocolate Wishbones at The Decorated Cookie may be the ticket to ending the annual sibling fight (since I've got 3 kids and 1 wishbone). I'm not sure that I trust my freehand drawing skills so, if you're like me, print this free wishbone pattern and lay it underneath the wax paper as you pipe out the white chocolate.

If your kids' Thanksgiving equals playing all day with cousins + no nap time (yikes), then a massive sugar overload at the end of the night may not be the best plan. Setting out a Caramel Apple Dippers bar like this one at Lauren's Latest is a good dessert option. You can moderate how much caramel they get and direct them toward delicious, but not-so-sweet toppings like peanuts or fresh coconut.