If you ever need a reminder of what the holidays are about, watch a child on Christmas morning. The excitement is palpable and the magic is real. I just want to soak it all in, but I also want a top-notch brunch to kick off the holiday. What's a girl to do? Whip up one of these make ahead holiday breakfast recipes, is what.
On Christmas Eve, put on that Sinatra Christmas album, break out the homemade eggnog, and prepare one of these delicious overnight dishes while elves finish tying bows (or you bask in the glory of having finished it all yourself). Then, on Christmas morning, wake up able to focus on what really matters: Coffee. Ha, just kidding. The kids! The magic! And a crazy good breakfast for all.
Related: Gingerbread pancakes! Genius!
Cinnamon rolls are a go-to holiday breakfast and though they require some effort, they can be made a day ahead of time. This recipe for Pistachio Orange and Dark Chocolate Cinnamon Rolls at Joy the Baker (above) are Joy's take on a recipe by the Pioneer Woman, which is pretty much two recipes by butter-loving baking geniuses in one. If you're looking to make cinnamon rolls, this is the recipe. Check out Joy's notes on how to make it ahead of time at the end of her instructions.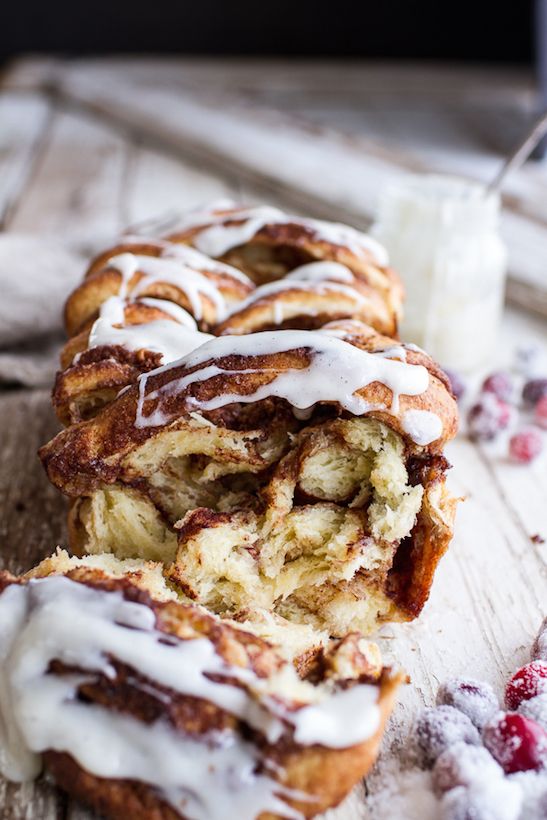 Sugar plum fairies will be dancing like crazy for this Overnight Pull Apart Brioche Cinnamon Roll Bread from Half Baked Harvest. Despite the impressive appearance, this is a fairly straight forward recipe, at least if you've gone so far as to have made cinnamon rolls before. The recipe requires two days—with a little prep work the day before you bring it all together—so plan ahead for this one.  Then, once assembled, just bake the cinnamon infused dough and whisk a little cream cheese frosting to drizzle over the warm bread. The work is worth it.
Related: 7 make-ahead Christmas brunch recipes for a no-fuss, all-delicious morning.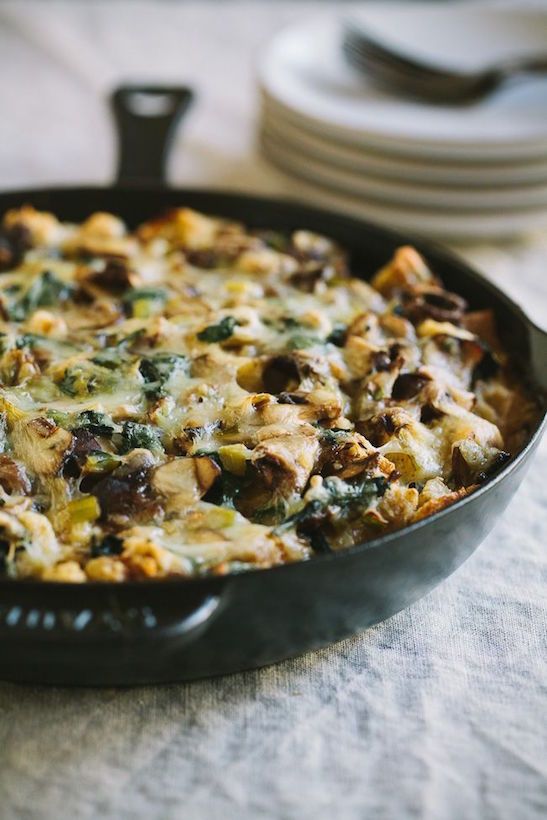 This lovely vegetarian Wild Mushroom and Leek Strata at Gather and Dine is made with whole grain bread, sautéed leeks, mushrooms, spinach, and two cheeses. My mouth is watering just thinking about it. Emily suggests using ghee when sautéing the mushrooms and leeks. Ghee, also known as clarified butter, is thought to have a clean, nutty flavor and has a much higher smoke point than butter—which just means you can get your pan super hot and the ghee won't smoke or burn the way butter would. But, yes, regular unsalted butter will work fine, too.
Related: Slow cooker breakfast recipes for chilly, fast-paced mornings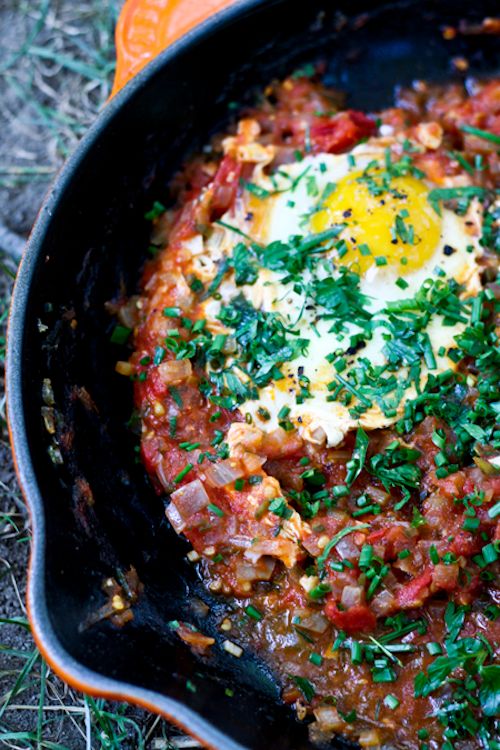 I love, love shakshuka, an Israeli dish of eggs cooked in a spiced tomato sauce. This Farmers Market Tomato Sauce and Poached Eggs Shakshuka recipe at Foodie with Family has a gorgeous, flavorful sauce that can be prepared days ahead since it freezes well. In the morning, crack some eggs into the sauce and bake until just set. Be sure to serve this with warm bread for sopping up all that delicious sauce and creamy yolk. Also, this makes a nice dairy-free option if you skip the cheese.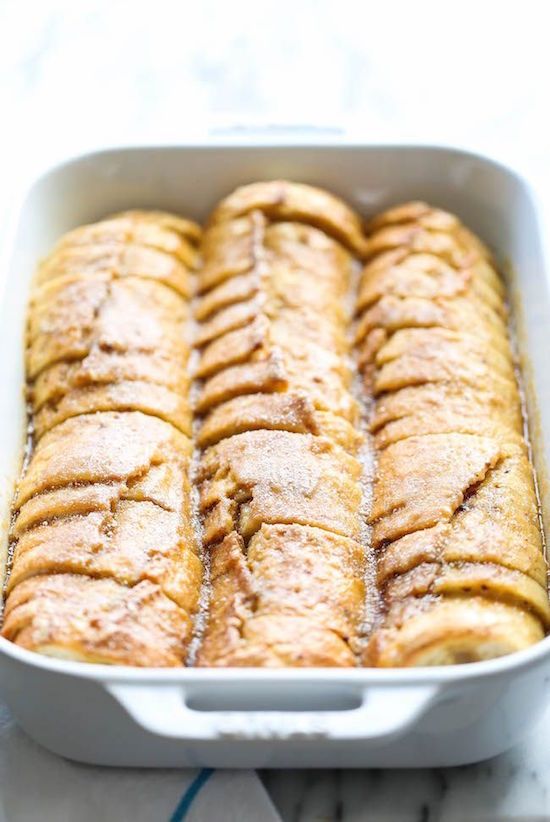 This appropriately named Easiest Overnight French Toast Bake at Damn Delicious may end up being my favorite gift of Christmas day. This recipe has a lot going for it: a 10-minute prep time, an overnight soak, and a finishing glaze made with butter, brown sugar, and maple syrup. Tell me this doesn't instantly make your wish list! If it does, consider warming some extra syrup for the table and garnishing with fresh berries and powdered sugar for a pretty presentation.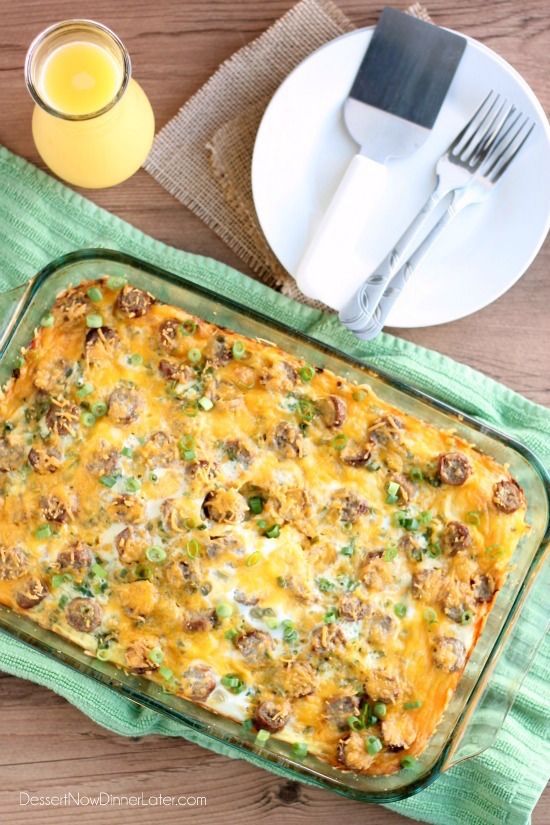 The Breakfast Bake at Dessert Now Dinner Later is the perfect dish for last minute elves who haven't wrapped or simply want to pour a glass of wine and relax in front of the tree on Christmas Eve. I love that you don't even have to thaw the frozen potatoes—just layer with eggs, cheese, and a few other ingredients in a pan, and bake in the morning.
Related: 8 decadent Nutella breakfast recipes for any special, extra indulgent morning.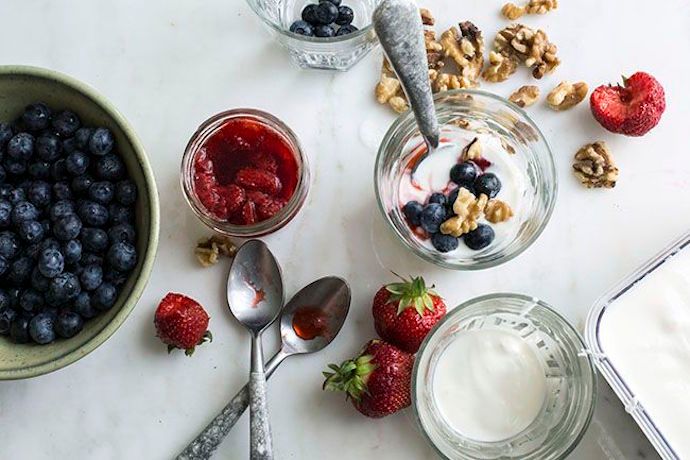 If you want a more casual (and lighter!) Christmas breakfast, try this Slow Cooker Yogurt recipe at Pass The Knife. Don't scoff: Making yogurt in the slow cooker is dead easy. In fact, this one was made by a little kid! It can also be prepared a couple of days ahead of time and is the perfect project for idle kids who are out of school looking for something to do. (Yay for kitchen science!) Pair the finished result with fresh fruit and make-ahead Olive Oil and Maple Granola that we found at Food52 and feel good all day. That is, until your go overboard at dinner. Ha!