You have enough on your plate finishing up Christmas shopping and planning your holiday meals. If you're also doing elf on the shelf, we tip our hats to you. And all while the kids are home from school! We know it's a busy time and want to make life a little easier with our favorite kitchen secret: easy chocolate bark recipes.
You guys, you just melt chocolate, add some delicious toppings, and you're done. So easy, and such a great treat or homemade food gift. These 8 delicious chocolate bark recipes will make it look like you spent tons of time in the kitchen, when you really just whipped it up while juggling 5 other tasks. Because you rock.
Related: 7 easy holiday bark recipes. Because candy made in minutes is the best gift of all.
If you've never made chocolate bark before, you may want to start with this great tutorial on how to make chocolate bark at Sweet Potato Chronicles (top). (No, there are no sweet potatoes in this chocolate.) Ceri gives tempting topping suggestions—toasted coconut and cranberries sound pretty good to me—but you can add anything you want to this chocolate base.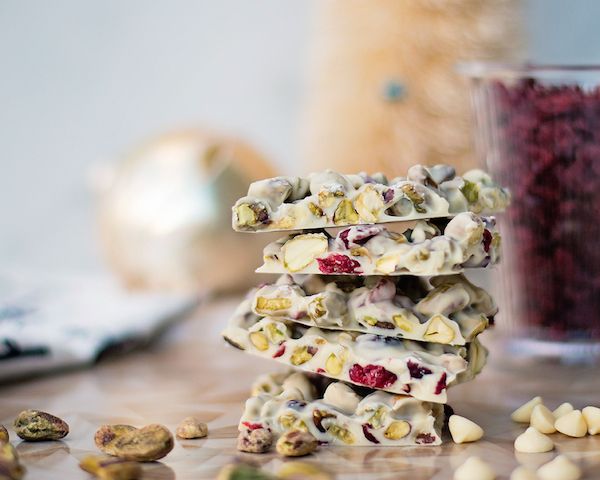 Cut the sugar (well, just a little bit) with this Cranberry, Pistachio and White Chocolate Bark at XOXO Bella. The tartness of cranberry and nuttiness from pistachios pair perfectly together and are great for anyone who doesn't like their chocolate overly sweet.
Does it get any better than peanut butter and chocolate? Swirl a piece of this Peanut Butter Chocolate Bark at Two Peas and Their Pod into a mug of hot chocolate for a yummy punch of flavor. Or just eat it straight up. That works, too.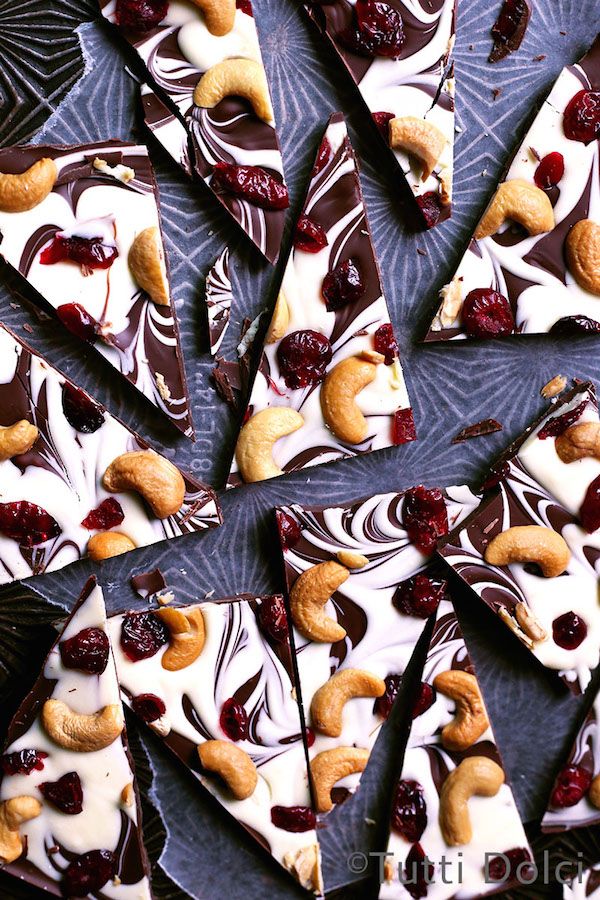 Can't decide if you want to make white chocolate or milk chocolate bark? Go with the Marbled Chocolate Bark at Tutti Dolci. The nuts and dried berries give it a great burst of flavor, but you can always leave them off if you've got picky eaters.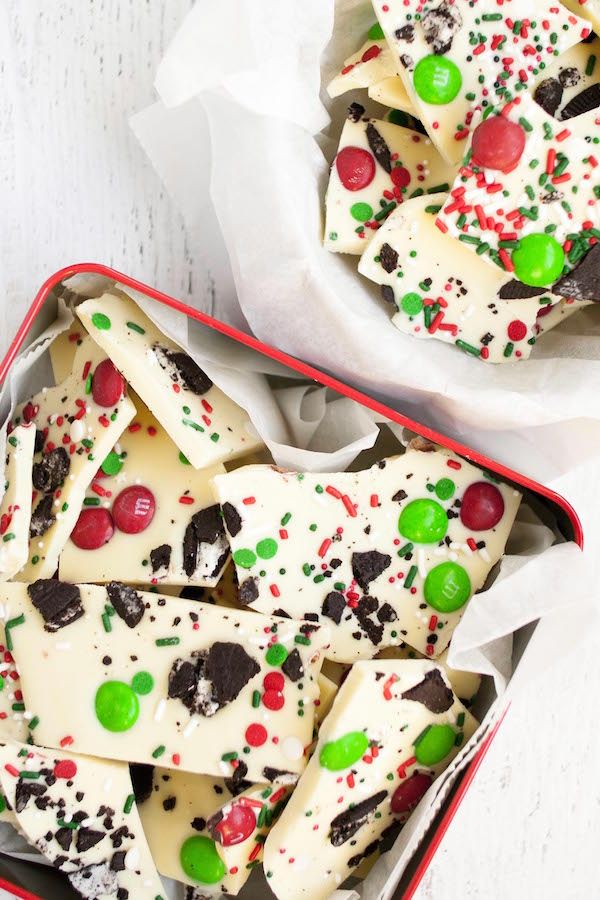 The kids will go crazy for this Santa Bark recipe at Deliciously Declassified. It's perfect for those year-end class parties—just make sure you leave left overs for Santa to eat on Christmas Eve.
If you ask me, this Dark Chocolate, Pretzel and Caramel Chocolate Bark at Eat In Eat Out is the ultimate. This treat is so thick it needs to be cut with a knife. And all that gooey goodness on top? Yum. If you're not a big pretzel fan, you can always substitute peanuts for a Snickers vibe.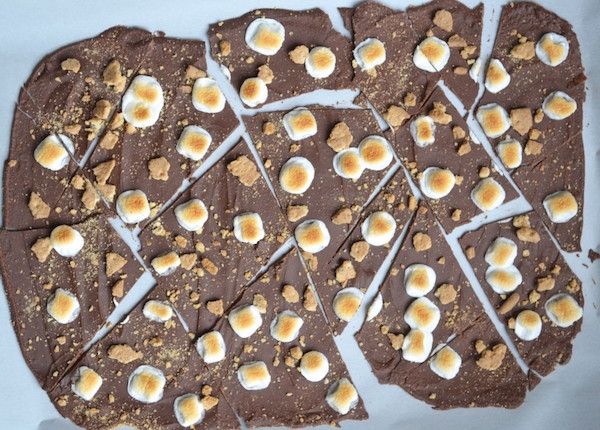 Just because it's too cold to sit outside around a campfire doesn't mean you have to give up s'mores. This S'mores Chocolate Bark at Measuring Cups Optional gives you the fix you need while it's snowing and wintery outside. Now that's a Christmas gift.
Got leftover candy canes?! Who doesn't? We'll be using ours to make this Peppermint Chocolate Bark at Sally's Baking Addiction. So much better than licking a candy cane, right?