It turns out that today, March 7th, is National Cereal Day (who knew!) and I can think of no better time to make this confession: I'm a recovering cereal addict. I could eat it for breakfast, lunch, and dinner—and have on occasion. Cereal largely fueled my college and early 20's diet, before I discovered actual cooking. But even after that, nothing could beat a big bowl of Cinnamon Toast Crunch.
Then I had kids.
Top: Trix Yogurt Popsicles at I Wash… You Dry |Fruity Breakfast Cookies at Hip Foodie Mom | Reese's Puffs Treats at My Utensil Crock
I'm all for moderation, and have made some really fun snack recipes using cereal over the years, but like so many other parents, I grew concerned about a steady diet of foods containing artificial flavors and colors. As awareness grew — among both companies and those of us who buy cereal — my family started changing our habits. So I've been glad to see how many food companies have started experimenting with more natural ingredients to better align their products with how parents like me want to feed our families.
That's why I'm really pleased to welcome back our sponsor, General Mills, which has taken the major step of removing artificial flavors and colors that come from artificial sources from so many of their cereals, that now 75% are made without them. They're aiming for 100% over the next couple of years. And P.S.: They've also been reducing sugar in their cereals, too.
So I can eat as much cereal as I want again! No, not really. But still. Bravo for listening to the needs of parents.
You're going to notice that cereals like Fruity Cheerios and Trix look different than they did before, because now they're being made with ingredients like fruit and veggie juices, annatto seeds, and turmeric extract for color. Also, cereals like Reese's Puffs are now made with natural flavors like vanilla.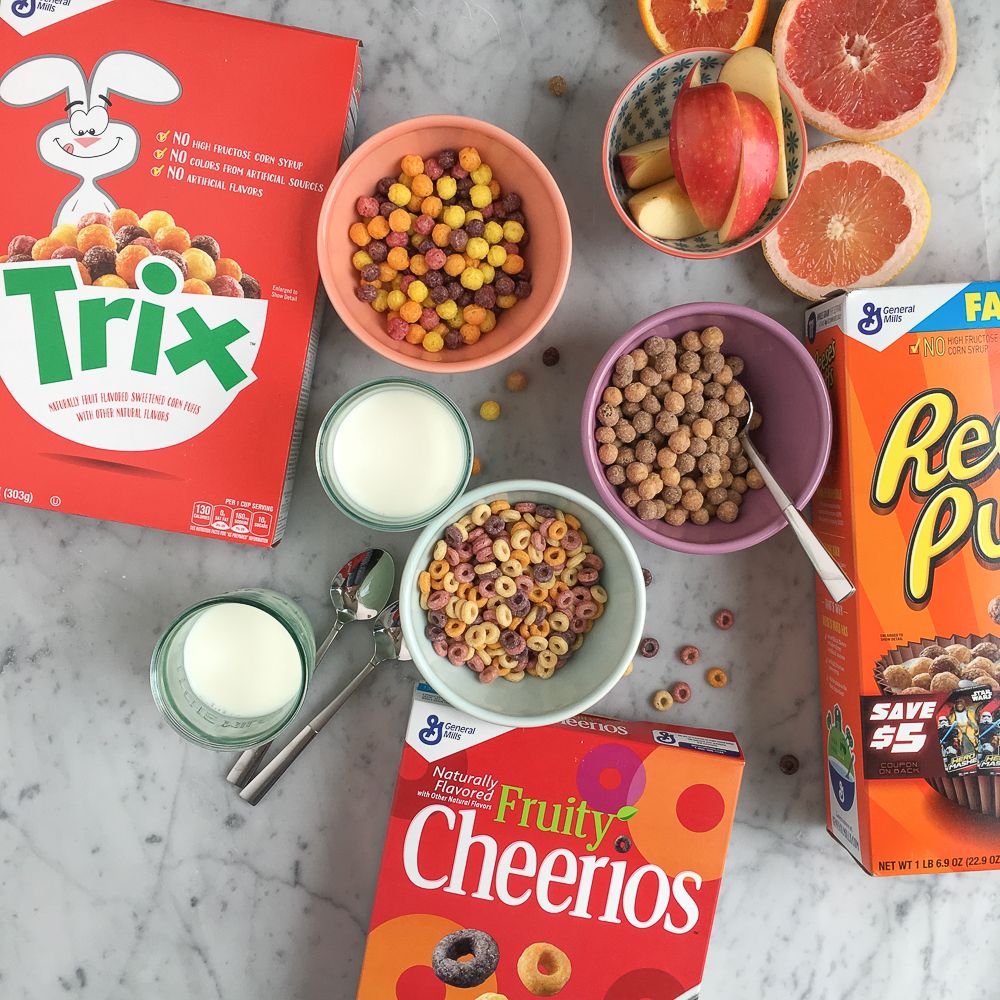 From Fruity Breakfast Cookies recipe: Hip Foodie Mom
If this makes you feel better about cereal, too, I've put together 8 awesome snack recipes using cereal, from well-balanced to decadent. Because, hey, it is National Cereal Day, after all.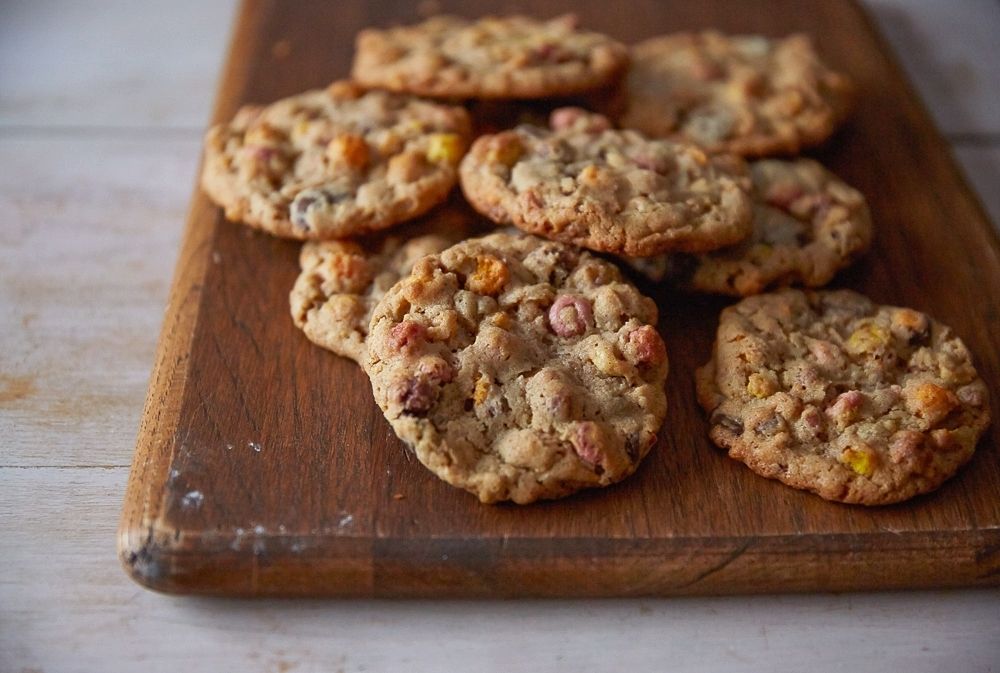 I love the balance that these Fruity Breakfast Cookies at Hip Foodie Mom strike. They are fun and super tasty, as snacks should, but also packed with cashew butter and oats for the kind of nutritional boost that you don't normally see in a cookie. The name of Alice's recipe suggests that these would be a good way to start the day, but I'm more inclined to serve them as a fun afternoon pick-me-up.
When I first found this recipe for Trix Yogurt Popsicles at I Wash… You Dry, I thought it was made using flavored yogurt . As it turns out, the recipe calls for mixing high-protein Greek yogurt (mmm…my fave) with actual Trix and fresh fruit. I love that. Because provided you use a natural yogurt, you can completely eliminate artificial color and flavor in this recipe. In fact, while her recipe calls for vanilla yogurt, I'd use plain to control for sugar, too. You can always add a touch of honey if you want to make yours sweeter.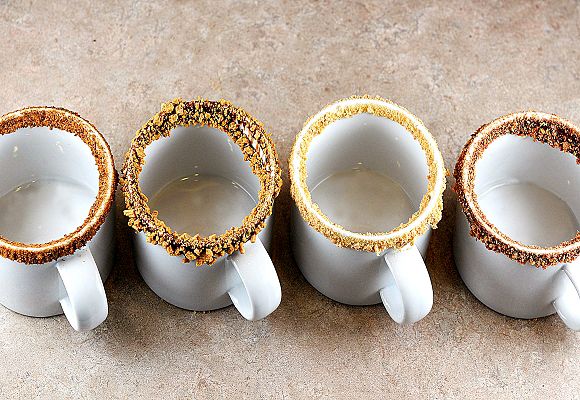 If it's still chilly where you live, this Cereal Hot Chocolate Bar at Tablespoon is genius! Because why should only cocktails get the fancy sugared-rim treatment? Turn regular hot chocolate into Cinnamon Roll Hot Chocolate, S'mores Hot Chocolate, and more with this super clever — and very simple — tutorial. Then serve it up with a slice of toast topped with almond butter and banana or pita chips and fruit for a perfect cozy snack.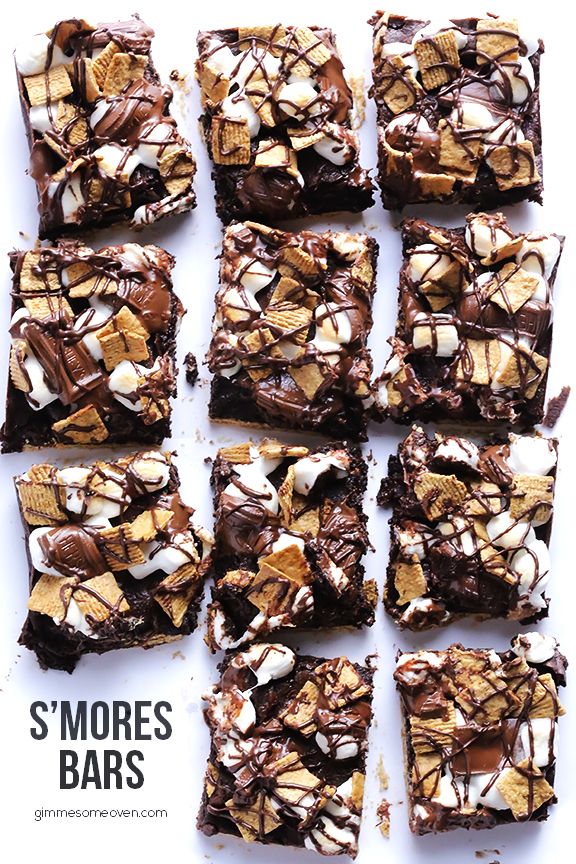 S'mores Bars | Gimme Some Oven
There is no more perfect thing to do with a box of Golden Grahams than to make a s'mores treat, like these S'mores Bars that we found at Gimme Some Oven. I know: They're totally over the top for everyday snacking, but such a delicious and easy way to treat the kids to s'mores on special occasions. Like at a birthday party, on rainy weekends when you need a fun kitchen project, or even if you just want to celebrate the kids for a job well-done.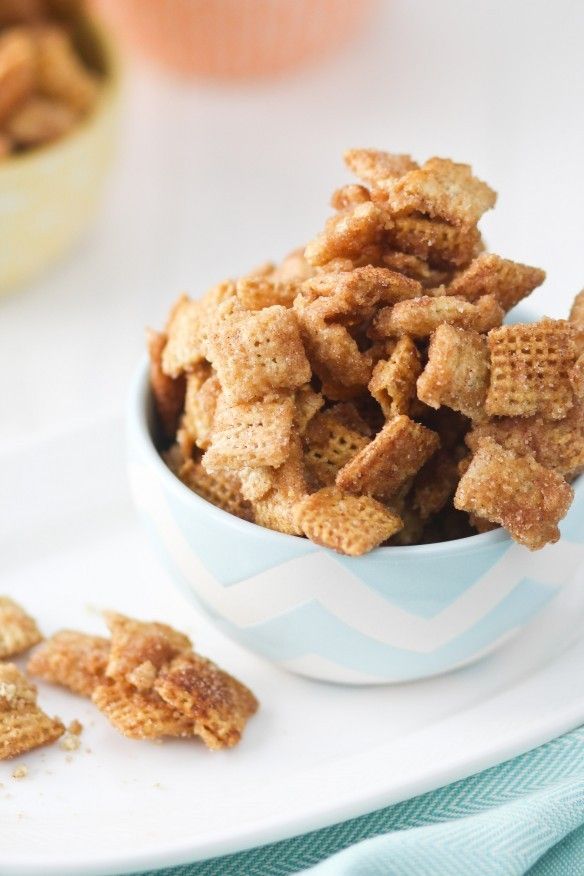 I've seen my share of Chex Mix snacks before, but there is no way that I could pass up this Caramel Churro Chex Mix at Confessions of a Cookbook Queen. Holy deliciousness. And pardon me if I throw some Cinnamon Toast Crunch in there, too. Overboard? Perhaps, but if not on National Cereal Day, then when? (For the record, the answer for me is "all the time.")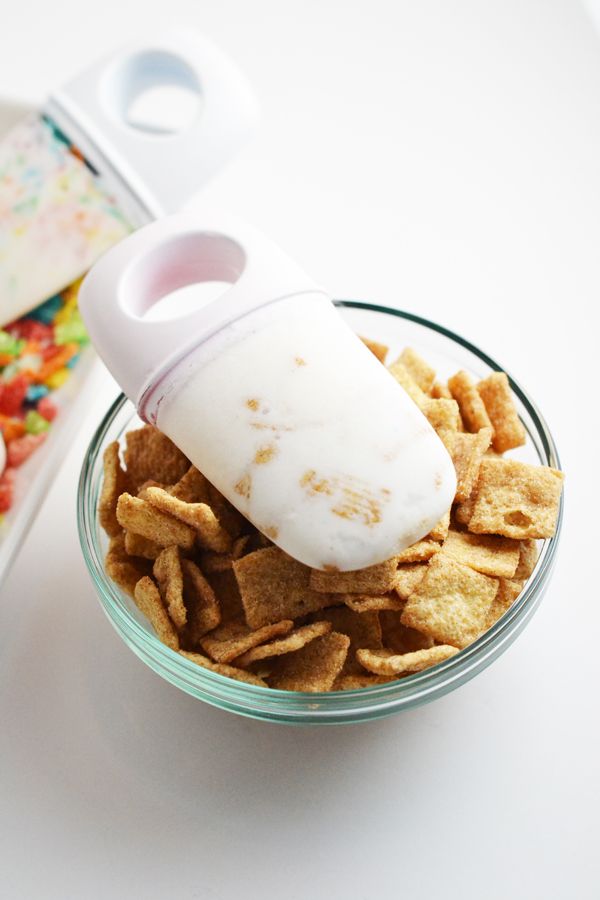 By now it'll come as no surprise that I could write a whole post just about my secret addiction to Cinnamon Toast Crunch. It was really hard to choose just one snack recipe using what is, to me, the ultimate delicious cereal, but these Cereal Milk Popsicles at Natalie Paramore take the, uh, cake. They manage to feel like an extra special treat but without being totally over the top, thanks to the combination of almond milk and coconut milk ice cream. Though keep in mind that you can make them using any milk and ice cream that you want. In fact, I image they'd come out delicious without any ice cream at all if you want to make this more of an everyday snack.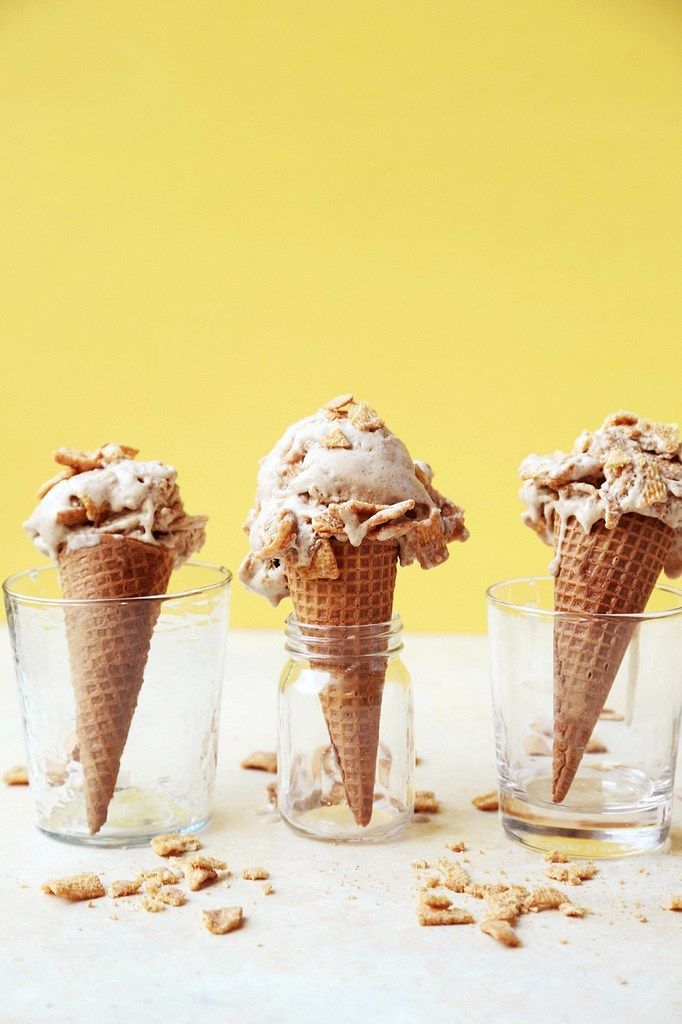 Alright, I can't help myself. JUST ONE MORE. If you love Cinnamon Toast Crunch as much as I do and are looking for a special treat, then maybe, just maybe, you'll want to make this Cinnamon Toast Milk Ice Cream at The Candid Appetite, because oh my goodness.

There's no way a roundup of the best snack recipes using cereal would be complete without a recipe for a marshmallow cereal bars like these Reese's Puffs Treats at My Utensil Crock. You can, of course, use whatever cereal you like in this adaptable, all-purpose recipe, which is great given that some of the cereals I've been staying away from are back in play without artificial flavors. But, then again, why not just stick to Reese's Puffs. Yes, I think that's the smart move.
You can celebrate National Cereal Day (March 7th) by sharing how you enjoy your favorite cereals using #NationalCerealDay and tagging @generalmillscereal on Instagram.
This post is brought to you buy General Mills, giving us more reasons to love cereal again. Thanks for listening to parents, and making changes that matter to a lot of families.