Most of us have experienced that post-steakhouse glow that comes from eating a perfectly cooked, perfectly juicy, perfectly pink-all-the-way-through steak. But no matter how hard I've tried to replicate this restaurant-style steak at home, it's always been a challenge to get a delicious, golden brown crust and medium-rare center. That is, until I learned about the reverse sear trick from Cook's Illustrated.
This method does not include a gentleman pouring you wine and doing your dishes. However, it will give you a restaurant-style steak that's pretty damn close to perfection for a lot less money. Which is worth opening my own bottle of wine.
Top: Perfect Steak | Nom Nom Paleo
Related: 5 fabulous steak recipes to make dinner sizzle
The general idea of the reverse sear is that you first cook the steak in a low oven, and then finish by searing it in a smoking hot pan. I share the key steps below, but if you're a visual learner, you'll want to read How To Make the Perfect Steak (above & below) at Nom Nom Paleo. Michelle delves into the Cook's Illustrated recipe with loads of detail and pictures.
Warning: you'll be ravenous by the end.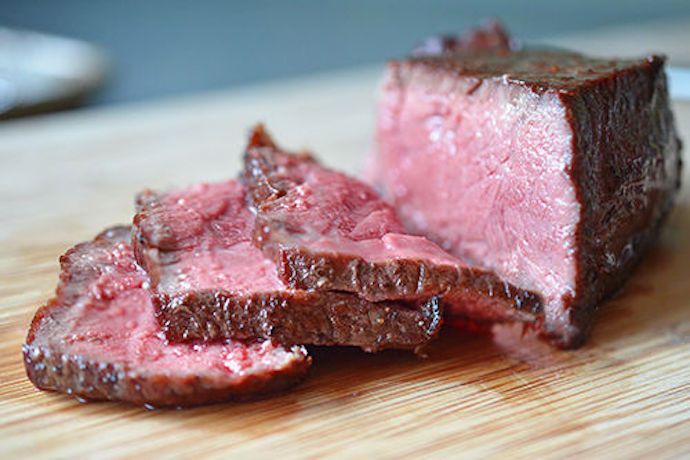 The trick to restaurant-style steak: The reverse sear method
1. Start with a thick-cut steak that's 1 1/2 – 2 inches thick. And because cooking times vary by size, a meat thermometer is a must. Have it ready!
2. Preheat oven to 275 degrees and lay steaks on a wire rack set over a baking sheet. Allow them to come to room temperature.
3. Pat steaks dry and season liberally with salt and pepper.
4. Cook steaks in the oven until the internal temperature reaches 95 degrees, about 20-25 minutes.
5. Meanwhile, heat a heavy pan (I use cast iron) until very, very hot, and pour in a little neutral oil, such as grapeseed or canola. Don't be nervous if there is a little smoke.
6. Without moving the steaks except to flip them, sear both sides until golden brown and crusty, about one minute per side. Sear the edges as well for about 30 seconds per side.
7. Remove steaks from the pan and cover loosely with foil. Allow them to rest at least 5 -10 minutes; the bigger the steak, the longer the rest should be.
Related: Easiest Steak with Sweet and Sour Peppers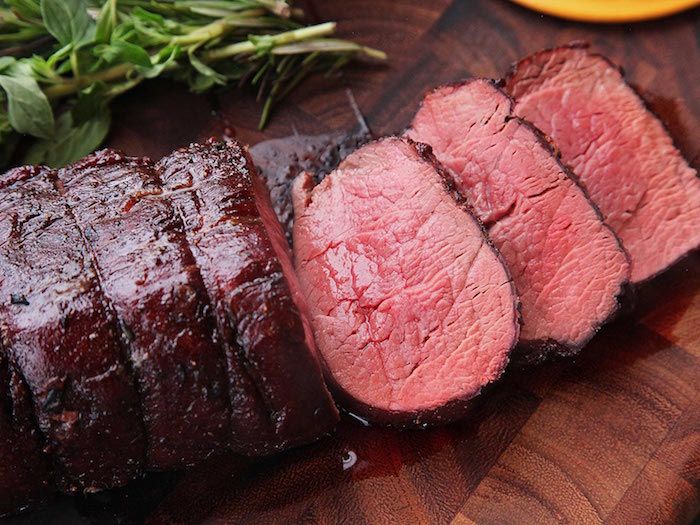 I've only used this technique for strip steaks, but The Secret to Perfect Beef Tenderloin at Serious Eats makes a good case for using it on a fancier cut, like tenderloin. Not that anyone needs another reason to trust Serious Eats expert, J. Kenji López-Alt, but it's cool to know that he helped develop the reverse sear method when he was at Cook's Illustrated. Plus, our editor Stacie swears by the reverse sear method for her Christmas tenderloin. Bookmark this recipe for the holidays or any special event that calls for restaurant-style steak and thank me later.