We started a new tradition in my house: Once a week (on most weeks), my boys, who are 6 1/2 and 9 1/2 years old, cook dinner for the whole family. They set a dinner menu, choose the recipes, tell me what I need to buy at the market, and execute their meal—cutting with sharp knives and all. Of course I'm there to help—especially with those sharp knives—but even I'm surprised at how much they can do on their own. The only problem: Finding great resources for simple, but real recipes that will actually satisfy us all for dinner.
So many cookbooks for kids are snack or baking focused, which is great for the one-off kitchen project, but what about recipes for kids who really want to cook—or at least try? These cookbooks for kids offer recipes that allow kids to make full meals, from breakfast to dinner, and to actually flex those real-life cooking skills that they'll need before you know it.
Whether you have teens who need to start practicing or young intrepid foodies who cook for fun, these cookbooks will help get them started.
CME is an rStyle and Amazon affiliate.
Related: Handstand Kids cookbook. Proving you don't need a blue Easy-Bake Oven to get boys to bake.
Cooking Class by Deanna F. Cook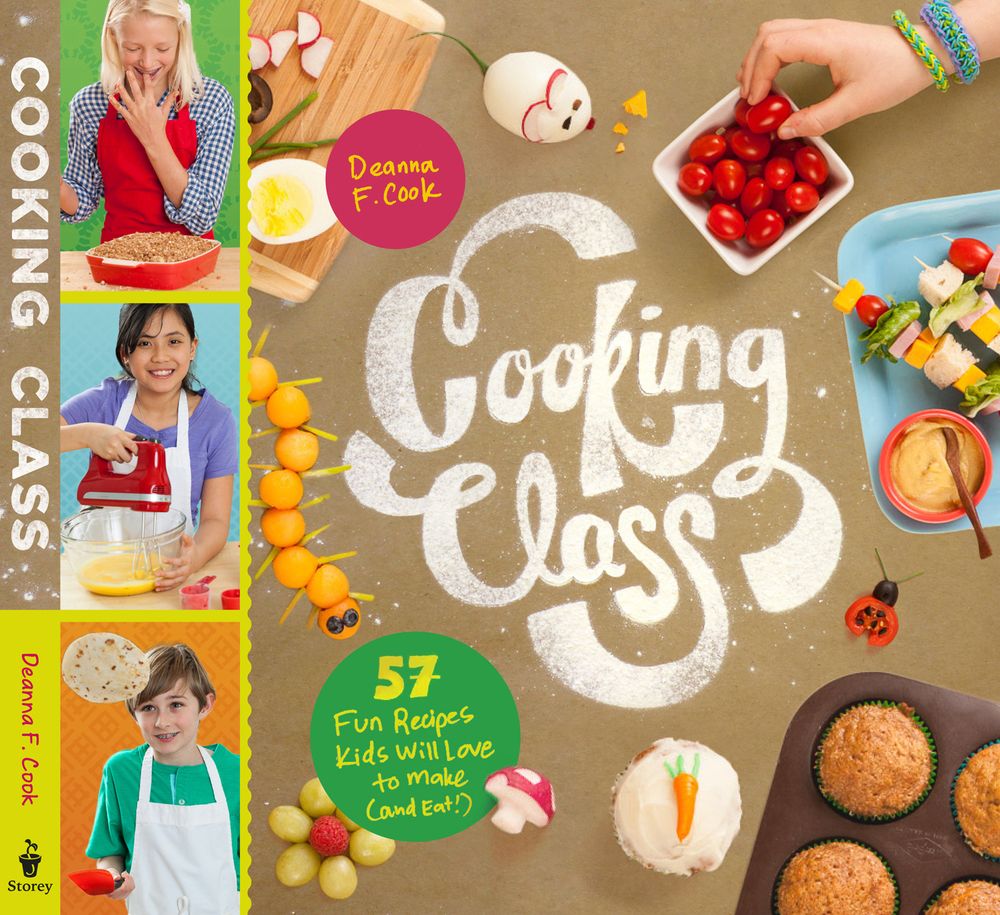 Deanna Cook has written more than a dozen cookbooks for families and kids, has taught cooking classes, and was an executive editor at FamilyFun: If there's anyone who can teach kids real cooking skills while keeping it fun and lively, it's her. Cooking Class: 57 Fun Recipes Kids Will Love to Make (and Eat!) is proof.
This colorful, spiral bound (read: easy to have on the kitchen counter) book is packed with recipes for all three meals of the day, plus vegetable sides, snacks and desserts. The "My First Dinners" chapter includes recipes for pesto pasta, popcorn chicken, fish tacos, and California rolls, among other options that you'll be happy to eat too. Every step has a pictures and is simply explained in a way that my kids find totally easy to follow, which means less sous-chef'ing from me.
The Forest Feast for Kids by Erin Gleeson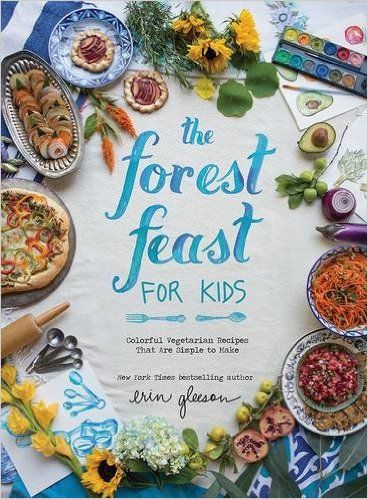 If you're familiar with Erin Gleeson's gorgeous blog, The Forest Feast, then you'll know exactly what to expect from The Forest Feast for Kids: totally beautiful, seasonal, vegetarian recipes that are so simple, even children can execute them. Literally. Know for her visual recipes, Erin annotates her simple instructions—usually never more than 4 or 5 steps—with fantastic watercolor art and photography. She also includes visual charts for common kitchen tools and cutting techniques, which my kids found exceedingly helpful. There are recipes for snacks, drinks, salad, sweet and parties. There are also meals, of course, that are best suited to kids open to vegetable-heavy meals like Pepper Pesto Pizza and Kale and Black Bean Tacos.
I know that may sound untenable to some of you, but I've found that it's actually way easier for my beginner cooks to focus on vegetarian meals because cooking vegetables is easier (and often safer) than cooking animal protein. Plus, when they do the cooking, kid are often more willing to try foods they'd normally avoid. My kids, for example, can't get enough of the Carrot and Zucchini Ribbon Pasta in this book—even though they refuse zucchini in all other forms.
Kid Chef: The Foodie Kids Cookbook by Melina Hammer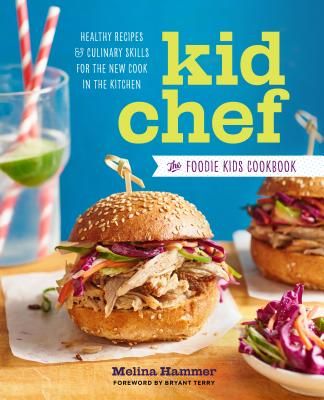 Kid Chef: The Foodie Kids Cookbook: Healthy Recipes and Culinary Skills for the New Cook in the Kitchen takes the dinner challenge I posed to my children seriously—and helps them take it seriously too. This is a fabulous cookbook that treats kids like real home cooks, just ones who are starting at the beginning. Packed with bright, beautiful photography and cooking facts, like quick and easy instructions on how to read a recipe, sharpen a knife, and prep ingredients, this is a book that can truly help your aspiring cook thrive in the kitchen. And the recipes are fabulous, too, from a simple but totally impressive Potato-Gruyère Tart to easy tutorials on how to make basics like garlic bread.
Though simple and easy to follow, I'd say that the writing in this book is geared towards 3rd or 4th graders and up. Teens may find the instructions a bit pedantic, but if they're just starting out, honestly, the skills are a good place to start—even if they already know that they have to wash their hands.
One more note: Melina has contributed to Food52 and The New York Times so, though simple, her food references are definitely on the sophisticated side. Remember that Potato-Gruyère Tart. Yea, that, plus combinations like avocado and melon. My kids love it—and so do I—but it's good to know before you purchase.
ChopChop: The Kids' Guide to Cooking Real Food with Your Family by Sally Sampson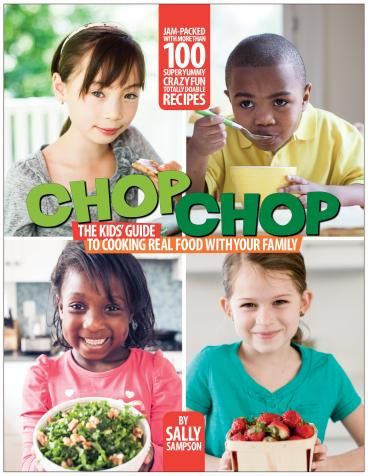 Given our long-time love for ChopChop magazine and the ChopChop Cooking Club for Kids, it's no surprise that we're also fans of their cookbook, ChopChop: The Kids' Guide to Cooking Real Food with Your Family. But this is not a case of default love. This book actually gets major use in my house from my boys who use it as their go-to source when they can't find anything else that sparks their interest. Without fail, this book comes to their meal plan rescue.
Praised by the likes of Mark Bittman and Julia Moskin of the New York Times, this cookbook is jam packed with modern, simple recipes that school-aged kids can realistically take on. Instructional without being pedantic or overly-saccharine, a tone that too many cookbooks geared towards little kids take on, this book will help your child take on basics like roast chicken, classic beef and salmon burgers, and oven-roasted veggies. These recipes are the kind that they'll take with them—and if they get into cooking, start riffing off of—well into their independence.
Again, this feels best for school-aged kids, but middle- and high-schoolers can certainly learn from this book if they've never cooked before. In fact, they should learn from this. Because no young adult should go off without knowing how to perfectly scramble eggs and make a mean meat sauce. Then, once they go through this, hand them Bittman's How to Cook Everything and pat yourself on the back for a job well done.
Related: ChopChop Cooking Club: Free online cooking lessons for aspiring little chefs.
How to Cook in 10 Easy Lessons: Learn How to Prepare Food and Cook Like a Pro by Wendy Sweetser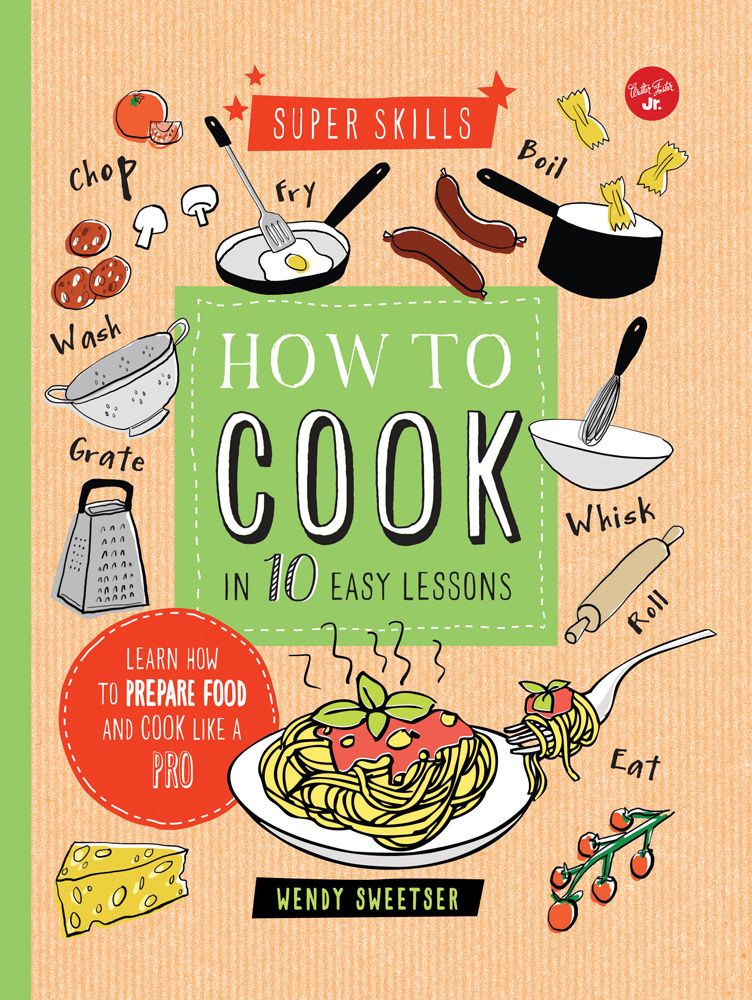 I admit that this one is a bit of an outlier. The rest of the list is comprised of books that I feel my kids can pick up to plan an execute a family dinner that we'll all actually enjoy (without any pretending on the grownups part). While How to Cook in 10 Easy Lessons: Learn How to Prepare Food and Cook Like a Pro also has recipes that fit the bill, we like this more as a teaching guide to cooking skills.
Given that I've decided to truly let my kids cook, which means chopping with real knives, boiling water, and sautéing over real heat, I believe it's important that they learn how to do it all right, and not just because I'm a food snob. Proper—or at least proper-ish—technique is important for safety and cooking enjoyment, both of which I consider important to my boys' cooking experience. This book is organized by 10 "super skills," from Mashing and Pureeing to Grilling, Roasting and Baking. Everything is clearly explained in respectful language that children school-ages and older should be able to easily follow, with simple illustrations to help. The recipes in each section help beginner cooks identify exactly what they'll need and which techniques they'll be using before they jump in, which my boys appreciate. Me, too, because I know exactly when I need to be paying more or less attention.
The recipes are no-nonsense and have kid appeal without being too kids-menuy. Think mini pita pizzas, homemade fish sticks, meatballs, twice-baked potatoes, and chicken satay. Sometimes my boys, who are a bit on the younger side, find the skills part easier to read, but the recipes harder to plan against since they aren't organized by meal or recipe type, but I'm happy even if they just read this and apply what they take in to other recipes that they cook.