Kitchen space, especially counter space, is a precious commodity in my small-ish kitchen, so in order for a gadget to earn a piece of prime real estate, it really has to earn its keep. Stand mixer? A shoo-in. Cast-iron skillet? Worth its weight in gold. But what about those single-task kitchen gadgets that have only one function? I'm talking about the quesadilla-maker, popcorn-popper, or infamous banana slicer (yes, it exists). Are they worth the clutter?
I've rounded up six single-task gadgets and appliances that we here at Cool Mom HQ think are well worth the price and even the kitchen space. Because sometimes it's okay to do just one thing exceptionally well.
CME is an rStyle and Amazon affiliate. Please note that the products recommended here are based solely on what we use in our kitchens.
Related: OXO stainless steel cookware makes for an affordable alternative to the big-name stuff.
Spiralizer
It may look odd, but the WonderVeg Vegetable Spiralizer is one of the most useful tools for making vegetables more fun and accessible, especially for kids. (Our editor, Stacie, reports that her children will only eat zucchini if it's been spiralized.) The resulting veggie noodles are honestly an awesome alternative to pasta. You can also use them in wraps, cold salads, and nearly any other lunch or dinner dish that can stand to be more interesting. Plus, the gadget itself is easy for little ones to use: You can have the kids help in the kitchen, which also gets them more excited about eating the veggies they prepped. It's a win-win.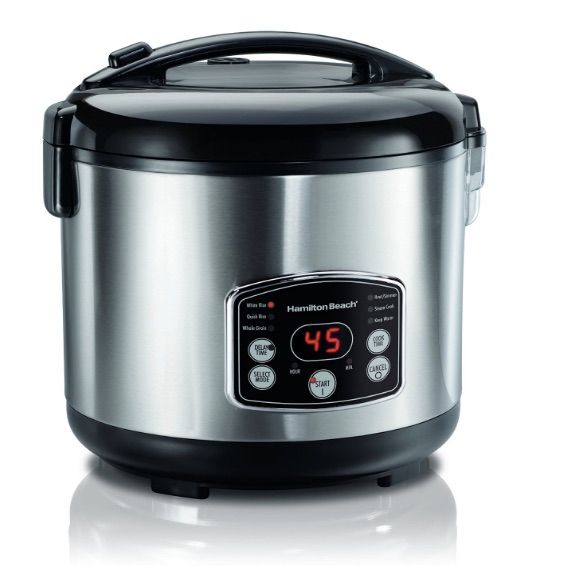 Rice cooker
Purists may scoff at a machine that performs the same task as a regular ol' pot, but hear me out. I love this HamiltonBeach Digital Simplicity Cooker and Steamer because it allows me to push a button and forget about the rice for the entirety of its cooking period. Which, as someone who's had countless pots boil over, makes it totally worth it. Plus, it'll keep the rice warm until it's time to eat, so I can set it in the morning and come home to a big pot of fluffy rice at night, which is pretty genius. It also cooks grains and beans, which is nice too.
Garlic press
It used to be that garlic presses were thought to be bad, and I suppose some might still be. If they aren't well designed, they can smash the garlic in a way that releases a bitter flavor. But a quality garlic press is hard to beat. I use mine for, oh, just about everything I cook. So rather than dicing all those tiny cloves—and having hands that smell like garlic for days—I just press and go with this Pro Culinary Garlic Press. So easy.
Related: Roccbox lets you make delicious brick-oven pizzas (and so much more) without the brick oven. 
Bread machine
Yes, it's bulky, and not everyone will have room for the Conair Cuisinart Bread Maker. But I will just say this: There is nothing like waking up to a fresh loaf of bread, or coming home to one at the end of a long day. Especially since all I have to do is add the ingredients and push a button. For me, the smell alone is worth the price.
Salad spinner
This OXO Steel Salad Spinner is a splurge, but I find that it's held up much better than the plastic ones I've owned in the past. And the pump-and-spin feature is just so fun. This nifty piece is especially important if you're concerned about ridding your leafy greens of pesticides, which we talk about in our guide on how to clean greens properly. If you just can't bring yourself to buy this expensive model, we still think a salad spinner is worth it, so grab whichever has good ratings at your price point.
Slow cooker
As you may have noticed, we're all about appliances that leave us with more hands-free time, while still making great food. So this Crock-Pot Cook' N Carry Oval Manual Portable Slow Cooker is an obvious choice. Or, if you're up for a splurge, our editor Stacie swears by her Fagor Luxe multi-cooker (which has the same functionality as an Instant Pot). It goes without saying that multi-cookers aren't single-task appliances, but maybe that's for the better? Either way, we're talking easy cooking and less time over a hot stove, so there's no wrong choice.