Let's get something straight: Halloween is about candy. Straight up, no bones about it. That said, with pumpkin carving parties, pre trick-or-treating Halloween dinners, and fun Halloween snacks for school lunch or after school, there are a lot of opportunities for Halloween snacks — but most of the recipes for such treats are for cupcakes, cake pops, and other sweets.
Just what the kids need, right? More sugar.
If you ask me, having a handful of fun, festive healthier Halloween snacks in your bag of tricks is a great idea. These are recipes that you can pull out for class parties, neighborhood costume parties, playdates, or any time you want some Halloween fun — well, besides trick-or-treating — and they're cute enough that your kids will love them as much as what they end up with in their trick or treat bag on Halloween.
Well, close enough.
Top: Halloween cheese and crackers at Peas and Crayons | Apple Mummies at Two Healthy Kitchens | Deviled Egg Brains at Brit + Co | Non-candy Halloween treat idea at MomDot
Related: More non-candy Halloween snacks that will make party guests happy.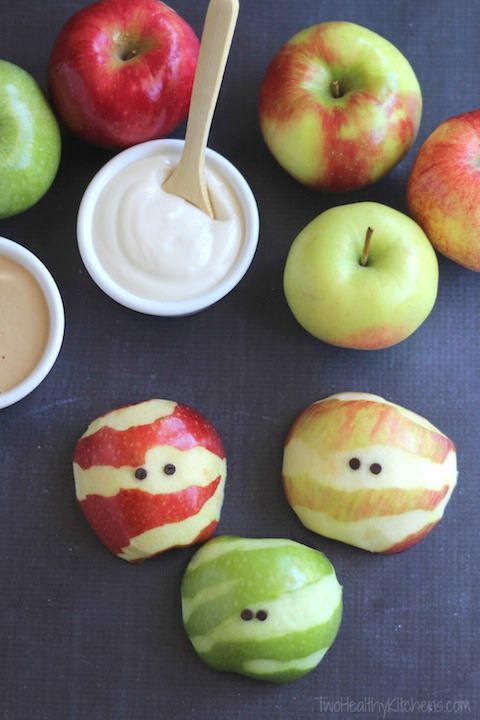 I've seen apples wrapped in gauze, but these healthy Apple Mummies at Two Healthy Kitchens are just as clever, if you ask me — and no gauze needed! Instead, a few easy, strategic strokes of the peeler gives you this hilarious after school treat. Check the site for the details; just know the one catch is that these are best served right away since even lemon won't keep them from browning a little bit.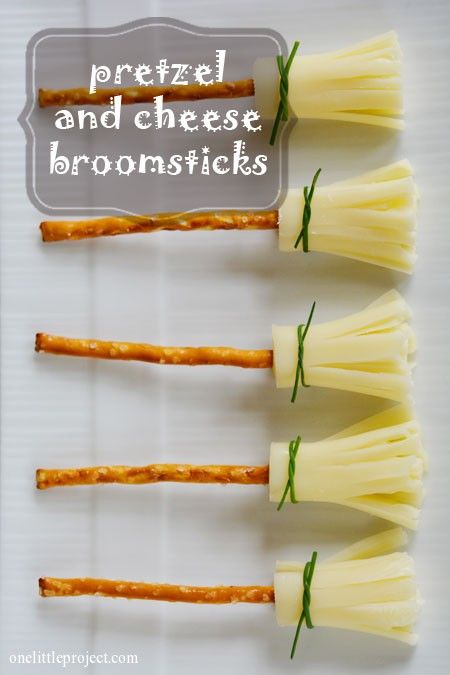 These Pretzel Broomsticks Halloween snack at One Little Project are so cute, but even though they're supposedly easy to make, I have to admit that I wondered if I'd have a hard time putting them together when I first saw them. It's a good thing that I looked further, because Debbie gives step-by-step instructions with photos. It turns out that these are, in fact, easy to make—even I can do them. I'm sure of it.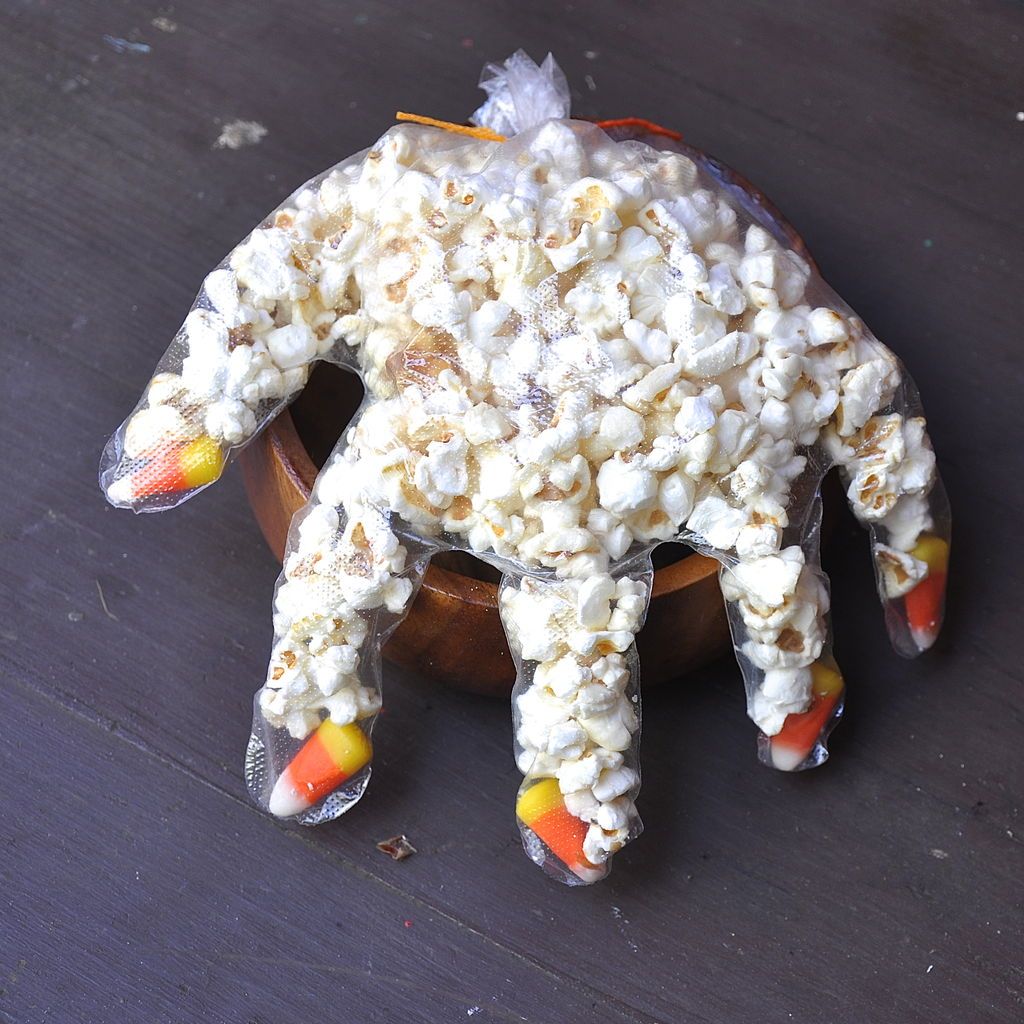 Halloween Popcorn Hands | Photo by Penolopy Bulnick at Instructables
For another less-sugary snack idea, the Halloween Popcorn Hands at Instructables crack me up. And, yes, I know that they have a little bit of candy corn in them, but these are mostly popcorn. If a few pieces of candy corn means that my kids fill up on popcorn instead of more sugar, I'm in. I thought that a few other parents might be too.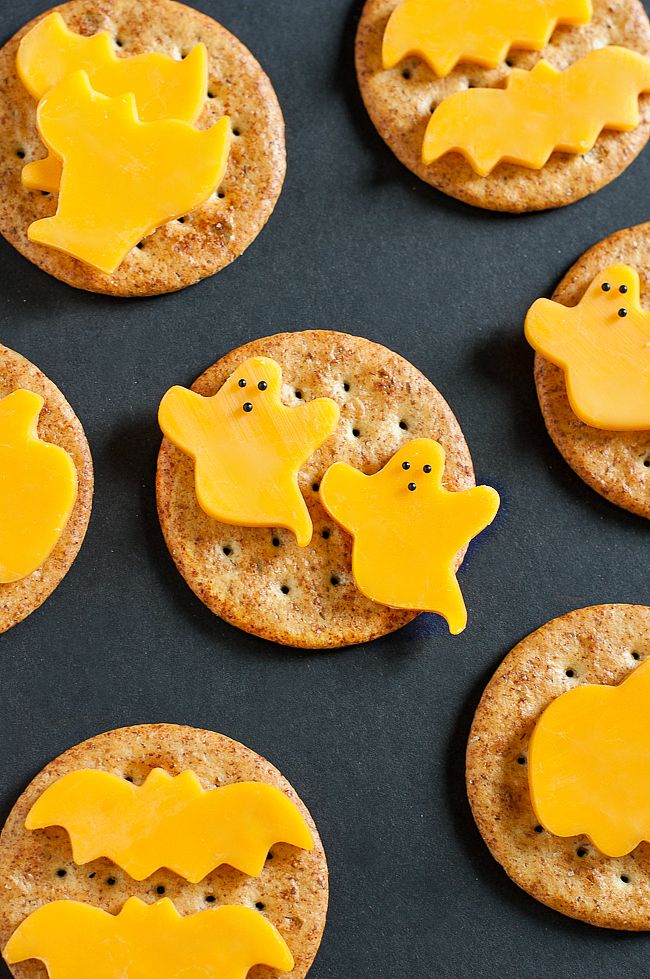 I love any idea that makes smart use of a cookie cutter, because what could be easier?! Pick up mini Halloween cookie cutters like ghosts, bats, or pumpkins to make Halloween cheese and crackers snack like these at Peas and Crayons. This recipe is just as great for a Halloween party as it is for a healthy after school snack before the trick-or-treating bloodbath.
Related: 7 easy, festive recipes that make use of your Halloween cookie cutters.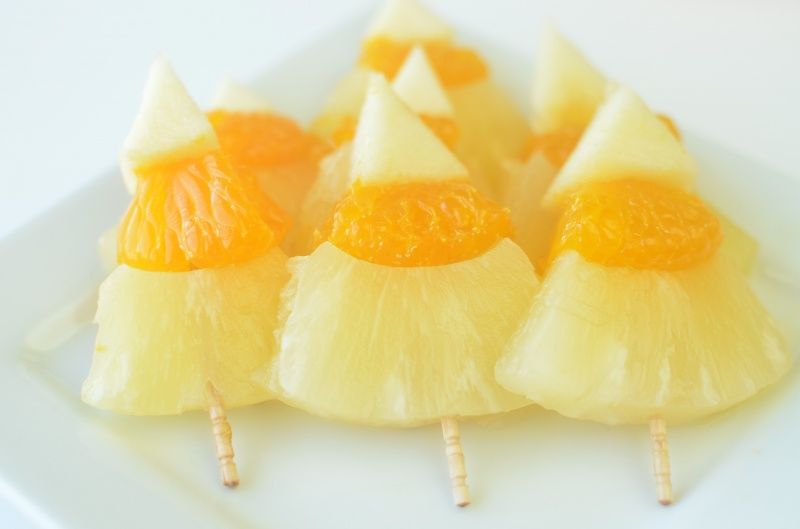 Candy corn is not my personal favorite so, honestly, this idea for Nature's Candy Corn at Super Healthy Kids (A.K.A. fruit-on-a-stick) is even more appealing to me than the real thing. If your kids won't feel the same way, serve it with her recommendation for a sweet yogurt dip recipe that she offers up too.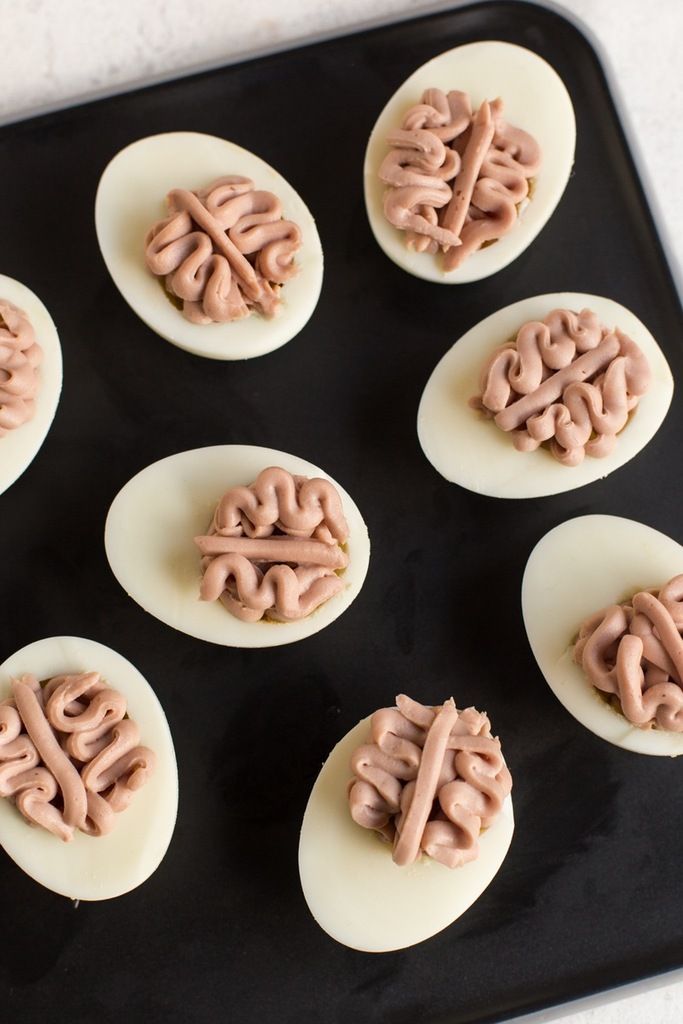 So many Halloween snack ideas are incredibly cutesie, and for older kids, I love these Deviled Egg Brains at Brit + Co strike a middle ground between cute and gross — at least by my sensibilities. I love that these aren't too gory to serve up to younger kids, but that older kids will get a kick out of them too. And deviled eggs. . . mmmm.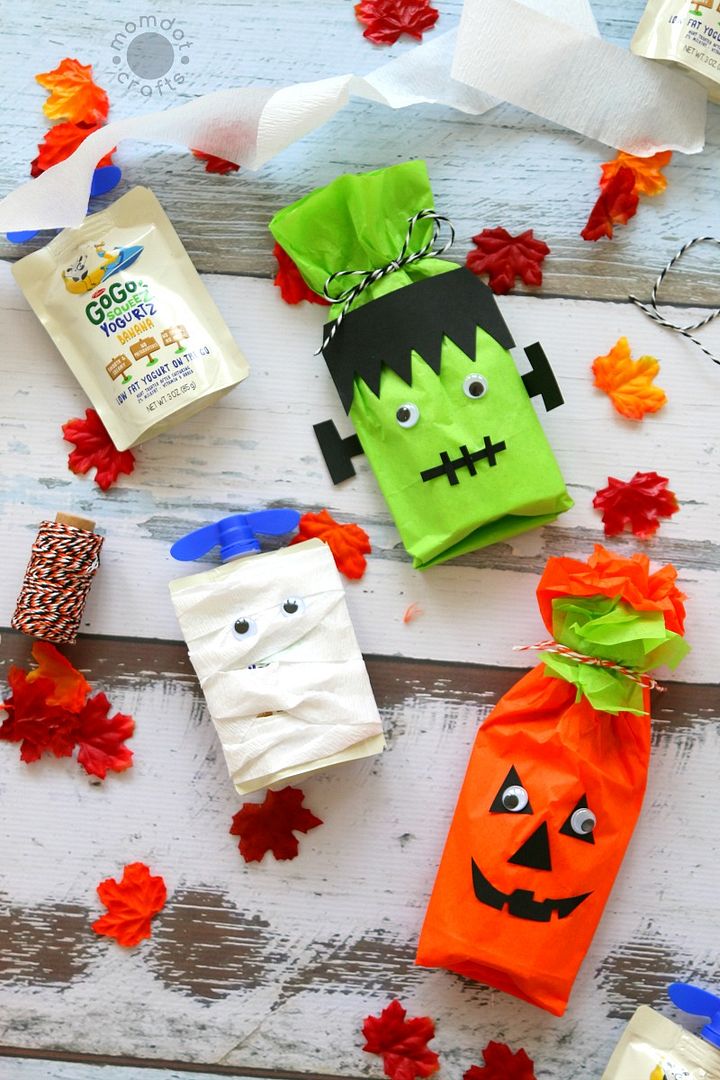 I admit that this is more of a craft than a recipe, but this non-candy Halloween yogurt snack idea at MomDot is such a cute way to serve up squeeze pouches of yogurt or apple sauce instead of oh, you know, cake pops or something. You can also do it with a juice box for a party or an adorable after-school snack.