Oh, Internet, how I love you, but long to hate you.
When I started seeing pictures of vegan carrot bacon popping up on Instagram, I quietly screamed "CALM DOWN, Internet!" Because can we please just leave bacon alone? Then I took a deep breath, clicked on some recipes, and saw that learning how to make carrot bacon isn't too difficult. And, fine, for our vegetarian and vegan friends out there, it may be worth it.
I'm actually crazy about veggies and often cook them as I would meat – I sear, braise, grill, and roast them. So I know that, when done right, vegetables can be just as satisfying as meat. But bacon? I had to know.
Top: Baked Smoky Carrot Bacon | One Green Planet 
Related: 7 kid-friendly vegan dinner recipes.
How To Make Carrot Bacon: The Recipe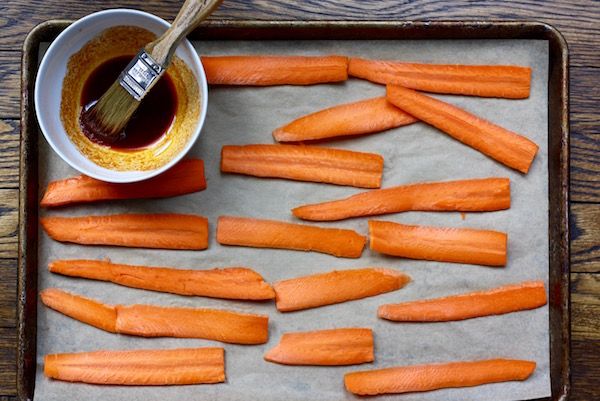 Several recipes for carrot bacon, like the Baked Carrot Bacon at Meet The Shannons, call for liquid amino acids and liquid smoke. You can get amino acids in most Trader Joe's and Whole Foods –the small Bragg's Liquid Amino Acids at my Whole Foods cost $3.79 and you only need a spray or two — and probably in the kitchens of many vegan cooks too. The savory, meat-y taste of bacon can be hard to replicate and liquid amino acids help mimic the salty, umami flavor that makes bacon so good.
In the end, though, I chose to follow the recipe for Baked Smoky Carrot Bacon at One Green Planet (pictured very top) because it has a simple list of ingredients that I think most folks have in their pantries. That, and the picture looks exactly like bacon, which is, of course, very appealing.
I followed the recipe exactly, though it's worth noting that I had to cook my carrots a bit longer to crisp around the edges. Slicing them even thinner would help nudge the texture closer to bacon.
Related: The unexpected healthy ingredient you never thought to make your smoothie healthier.
How To Make Carrot Bacon: The Results
So, the question you all want to ask: Did the carrots taste like bacon?
No, sadly, they did not. But they did taste like super delicious, smoky-roasted carrots.
The crispy edges and creamy center gave my carrot bacon a crave-worthy texture. I added a little of the liquid amino acids to a couple of the carrots (once a recipe developer, always a recipe developer), which gave them a nice saltiness — but even those lacked the savory porkiness of real bacon.
And, yes, porkiness is a word.
That all said, you should keep in mind that I'm biased. It was never going to be easy for me to buy into carrots that taste like bacon. If you don't eat meat or pork, though, I'd say that carrot bacon is worth a try. Layered with tomato, lettuce, avocado, and creamy mayo, or uh, vegan mayo, I bet you'd end up with one seriously tasty CLT sandwich.
But for me, this is just a lovely new carrot recipe.