Let me start by saying: Dads, we adore you.
Whether a father, stepfather, grandfather, or some other fantastic father-figure to us or our children, we'd be lost without you guys. That's why this Father's Day, I want to honor as many of you – carnivore, omnivore, vegetarian, or vegan – in the best way I can. Which, of course, is with a stellar Father's Day meal plan.
Top: Simple Chimichurri Sauce | Home. Made. Interest.
CME is an Amazon affiliate
Related: 9 Father's Day breakfast recipes made especially for Dad 
Father's Day meal plan: The secret ingredient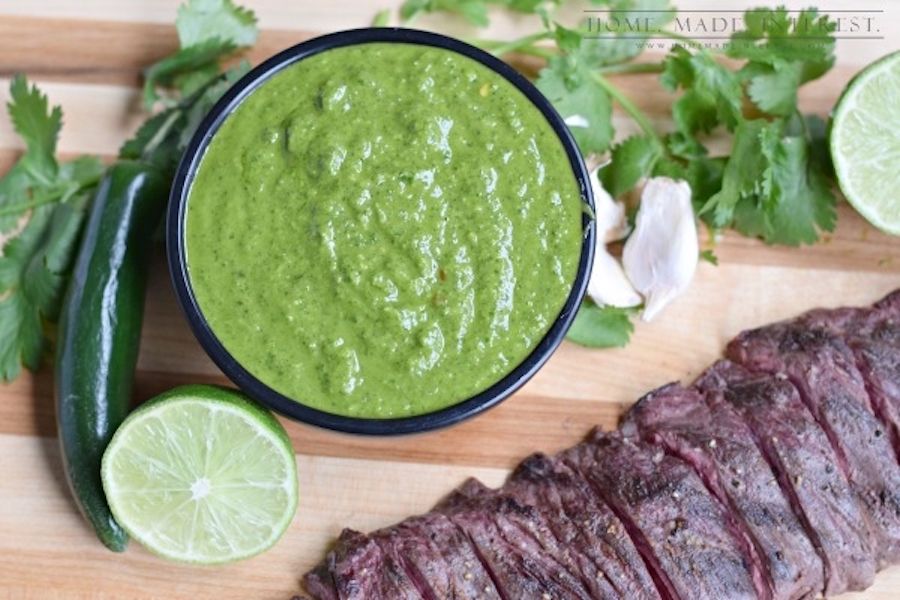 Chimichurri sauce is a seemingly fancy name for a decidedly simple, yet magical herb sauce. With only a handful of ingredients tossed into a food processor, it is also one of the easiest sauces you can prepare.
I loosely follow the Simple Chimichurri Sauce at Home. Made. Interest., although I don't bother with the Serrano pepper or shallots, because I have to watch the heat with my young kids and I find garlic pungent enough. Also, while adding both parsley and cilantro is a must in my house, you could use all parsley or play around with other tender herbs that your family loves.
Plus, you don't want to prep this ahead of time just to make Father's Day easier, but also because the flavor improves with time.
Father's Day meal plan: Four ways to serve it

1. With steak
For the carnivore Dad, try the Marinated Skirt Steak with Chimichurri at Grand Baby Cakes. A savory marinade made with Worcestershire sauce and citrus enhances steak's natural beefy flavor – a perfect compliment to the bright and herbaceous chimichurri sauce. Delicious.
2. With chicken
Boneless, skinless chicken thighs are my favorite no-fuss meal for entertaining (and what I served at my Memorial Day barbecue). They're flavorful and won't dry out as easily as chicken breasts. Simply season with salt and pepper and rub with olive oil. Grill five minutes per side over medium-high heat or until cooked through.
If you want a marinade, try my current obsession from Julia Turshen's book, Small Victories, which I also found in this post for Indecision Chicken at The Joyful Home (above).
I should note that I've prepared these chicken thighs in a number of ways – seared in a pan, on the grill, both marinated and non-marinated – and no matter what, they're always delicious when sauced with chimichurri.

3. With a vegetarian or vegan meal
My guy likes meat, but even he would lust after these Portobello Steaks with Avocado Chimichurri at Minimalist Baker. Meaty mushrooms meat their match with Dana's quick and lively marinade. And if your guy eats cheese, top with mozzarella and a bun for a great alternative to the typical hamburger.

4. With seafood
I discovered the Chimichurri Shrimp Kebobs at Dash of Delicious last year while writing tips on grilling for a crowd, and they're still a favorite! If you can remember one thing about shrimp, it's this: Do not overcook them! Whether you cook these over coals or in an oven, keep a close eye on them. They really only need a few minutes.
Related: 18 gourmet Father's Day food gifts for Dads who love to cook, eat, and drink.
Father's Day meal plan: side dishes
I'm crushing on the Southwest Roasted Potato Salad at Aberdeen's Kitchen this year. Seasonal, colorful, and made all in one pan – perfection, right? (Especially with chimichurri drizzled on my portion!)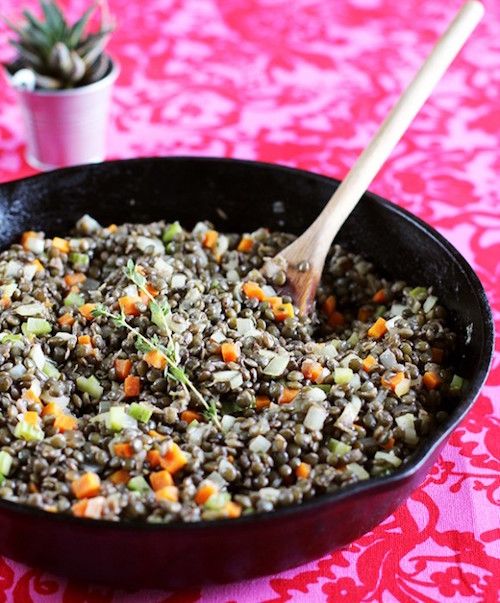 The French Picnic Lentil Salad at Eat Your Greens is a hearty dish that is wonderful on its own or topped with summer radishes, greens, or any of Dad's favorite veggies. Just make sure to use French green lentils — they retain their shape after cooking.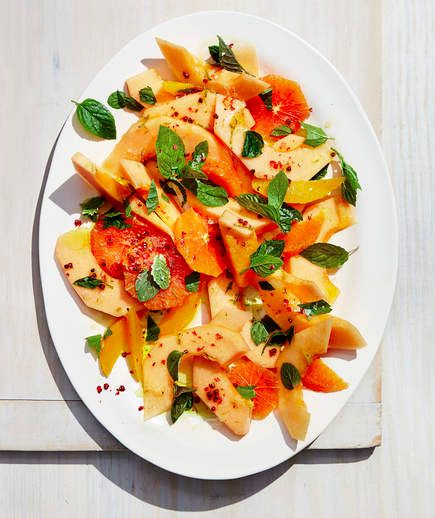 I've been daydreaming about this Melon with Citrus, Mint, and Pink Peppercorns Salad from the most recent issue of Real Simple, especially imagined alongside a steak with chimichurri and glass of rosé. (Which might need to be next year's Mother's Day menu!)
Or you can skip recipes altogether and make a luscious tomato salad using as many colors and types of tomatoes you can find, garnished with nothing but flaky sea salt, pepper, and a little olive oil. Or boil farm fresh corn and slather with butter. I bet Dad would be thrilled with either.
Corn photo: Dragne Marius for Unsplash