My oldest was born in the midst of the great parental bisphenol-A (BPA) panic (as I have dubbed it). I spent an inordinate amount of time researching the chemical and, yes, even calling toys companies to find out which of his few plastic toys contained BPA. I also cleaned out my kitchen of nearly all plastic. But now, 10 years — and a whole lot of good enough parenting experience — later, I've found that plastic has handily crept back into my kitchen.
While I'm not likely to go all out like I did before — at least not all at once — I have found five fantastic reusable products for the kitchen that I can grab now and easily pull into my routine. I think you can, too, and in baby steps, we can ditch the plastic for a safer and more eco-friendly kitchen.
CME is an rStyle and Amazon affiliate.
Related: JOCO reusable glass coffee cups. Go ahead, make my coffee… to go.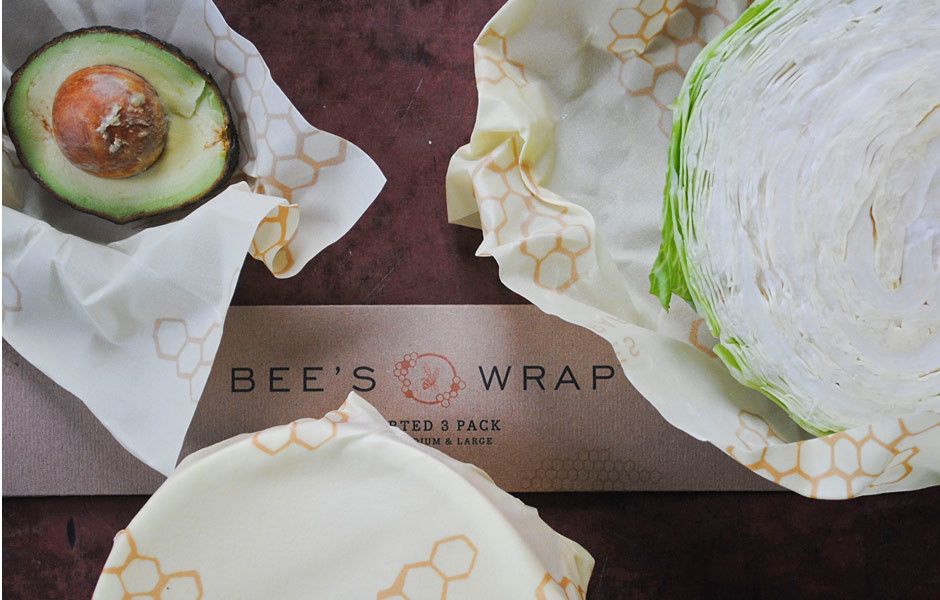 Way back in 2014, I did a round up of eco-friendly plastic wrap alternatives and I'm still in love with Bee's Wrap (and my linen dish covers, too, for the record). It's an all-natural, reusable food wrap that creates a reliable air seal made of organic cotton muslin, tree resin, beeswax, and jojoba oil, the last two of which have antibacterial properties.
Bee's Wraps come out of the package feeling a little stiff, but use the warmth of your hand to mold around and create a seal on whatever you're trying to wrap, from cut veggies, to leftover bread, to a bowl of soup (but not meat). With easy care—wash by hand, air dry, and keep away from heat—Bee's Wraps are reusable for up to a year.
You can find Bee's Wraps in several sizes on the Bee's Wrap site.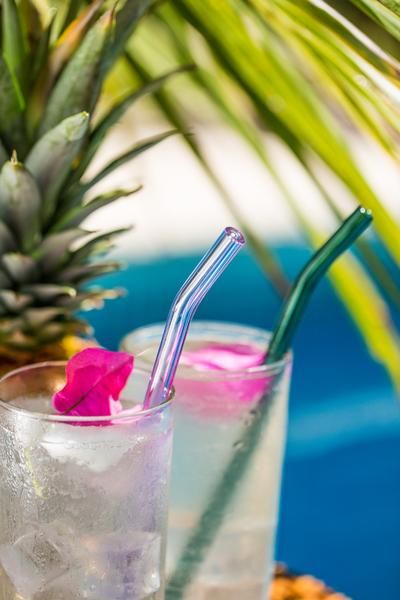 I first learned of Hummingbird Glass Straws from Catherine at Weelicious. Her kids, even her littlest, are always drinking out of them in the Instagram Stories for her Smoothie Project. And if a wee one can use these durable straws, I figured that my kids could too. Sure enough, we love them.
These glass straws aren't the least bit delicate and stand up to my boys' wear and tear. Though I periodically stick them in the dishwasher for a little extra clean, these — like all reusable straws — need to be hand washed. It's easy enough, though, with the brush that they come with.
Shop the full line of straws, which come in various shapes, sizes, and colors, at the Hummingbird Glass Straw site. 
Stasher bags are reusable, self-sealing, air tight, silicone bags that make it possible to ditch plastic baggies — finally. Created by a mother of three, Stasher bags are just as, if not more, versatile than plastic bags since you can use them in the microwave (or with a sous vide cooker, fancy pants), freezer, and dishwasher. And of course, they're perfect for storing in your pantry or packing a school lunch too.
Stasher bags used to only come in sandwich baggie size, but they've recently expanded the line to include snack bag size, too, which is perfect. Grab some of these now and be super prepared for back-to-school.
Shop the full line of Stasher bags at the Stasher site. 
Related: Storing baby food just got way easier!
Liz first wrote about reusable Flip and Tumble bags on Cool Mom Picks way back in 2008 and the company is going as strong as ever. Not only have they added to their line of shopping bags, backpacks, and purses, but they've also included produce bags and reusable bulk bags.
To really make good use of these products, you'll want to bring both with you to the supermarket (perhaps with your reusable shopping bags?) so that you can put produce and bulk items right into them instead of switching from flimsy plastic bags to your reusable ones once home.
Check out their full line of shopping bags at the Flip and Tumble site. 
Alright, it's time to come clean (heh): I'm a paper towel addict. I feel terrible about it, but nothing I've tried so far has helped me break the habit. So, instead of trying to radically change, I'm hoping that a smaller step — switching to Bambooee Reusable Bamboo Towels  — will do the trick.
Bambooee towels work just like paper towels, except they're made from rayon and sustainable bamboo and can be washed 100 times before being tossed into the garbage. People report that they are more absorbent than cotton dish towels (which has been one of my main issues trying to ditch paper). I've also heard that with most kitchen messes, you can rinse and reuse your Bambooee for about a week before having to throw it into the washing machine. Definitely sounds worth a try to me.
You can buy Bambooee Reusable Bamboo Towels in one, three, four, five, or six rolls at our affiliate Amazon.