It's time to start thinking about your meal plan for next week. So this week, we're looking at all the incredible produce (and seafood!) that's in season right now in July, to help inspire you. From cold soups and simple salads to an unbelievably fresh and easy stir-fry, we've got five dinners that will get you through the busy week ahead. So grab a pen, make your shopping list, hit your grocery or even a local farmer's market, and stock up before the weekend's over.
And if it's easier for you to do that from your inbox, be sure to sign up for our weekly meal plan emails. You'll love them!
Top Left: Carrot and Zucchini Noodles Stir Fry with Shrimp | Orchids + Sweet Tea
Top Right: Prosciutto and Melon salad | photo Chris Ralston via Unsplash
Avocados are unbelievable right now and the prices are pretty good, so I'm devouring them! I love this easy recipe for Avocado, Mozarella and Chimichurri Grilled Cheese from Erin Alderson at Naturally Ella. And of course you can swap out any "scary" ingredients or the jalapeno-based chimichurri for the kids, or replace with any kind of tapenade or even roasted red peppers (yum). Vegetarian, too.
Related: Comfort food upgrade: 7 ways to turn grilled cheese into a legit family dinner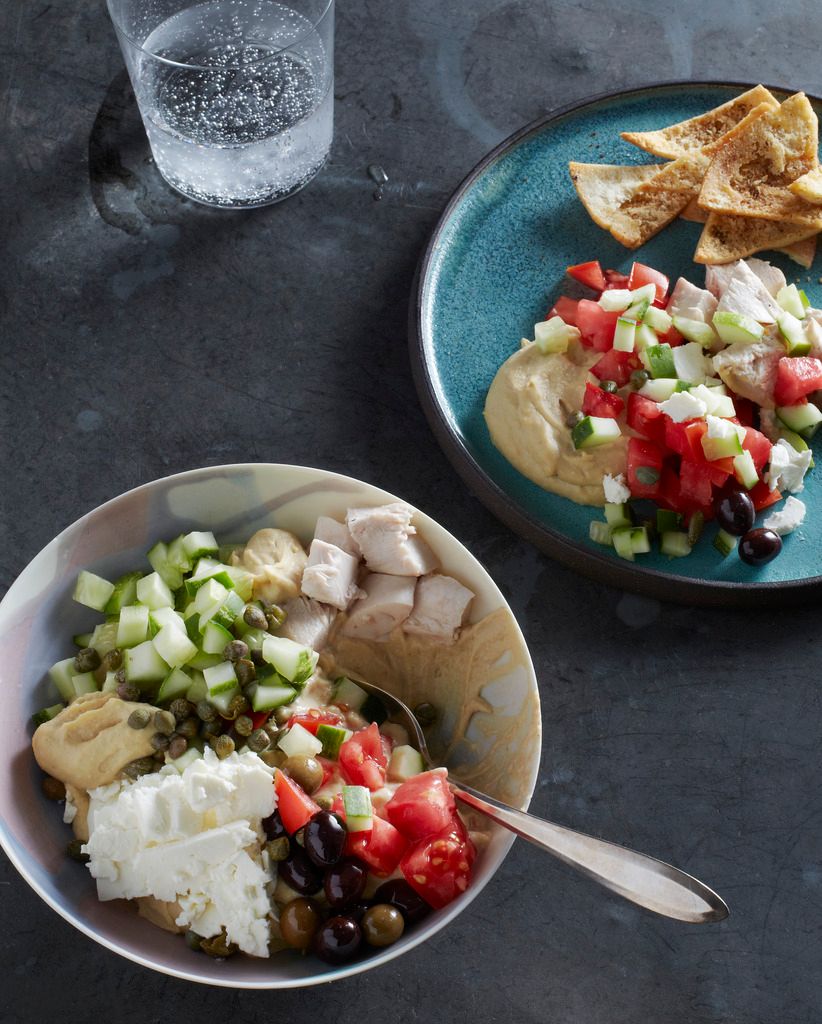 Speaking of red peppers, they're hitting their peak right now, so I love using them, raw and crunchy, in Stacie's recipe for a no-cook chicken hummus bowl from her cookbook, Make It Easy: 120 Mix-and-Match Recipes to Cook from Scratch–with Store-Bought Shortcuts When You Need Them. It's like a big bowl of summer-friendly grazing foods, including red peppers, ripe cherry tomatoes, cucumber, with some plain rotisserie chicken for protein, and even olives and Feta cheese if you want. Besides…yay for no cooking!
Corn is still spectacular right now, and we love it right on the cob — check my recipe for the world's best boiled corn on the cob and serve it as a side with nothing but butter; or squeeze on a little lime, and sprinkle some salt and cotija cheese. But for a light, fresh summer entree, I want to try this Sweet Corn Gazpacho at Spoon Fork Bacon with a big salad, and crusty bread on the side. It's been on my mind since we shared it in a meal plan a year ago.
I can eat melon pretty much every day, especially in the summer when it's hard to find a bad melon. If you like the all-appetizer/grazing food kinds of dinners like I do when it's hot out, try a big, beautiful plate full of prosciutto wrapped melon slices, and a nice green salad to go with it. Perfection. Or get fancy, and add fresh mozarella, fresh basil, and cracked pepper. Your kids may be more inclined to eat prosciutto and melon when served on skewers, like in this super recipe from Epicurious.
Related: 8 fresh summer pasta salads to help you get creative when you're tired of pasta salads
While we think of fresh fruits and veggies as being in season in July, don't forget seafood! This is shrimp season — especially Gulf Shrimp season, which just reopened this week — and if you and your family are fans, then you're in luck. This Carrot and Zucchini Noodles Stir Fry with Shrimp recipe from Shanika from Orchids + Sweet Tea is light, colorful, low-carb, gluten-free, and gorgeous. I love her idea of tossing in cashews for crunch. Plus, stir-fry is a smart way to limit your kitchen time on hot nights.
She actually shared the recipe for a Black History Month food blogger recipe-share "potluck," but I wouldn't wait until February to give this one a shot! Especially with shrimp and all those amazing veggies in season right this very second.