Can you believe we're already looking at the end of the school year? I need to get on these teacher appreciation food gift ideas, pronto, especially since my own kids in the Nashville area get out in just 3 weeks, GAH!
Whether shopping for Teacher Appreciation Week (this week!) or an end-of-year teacher gift, I love to find thoughtful gift ideas for teachers that are affordable, but still communicate just how much I appreciate the way they've cared for my kids. That's why my go-to is usually a homemade food gift, with a thoughtful note attached.
I think these 11 teacher appreciation food gift ideas are all terrific. Because, a teacher may have their share of mugs, — but who doesn't love to eat?
This post contains affiliate links, and some purchases may generate a small commission that helps support our team's work at no additional cost to you. 
Top image: Bre Pea
Related: 6 brilliantly easy ways to make inexpensive teacher appreciation gifts more special
Teacher Appreciation Food Gift Ideas with a Personal Touch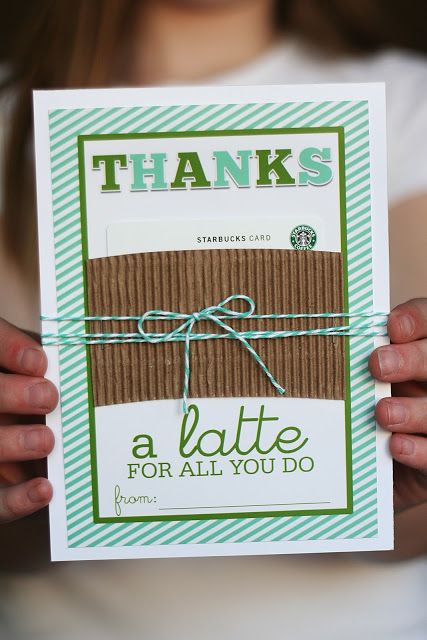 A coffee gift card…in a sweet printable gift card holder

For a teacher appreciation food gift idea, cannot ever go wrong with a coffee gift card to a favorite local spot near school, and this free latte gift card holder from Eighteen25 was one of our favorites in roundup of cool printable gift cards for teachers and still is! Teachers will love it too–whether they're more of a black coffee or unicorn frappuccino type.
Related: A fantastic deal on one of our favorite coffee subscription gifts
A summer-y bottle of wine…with a thank you label
If you think your kid's teacher or a special coach or tutor would enjoy a bottle of rosé once the summer starts (and your school allows for it), customize one with this free wine gift label made just for teacher appreciation gifts from Make and Do Crew, which we first found in our roundup of easy ways to make an affordable teacher gift a little more personal. We all like the message better than the snarkier versions of "you need a drink because of my kid."
Plus, because the message is a little vague, it could work on a bottle of bourbon, a fancy flavored sparkling water, or a gourmet summer soda too. Mmm…root beer.
A cookie jar…and a matching book for the classroom 

This printable teacher appreciation cookie jar gift tag from Bre Pea is a nod to one of my favorite kids' books of all time: If You Give a Mouse a Cookie by Laura Numeroff. That makes it extra-sweet for teachers of your younger kids. Homemade chocolate chip cookies makes it even more special. And hey, you can even give your teacher the cookies, and the book to go with it for the classroom.
Popcorn…in a box just for bus drivers, therapists, and aides
My daughter has some special needs, which means there's a whole team of people, from bus drivers to physical therapists to teacher's aides , all  supporting her at school. As a teacher appreciation gift idea, I like the idea of these fun printable popcorn boxes, complete with corny puns (ha, couldn't resist) as a free download from Simple Everyday Mom.
Related: 9 free printable teacher cards to make your end-of-the-year gift even sweeter
Their favorite candy…in a box made just for a teacher
One of my kids' teachers mentioned that candy is her very favorite treat, so I'm leaning toward this clever DIY colored pencil box — filled with Twizzlers instead of pencils, from Bugaboo City. How fun! The box is a free printable (note that it includes some slightly more complicated steps that I think you could probably skip) —  and you know where to find the candy.
A homemade cupcake…in a retro lunchbox box

We're longtime fans of Claudine Hellmuth's gift card boxes around here, and this retro lunchbox cupcake holder is the best for a teacher gift. You could fill it with a single cupcake, like she recommends, or a stack of notes and gift cards from the class along with a gift card. Find the instant download at her Etsy shop. And find some of our favorite cupcake frosting recipes right here!
Related: Creative ways to thank a teacher during a year like no other
Coffee or tea…in a mug personalized for a teacher.
We can't live without our Yeti mugs to keep our coffee warm or our cold brew cold, and we imagine a teacher gets interrupted from her drink far more often than we do. So a fresh, new mug — maybe personalized with a custom name decal  — would be a much appreciated teacher gift. Add some beans, or special tea bags like the teas we adore from Vahdam.
(2021 Update: The shop featuring these is no longer in business, but we've found similar custom decals from shops like Honeybee Appletree and Jansen Studios — or get a ready-made custom engraved Yeti mug from Blue Ridge Engraving, or a personalized Yeti tumbler in pretty colors from Hudson Lace)
Related: 23 creative, practical ideas for teacher gifts. No crafting required!
A "thanks for everything" card…handwritten by the kids
Get it? Get it? Bwahh! If your teacher has been the everything spice to your bagel this year, then let her know with this clever card from Razors Edge Paperie — preferably with the note inside handwritten by your kid. The teachers we've asked say that this is their favorite gift to receive. That said, a gift card or two thrown in wouldn't hurt — or maybe whip up your own everything bagel season blend which is great on so much beyond bagels. Now that's something no one else in the class will get them!
($2.99, Razors Edge Paperie on Etsy)