I wait all summer for the moment when I can toss long strands of spaghetti, fettuccini, or earthy soba noodles with a no-cook pasta sauce. Not just because they cut down on time spent cooking over heat, though that's nice, but because a good raw, no-cook pasta sauce recipe must add up to more than the sum of its parts. And, in most cases, that means the absolute freshest and most perfectly ripe ingredients.
Not all of these no-cook pasta sauce recipes are just for summer, though. A few make use of pantry ingredients and vegetables that are available in peak form all year around because, let's be honest, we're often short on cooking time during the winter, spring, and fall, too. But, still, now seems the best time to share them. It's also the best time to enjoy them, so start not cooking.
Related: 6 no-cook dinner recipes for easy no-cook nights.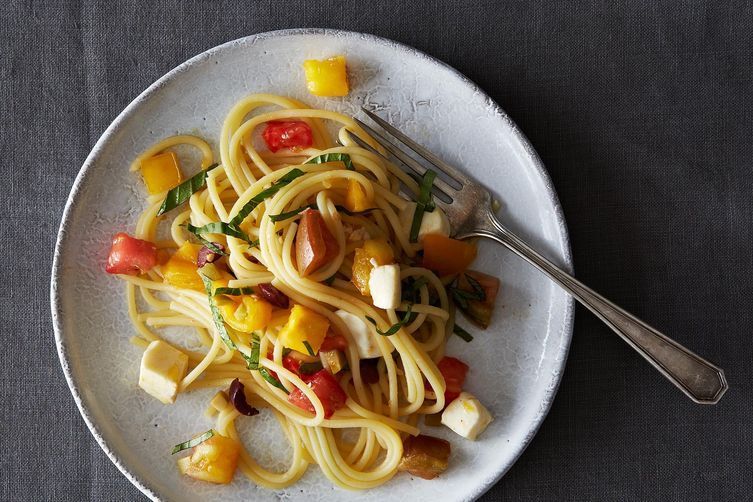 The quintessential no-cook summer pasta sauce recipe is, of course, raw tomato sauce. It's hard to choose just one version, so I decided to go with two (and even that was hard). The first is as simple as it gets: No-Cook Summer Raw Pasta Sauce with Spaghetti at Food52. This is simplicity at its best and, as such, requires tomatoes at their best. Splurge for the best ones you can find at a farm stand or farmer's market—it's the only way to do this right.
Slightly more involved—though not complicated at all—is this Spaghetti with No-Cook Tomato Sauce and Hazelnuts at Bon Appetit. Instead of just tossing pasta with diced fresh tomato, this sauce also uses blended fresh tomatoes and nuts to give the sauce heft, with a shaving of fresh ricotta salata on top which you can see brightens it up and gives it more texture and flavor. The dish also gets added body from zucchini which, if you ask me, makes this a one-bowl meal.
Next up: pesto. Also a classic no-cook sauce, pesto is bright, refreshing, and delicious, and I love that it can be made all year long. Follow our foolproof tips for how to make pesto perfectly and start making big batches to have on hand. (Pesto freezes beautifully.) You can also check out a bunch of variations on pesto, including my favorite no-cook pasta sauce: Green Olive and Sun-Dried Tomato Pesto (also at top), on my own site, One Hungry Mama. This stuff is delicious.
Related: How to make perfect pesto, and 4 mouthwatering recipes to help you use it all up.
Avocado is a magic ingredient. Few foods work as well in an ice cream recipe as they do in a savory pasta sauce recipe like this No-Cook Avocado Pasta  at Damn Delicious. And it's crazy nutritious, too. In this no-cook pasta sauce recipe, avocado blends with fresh basil, a squeeze of lemon juice, and olive oil to make a creamy sauce that coats pasta beautifully. You can make this all year long using cherry tomatoes and canned corn or, in the summer, use everything fresh.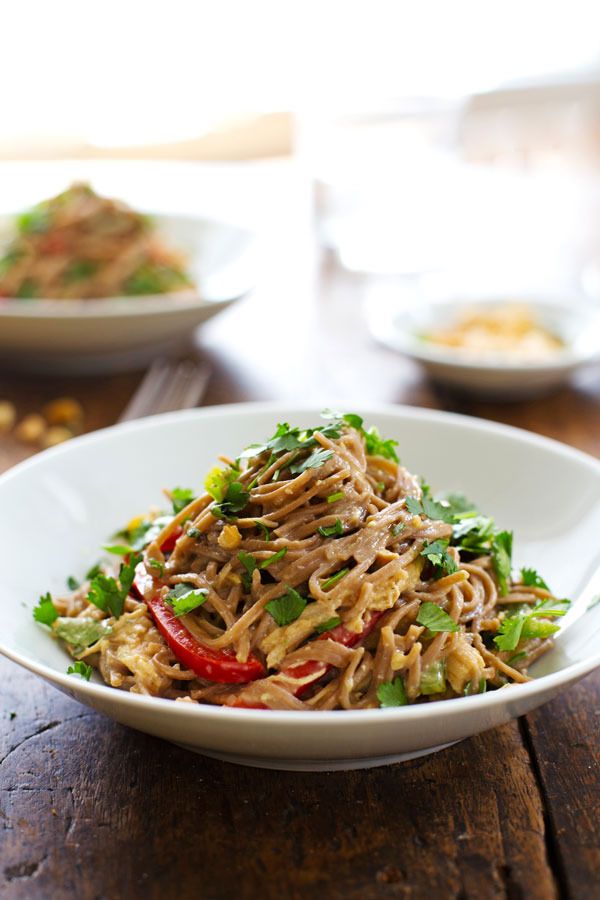 I admit that this No-Cook Spicy Peanut Soba Noodle Salad at Pinch of Yum doesn't rely on seasonal ingredients, but it's delicious, easy, and no-cook, so it stays. Plus, you can serve this cold, which is great for hot summer nights. Otherwise, toss this all year long for a quick, easy meal. And don't be scared by the spicy part: All you have to do is skip the jalapeño and you've got mild.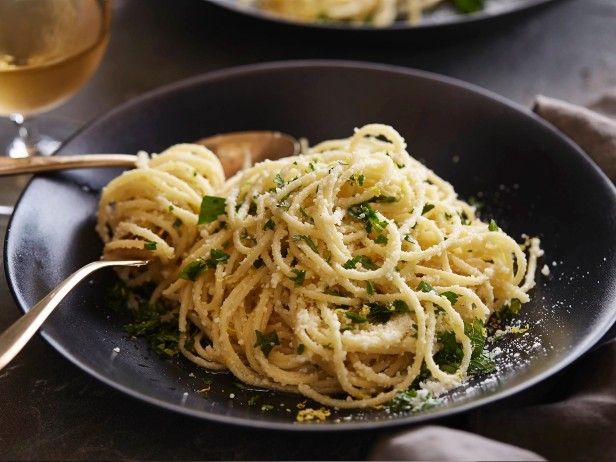 Last, but never least, is a dead easy Spaghetti al Limone at the Cooking Channel. I know a lot of people love a simple olive oil and raw garlic sauce when you're going for a no-cook sauce, but I find that a touch of lemon and Parmesan, like in this recipe, make all the difference. This is an easy meal you can pull together any night of the year. For now, though, toss in some diced, fresh tomato to give it a touch of summer goodness.