We're realists here at Cool Mom Eats. No matter how delicious a recipe looks, we're not going to suggest it if it has a thousand steps or requires special equipment that needs to be shipped from a fancy specialty store. Unless, of course, we're laughing at how we'd never be able to pull it off. So you might be surprised to learn that my new favorite cookbook—the one that me and my kids are tagging recipes in left and right—is Simply Scratch: 120 Wholesome Homemade Recipes Made Easy by Laurie McNamara of the Simply Scratch blog.
Cooking from scratch seems like an impossibility at times, but Laurie's tips for stocking your pantry with the right ingredients, plus her simple, flavorful recipes for everything from condiments to dessert make it very do-able. Like give this as a holiday gift do-able, while you grab one for yourself, too, of course.
Related: With the new Katie Workman cookbook, Dinner is Solved!
CME is an rStyle and Amazon affiliate.
Besides being chock full of family-friendly recipes with high kid appeal, many of the dishes in Simply Scratch, like Laurie's Southwest Chicken Chili or Cottage Pie (aka Shepherd's Pie), are easy to double, so you can freeze them for a scratch meal even on your busiest nights. And bonus: If you end up using this book as much as I do, you'll get to ditch pre-made waffle mixes, canned sauces, and serve up more wholesome meals that you can be sure are packed with nothing but goodness.
My kids tried—and actually liked—Laurie's Curried Cauliflower (pictured), and they finished off a plate of her Adobo Green Beans with Toasted Garlicky Almonds lickety split. Looks like canned green beans are a thing of the past at our house.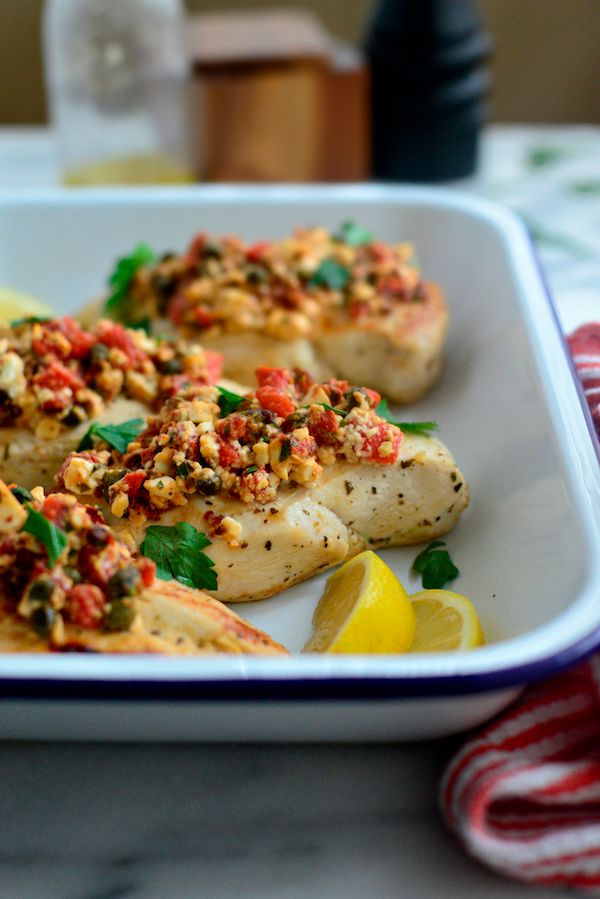 There are, of course, more than just vegetables in this cookbook. (I did say that it was kid-friendly, after all!) Laurie's Creamy Roasted Tomato Soup (top) is the stuff of childhood dreams—at least when served alongside a melty grilled cheese—and Roasted Red Pepper, Sun-Dried Tomato and Feta Topped Chicken (bottom) is the stuff of simple weekday dinner dreams.
Of course, there's also dessert. If your kids finish their string beans, too, you should whip up a batch of the amazing Fudgy Chocolate Toffee-Topped Brownies from Simply Scratch for dessert. You guys, these are so good and Laurie has kindly agreed the share the recipe with us. Don't miss it. Then, grab this book: One for you and another as a last-minute holiday gift for the luckiest home cook on your list.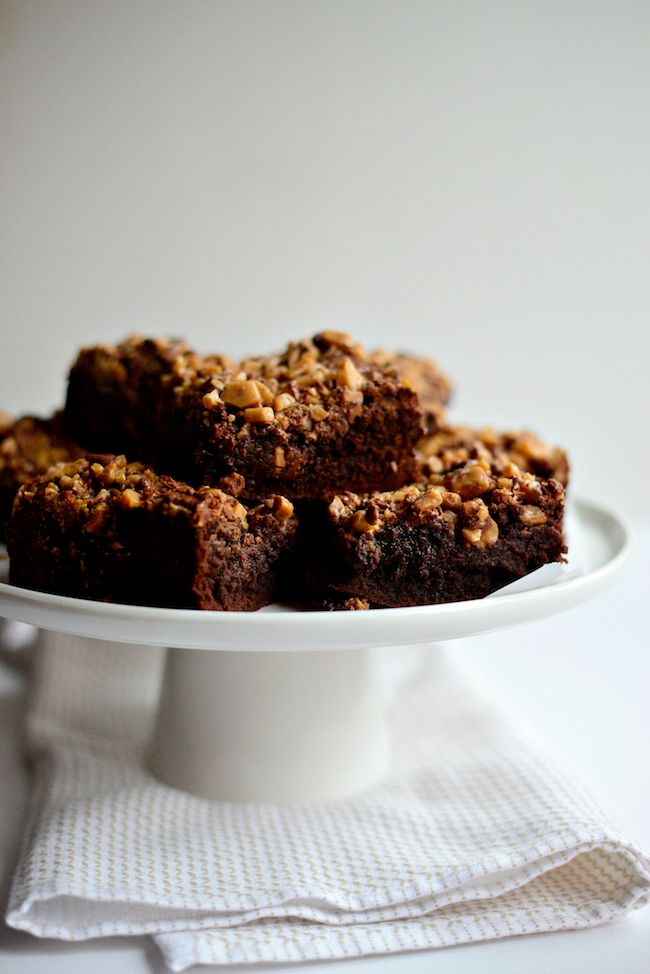 Fudgy Chocolate Toffee-Topped Brownies
from Simply Scratch 
Ingredients
8 tablespoon (1 stick) plus 1 tablespoon unsalted butter, cut into pieces
8 oz bittersweet chocolate, chopped into pieces
1 cup granulated sugar
3/4 cup packed dark brown sugar
1/2 teaspoon pure vanilla extract
1 1/4 cups unbleached all-purpose flour
1/3 cup unsweetened cocoa powder
1/2 teaspoon baking powder
1/2 teaspoon ground cinnamon
1/2 teaspoon kosher salt
4 large eggs, at room temperature
2 cups toffee bits
Vanilla Bean Ice Cream (recipe in Simply Scratch), for serving
Directions
Preheat the oven to 350ºF. Grease an 8×8-inch metal baking pan with 1 tablespoon of the butter and line it with parchment paper, leaving an inch of the parchment paper hanging over on two sides.
In a medium saucepan, melt the chocolate and remaining 8 tablespoons butter over low heat, stirring often. Once melted, remove from the heat and add the sugars and vanilla. Stir and set aside to cool slightly.
In a large bowl, sift the flour, cocoa powder, baking powder, cinnamon, and salt and set aside.
To the slightly warm chocolate, add the eggs one at a time, whisking after each addition. Pour the chocolate mixture into the flour mixture, using a spatula or wooden spoon to stir until combined.
Pour the batter into the prepared pan and sprinkle evenly with the toffee bits. Bake for 45 to 50 minutes, or until a tester comes out slightly coated with a thicker coat of chocolate batter after it's inserted into the center (it shouldn't be runny).
Let the brownies cool in the pan for 1 hour before running a knife along the edges. Then use the parchment paper as handles to remove them. Cut into squares and serve with Vanilla Bean Ice Cream.
For more delicious made-from-scratch recipes, buy your copy of Simply Scratch: 120 Wholesome Homemade Recipes Made Easy by Laurie McNamara today from your local bookstore or our affiliate Amazon, where it's almost half-price right now. And, thank you, Laurie, for sharing your brownie recipe with our readers. So delicious—and especially perfect for the holidays!