Next up in our Cool Mom Eats 2016 Holiday Gift Guide, we had the best time finding the most fun food-themed stocking stuffers for you. Because sometimes it's those little sips and bites and baubles and tees that really are the crowning touch on all the gift giving. And even if they don't fit in a stocking, they're great little add-on gifts to something larger, or a fun way to affordably acknowledge someone you love this holiday.
And because we want you to have more time shopping, decorating, and merry-making for the holidays — and less time making spice blends or foraging for fresh kale — we couldn't be more excited to welcome our gift guide's fabulous sponsor, Blue Apron.
— Don't miss your chance to win a Blue Apron prize pack valued at more than $500! Details below. — 
This fantastic meal kit delivery service saves the day when we just can't plan, shop, and prep dinner from scratch every night of the week. Because getting a recipe with ready-to-cook ingredients delivered to our door is what brings us busy parents unending joy.
In fact, Blue Apron makes a pretty great gift for any busy cook — or even for yourself — so shop using this link to save $32 off your purchase of a Blue Apron meal kit box on any plan. And hey, don't miss our seriously amazing holiday prize pack giveaway!
And now, we shop!
There has been no compensation for inclusion in our guide; all items have been selected by our editorial team. CME is an rstyle and Amazon affiliate.
Farfalle Necklace

Honestly, we can't think of anyone who wouldn't happily wear this Farfalle Necklace around her neck, and that includes our gluten-free friends and family. Because, hey, gold pasta is gluten-free, right? ($22.50, The Little Drom Store)
Notes of Wine Perfume

A line of designer scents inspired by wine notes may sound strange — at least it did to us at first — but every single one of these Kelly + Jones wine aromas perfumes is gorgeous. And we promise they smell absolutely nothing like someone spilled a glass of Merlot on you. ($75, Kelly + Jones)
Tabasco Spicy Dark Chocolate

We literally squealed when we found this Tabasco Spicy Dark Chocolate. Dark chocolate with a little kick, for a big holiday win. ($5.49, Amazon)
Reusable Tea Brewing Filter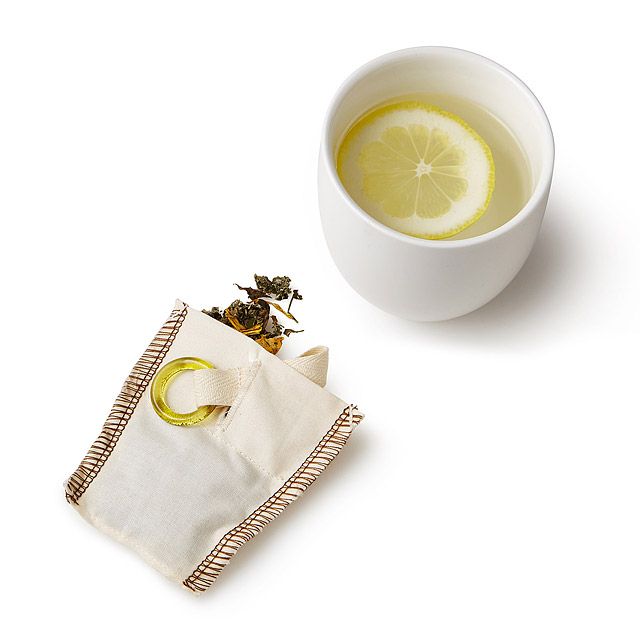 A food-themed stocking stuffer for a tea lover, we know so many on our lists who'd appreciate this clever Reusable Tea Brewing Filter made of organic cotton. This little satchel holds just enough tea for a perfect cuppa, day after day after day. ($15 for a set of 2, Uncommon Goods)
Pro Slotted Spatula
Any cookie baker or omelet maker would be thrilled to find this professional stainless slotted spatula poking out of their stocking Christmas morning, which is a cut above whatever they're probably using now. ($19.95, Williams-Sonoma)
Wooden Pretzel Teether

If you're stuffing baby's first stocking, this wooden wooden pretzel teether is irresistible, even if she hasn't taken her first bite of food yet. You'll also find a donut, a croissant, and a hilarious cold pressed green juice bottle teether at the shop. Seriously. ($25, Lexy Pexy)
——-
About our sponsor
When you're just too busy to meal plan, shop, and cook all seven nights a week, but want something healthier than take-out, Blue Apron comes to the rescue. Each Blue Apron subscription box comes with all the pre-portioned ingredients you need to make recipes for healthy, seasonal dinners. All you have to do is cook — and assign clean up duties to the kids.
But it's not just any old meal delivery service, which is why it's such a huge hit with so many families.
We love that Blue Apron is thinking about sustainable ingredients; they source ingredients from farmers with whom they have a direct relationship and only include seafood considered "Best Choice" or "Good Alternative" by the Monterey Bay Aquarium Seafood Watch.
And for home cooks with more than two adult mouths to feed, don't miss the Blue Apron family plan, which works out to just $8.74 per person for a fantastic dinner that feeds a family of four.
Visit Blue Apron through this link to get $32 off your purchase for yourself or as a gift for your favorite multi-tasking cook.
Don't miss our huge Blue Apron giveaway! Details below.
——-
A Short Stack Cookbook

We're totally smitten with the gorgeously designed, mini Short Stack cookbooks. They're available in bundles, but you can grab just a single book for a stocking and focus on your gift recipient's favorite ingredient. From tahini to corn, there's a mini cookbook for nearly everyone, making this really a thought that counts. ($14, Short Stack Editions)
Related: Fabulous hostess gifts for foodie friends under $50
Best Friends Button Set

Some foods are just made to go together and the adorable handmade Best Friends Button Sets celebrate lots of besties, including some of our favorite food pairings. ($3.00, Scientific Culture at Etsy)
All-Natural Caramels That Give Back
This top-selling box of Salted Crunchy Caramels, from the all-natural gourmet treat purveyors at SF-based Kika's, aren't just delicious, they give back to help low-income US entrepreneurs break into the food industry. In fact, you'll even find them in the Cool Mom Picks holiday gift list of 35 fab gifts that give back to 35 different charities. We say buy a ton of boxes so you've got everyone on your list covered — including all the food-themed stocking stuffers you need. ($5, Kika's Treats)
Fresh Paper Produce Savers
We love these little 8-packs of Fresh Paper, which are made with edible organic botanical extracts to keep produce fresher, longer. These are a perfect stocking stuffer for a fruit and veggie lover. ($9 at the Fenugreen online store with multi-packs at Amazon)
Ice Cream Dream Socks
So maybe in some neighborhoods, a KALE tee for your kid gives you a little more cred at the food co-op. But most kids we know would much rather get these way fun Ice Cream Dream Knee-High Socks, as far as food-themed stocking stuffers go. ($9.50, The Sock Drawer)
Tiny Mandarin Gold Choker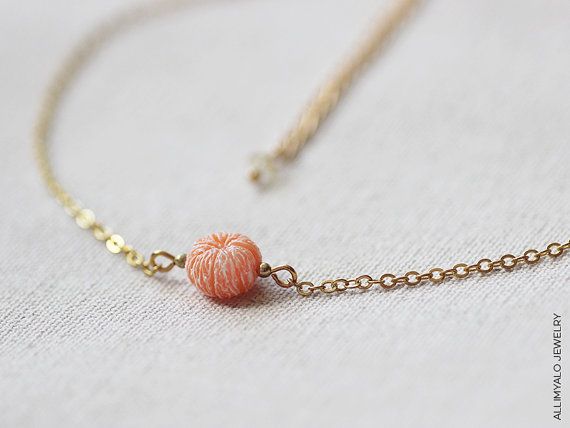 Chokers are so on trend, and we're loving this sweet little Tiny Mandarin Gold Choker, because tiny fruit! Plus, how can we resist a healthy fashion statement? ($28, Allim Yalo Jewelry on Etsy)
Deluxe Surprise Santa Ball

You aren't guaranteed an edible treat in this Deluxe Surprise Santa Ball, but that's the fun of it — the collection of toys, keepsakes, and treats inside are truly a surprise, even to the gift giver. ($19.50, Tops Malibu)
Handcrafted Naval Knife
Among our list of gifts to spoil any man rotten, we adore this handmade in Brooklyn, brass-handled naval knife that's always good to have on hand. Well, maybe more so on a fishing boat than on the TSA airport security line. An extraordinary splurge, which is sometimes the biggest surprise when it's found in a stocking. ($195, Horsebrand)
Will Sweat For Donuts Tee

Buy some donut-loving mama you know this hilarious Will Sweat For Donuts tee — even if they never sweat. Hey, it's the thought that counts. ($23.99, Suzy Squats on Etsy)
Mini Bottles of Artisanal Booze

You know what some mamas and papas want by the time everyone is finished tearing through their gifts? An adult beverage, that's what. If you're stuffing a stocking for someone who drinks, check out this beautiful Koval Mini Gin Gift Pack. It comes with two mini bottles, but poke around the site to find single mini bottles from indie booze purveyors too. ($52, Mouth.com)
EXTRA COOL: WIN IT!
We're always happy to help you find the perfect gifts for friends and family, but just as much, we love treating you with gifts too! We've got a fabulous Blue Apron prize pack valued at over $500 up for grabs for one lucky winner, which includes:
– 4 weeks of two-recipe Blue Apron Family Plan boxes
– A fabulous maple cutting board
– A gorgeous handcrafted 5.8″ Japanese petty knife
– An awesome Kitchen Drawer set, which includes a ton of must-have kitchen utensils
– A must-have 10-piece prep bowl set and a lovely apron
To enter for a chance to win:
1. Subscribe to Cool Mom Eats. If you're already a subscriber, leave us a comment telling us that you are. (Be sure to use the same email that you subscribed with so we can double-check. Don't worry, no one can see it but us.)
For additional entries (updated to add even more chances to win):
1. Follow Cool Mom Eats on Twitter AND tweet a link to this post with the hashtag #CMEHoliday. Be sure to tweet something fun, like "I am LOVING this year's @coolmomeats #CMEHoliday guide! http://bit.ly/2hhZsT8" Hey, you can even share your favorite gift idea seen here. You can get up to 6 additional entries (one for every post in our guide).
2. Like Cool Mom Picks on Facebook AND share a link to this post on your feed. Make sure to send your link (or screenshot if it's a private update) to info@coolmompicks.com with CME CONTEST in the subject to be entered. You can get up to 6 additional entries (one for every post in our guide).
Contest ends at 11:59 pm PST on December 26, 2016. Void where prohibited. US only please, 18+, see official contest and giveaway rules for details. Good luck!
Thank you to our sponsor Blue Apron for helping to make feeding our families healthful and easy, even when we don't have time to do all the meal planning, shopping, and prep ourselves. Shop using this link to save $32 off your purchase of a Blue Apron meal kit box on any plan.
More ideas from the 2016 Cool Mom Eats holiday gift guide
* 17 creative gourmet food gifts to make even your fussiest friends drool.
* Outrageous gifts for cooks who have (or want) it all.
* Fabulous hostess gifts for foodie friends under $50.
* Fantastic gift ideas to get kids in the kitchen.
* 9 delicious, easy homemade food gifts for people who love to eat (i.e., everyone)