Some of us here at Cool Mom HQ have adventurous eaters, while others have wildly picky eaters — and then there's pretty much everything in between. But you know what all of our kids have in common? They love being in the kitchen. Especially with us.
Whether you have a kid who loves to cook or just loves to eat — even just plain rice and white toast counts — we think you have a kid who will love these awesome food gifts that help them be in control.
Speaking of making kitchen time fun, we couldn't be more excited that we're bringing you this year's Cool Mom Eats Holiday Gift Guide on behalf of our fabulous sponsor Blue Apron, an awesome meal kit delivery service that has saved quite a few of us around here.
Especially when there's just no way we can find the time to plan, shop, and prep dinner from scratch every night of the week.
In fact, Blue Apron makes a pretty great gift for any busy cook — or even for yourself — and hey, kids can help you prepare your Blue Apron meals too. So be sure to check out the sweet discount they're offering all of our readers. Not to mention a seriously amazing holiday prize pack giveaway!
– Don't miss your chance to win a Blue Apron prize pack valued at over $500. Details below. –
Plus, shop using this link to save $32 off your purchase of a Blue Apron meal kit box on any plan.
With that…let's get shopping for cool kitchen gifts for kids!
There is no compensation for inclusion in our guide; all items have been selected by our editorial team. CME is an rstyle and Amazon affiliate.
Personalized Rolling Pin

What kid doesn't love everything personalized? Let your favorite baker of any age take ownership of the kitchen with this awesome Personalized Rolling Pin. Bonus: You get baked goods in the end. ($20, Uncommon Goods)
R2-D2 Popcorn Maker

Star Wars and popcorn! Need we say more? This R2-D2 Popcorn Maker is a super fun device that the kids can be in charge of. And if your young gift recipient is as into cooking as snacking, pair this with a spice of the month subscription like we recommended in our guide to the best subscription food gifts, so she can use it to flavor her popcorn in fun and exotic ways. ($44.99, Amazon)
Personalized Kitchen Stamp

This fun personalized kitchen stamp is another fab customized gift idea for kids that we love. If your mini chef or baker loves to share their creations, they'll love this stamp for packaging it all up. Perfect for homemade holiday food gifts. And we love the donut motif — because, duh — but it's also one of the few designs we found that works well for all kids. ($40, The Small Object shop on Etsy)
Related: 9 gorgeous homemade holiday food gifts
Wüsthof Gourmet Junior Chef 6-Piece Knife Set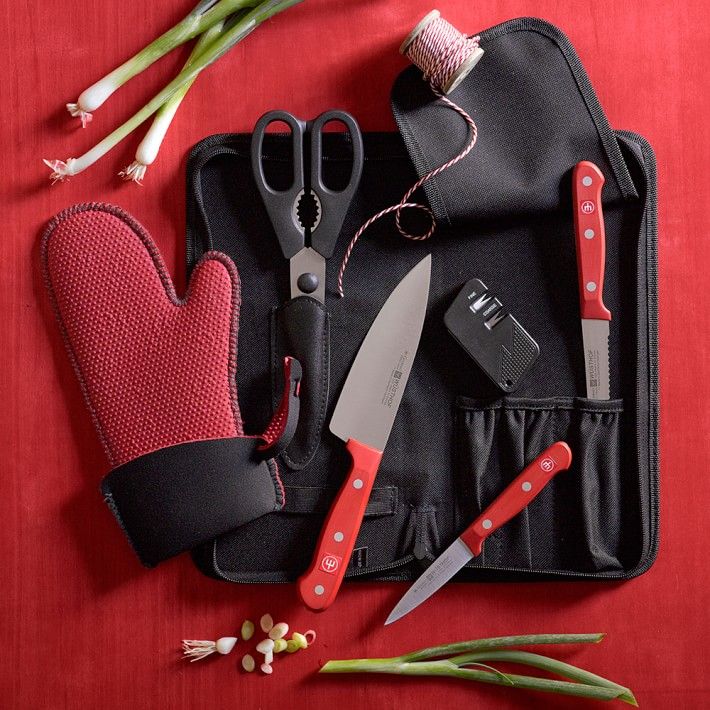 In the same way that no home cook should be without a great chef's knife, no kid who's serious about cooking should be without their own set of safe cutting utensils. When your kitchen helper has graduated from a plastic kid's knife, this Wüsthof Gourmet Junior Chef 6-Piece Knife Set is a fabulous splurge for the (responsible) future cook of the family. ($99.95, Williams-Sonoma)
Mini Ice Cream Sandwich Maker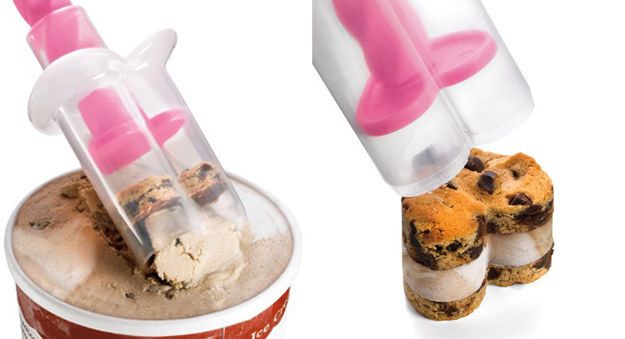 Even picky kids get excited about heading into the kitchen when it comes to dessert. (They're no fools.) This Mini Ice Cream Sandwich Maker is a fun way to get kids in the kitchen, whether they decide to make from-scratch cookies with their ice cream, or just use store-bought. Either way, this kitchen gift for kids can serve as a gateway to healthier savory cooking. Maybe. ($15, Amazon)
——-
About our sponsor
When you're just too busy to meal plan, shop, and cook all seven nights a week — like, holiday time for example? — but want something healthier than take-out, Blue Apron comes to the rescue.
Each Blue Apron subscription box comes with all the pre-portioned ingredients you need to make recipes for healthy, seasonal dinners. All you have to do is cook — and assign clean up duties to the kids. But it's not just any old meal delivery service, which is why it's such a huge hit with so many families.
We love that Blue Apron is thinking about sustainability; they source ingredients from farmers with whom they have a direct relationship and only include seafood considered "Best Choice" or "Good Alternative" by the Monterey Bay Aquarium Seafood Watch.
And for home cooks with more than two people to cook for, don't miss the Blue Apron family plan, which works out to just $8.74 per person for a fantastic dinner that feeds a family of four.
SPECIAL OFFER: Check out Blue Apron for $32 off your purchase to see what they're serving, or consider it as a terrific gift for your favorite multi-tasking cook.
– Don't miss our huge Blue Apron giveaway valued at over $500! Details below. –
——-
A kid-tested, parent-approved cookbook for kids
Given that so many of our kids help in the kitchen, we went on the search for the best cookbooks for kids who love to cook. We've got 5 fab recos for all-around cookbooks, as opposed to the more specific cookie or smoothie cookbooks that tend to be "kid-friendly." In other words, this is a great gift for a serious junior chef who wants to take on real-deal meals that the whole family will love. (Prices vary, Amazon)
Butter Churner

If you have a child who loves a good kitchen science project — or maybe just loves butter like our editor Stacie's son who's obsessed with the stuff — the Kilner Butter Churner makes a fun gift. You spend a little over $25 up front, but then get major savings when you don't have to buy butter any more. Ha! ($29.95, The Grommet)
Smoothie Dice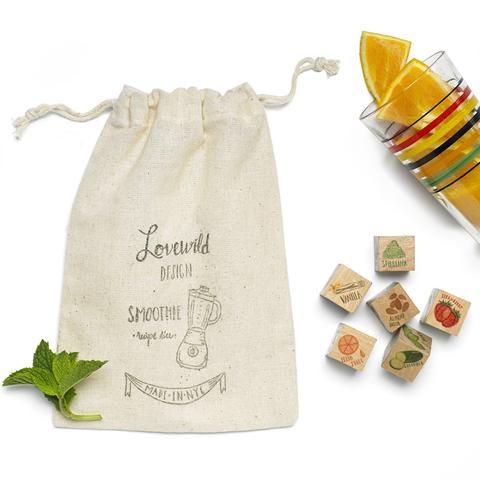 One thing that even very young kids can do easily in the kitchen is whip up a smoothie. So if you ask us, grabbing a set of Smoothie Dice as a stocking stuffer is not just a fun idea, but an investment in getting their help in the kitchen. ($18, Lovewild Design)
Related: 17 creative gourmet food gifts to make even your fussiest friends drool.
Emoji Cookie Stamps

These Emoji Cookie Stamps are a fun stocking stuffer for any kid who loves baking and cookie decorating — or who just wants to bring the coolest cookies to the next school bake sale. ($4.99, Amazon)
Kids Garden Kit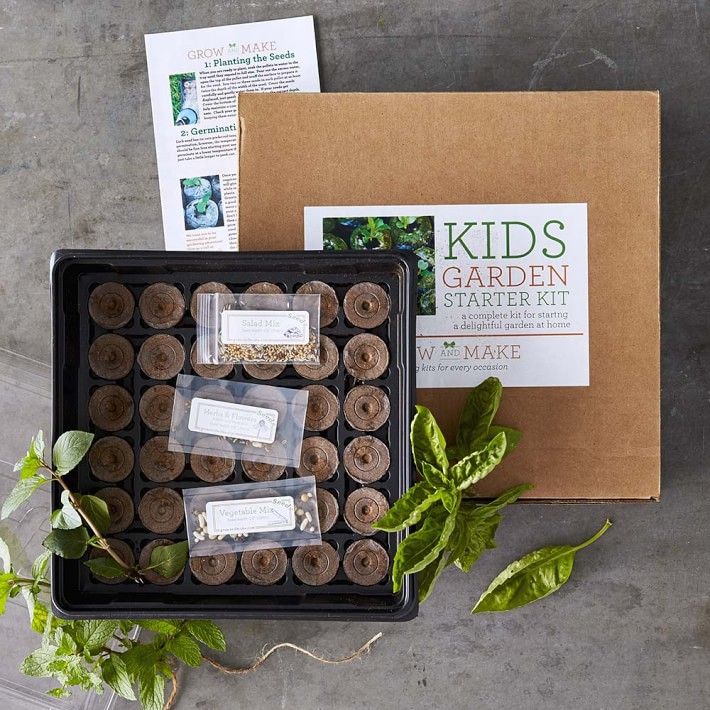 If your kid is more inclined to eat something they've grown themselves, this Kids Garden Kit is a lovely gift that yields vegetables that are possibly more palatable than what they see in the supermarket. ($22.95, Williams-Sonoma)
Hedley & Bennett Kid Apron

Yay for splatter-free clothes! If your little chef is serious about being in the kitchen frequently, hand over a Hedley & Bennett Kid Apron, the kid version of the famous chef favorite. And, yes, be prepared to feel jealous. ($20–49, Hedley & Bennett)
3-in-1 Electric Spiralizer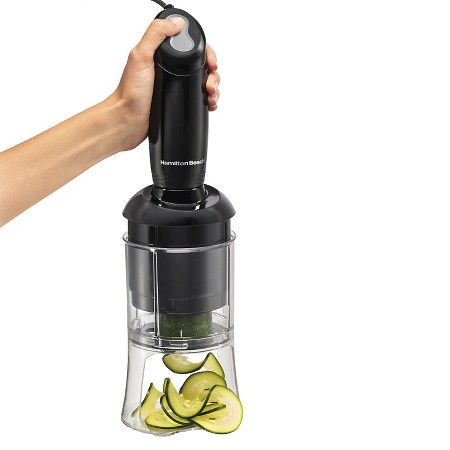 If your kids are anything like ours, they love noodles made out of even the veggies they don't normally eat. For any kid ready to be in charge of making some family dinners (or at least helping with prep), they'll love the gadgetry of this handy 3-in-1 Electric Spiralizer from Hamilton Beach. Zoodles for all. ($54.95, Amazon)
Grow Your Own Mushrooms

Though it may not get them in the kitchen, research shows that kids are more willing to try foods — yes, even mushrooms — if they've played a role in growing or picking them. This Mushroom Mini Farm makes for a fun growing experiment (because, mold!), and may even get them to try some fungi. Sounds worth it to us. ($25.00 for a set of two, Uncommon Goods)
Subscription Cooking Kit for Kids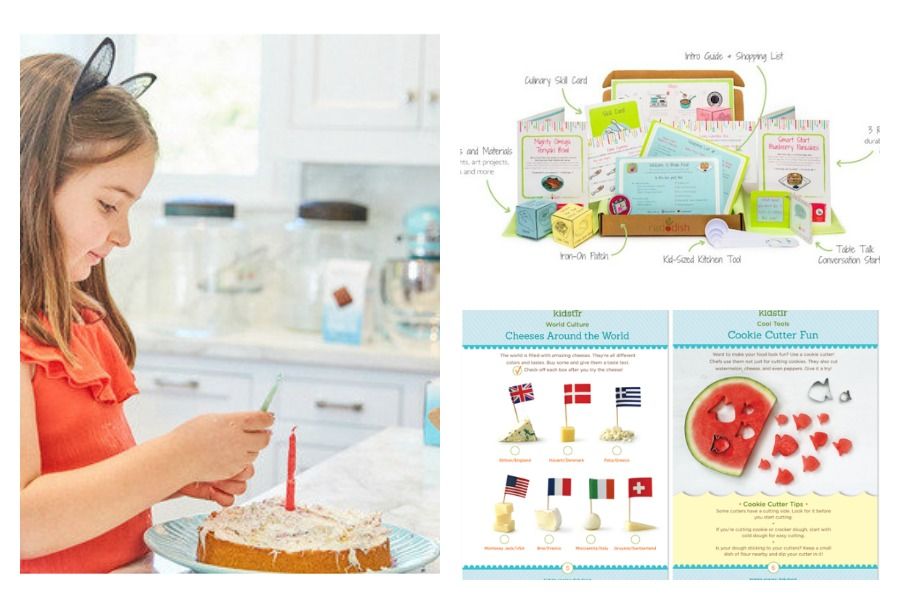 For a gift that keeps on giving, treat a young cook you love with one of our favorite subscription cooking kits for kids. We tried several and came out with the very best options, for all kinds of kids with all kinds of interests. (Prices and stores vary)
EXTRA COOL: WIN IT!
We're always happy to help you find the perfect gifts for friends and family, but just as much, we love treating you with gifts! We've got a fabulous Blue Apron prize pack valued at over $500 up for grabs for one lucky winner, which includes:
– 4 weeks of two-recipe Blue Apron Family Plan boxes
– A fabulous maple cutting board
– A gorgeous handcrafted 5.8″ Japanese petty knife
– An awesome Kitchen Drawer set, which includes a ton of must-have kitchen utensils
– A must-have 10-piece prep bowl set and a lovely apron
To enter for a chance to win (updated to add even more chances to win):
1. Subscribe to Cool Mom Eats. If you're already a subscriber, leave us a comment telling us that you are. (Be sure to use the same email that you subscribed with so we can double-check. Don't worry, no one can see it but us.)
For additional entries:
1. Follow Cool Mom Eats on Twitter AND tweet a link to this post with the hashtag #CMEHoliday. Be sure to tweet something fun, like "I am LOVING this year's @coolmomeats #CMEHoliday guide http://bit.ly/2fPPLPs!" Hey, you can even share your favorite gift idea seen here. You can get up to 6 additional entries (one for every post in our guide).
2. Like Cool Mom Picks on Facebook AND share a link to this post on your feed. Make sure to send your link (or screenshot if it's a private update) to info@coolmompicks.com with CME CONTEST in the subject to be entered. You can get up to 6 additional entries (one for every post in our guide).
Contest ends at 11:59 pm PST on December 26, 2016. Void where prohibited. US only please, 18+, see official contest and giveaway rules for details. Good luck!
Thank you to our sponsor Blue Apron for helping to make feeding our families healthful and easy, even when we don't have time to do all the meal planning, shopping, and prep ourselves. Shop using this link to save $32 off your purchase of a Blue Apron meal kit box on any plan.
More ideas from the Cool Mom Eats 2016 holiday gift guide:
* 17 creative gourmet food gifts to make even your fussiest friends drool.
* Outrageous gifts for cooks who have (or want) it all.
* Fab hostess gifts for foodie friends under $50.
* Fantastic food-themed stocking stuffers for gourmets, big and small.
* 9 delicious, easy homemade food gifts for everyone who likes to eat (i.e., everyone)