As a food professional, I used to always get asked what I love to cook most or what my "specialty" is (spoiler alert: I don't have one). Now that I have kids, the question is what do I cook for my family. I have the knowledge to cook most things without so much as opening a book (or webpage), and even I still find cooking for a family of four every night hard. Like, really hard. But only one thing makes it easier — and this is what I tell every parent who comes to me for advice:
Cook. Cook whatever you can. Cook as much as you can. Even if it's with a can!
I know it's not the easiest advice, but it's the best route to healthier and, eventually, easier meals. And it really doesn't have to be fancy or complicated. To prove that, I'm sharing my dinner diary for a week. Well, I organized this as a week, but truth be told, this is what we ate over the course of nine days, because thank goodness for Indian delivery and a night out.
You'll see that my home cooking — even as a culinary trained professional — is simple. Yours should be too, and I've included lots of tips and helpful links to hopefully make it easier for you and your own family at dinnertime.
Related: Make-ahead stir-fry freezer packs so that dinner is always ready and waiting.
What I cook for my family: MONDAY

Rainbow trout fillets + baked potato + salad
Yes, my kids like fish. They also hate wearing clothes and I often find my toddler naked in awkward situations. You win some, you lose some.
Wild-caught rainbow trout is typically affordable, widely available, and cooks quickly. For weeknights, I dot fillets with butter and season with salt and lemon. (Side note: When I am feeling fancy or have guests, I always make the Mustard-Crusted Branzino at Bon Appetit.) I used the microwave to bake potatoes and had them ready in 15 minutes. I added pre-packaged broccoli slaw to my salad for extra nutrition, but they sniffed me out; one kid was not into it. Again, you win some, you lose some.
What I cook for my family: TUESDAY
Spaghetti + Burst Cherry Tomato and Garlic Sauce
Having kids equals eating more pasta. It just does. Luckily, it's always waiting patiently in the pantry. The sun was shining bright and warm on Tuesday, which had me craving a lighter, fresher-style sauce. I adapted the Pasta with 15-Minute Burst Tomato Sauce at Epicurious from my favorite list of super fast pasta recipes.
Though I didn't do it this time, I've been known to add finely chopped spinach to dishes like this. If you have green-averse children, chopping it fine and letting it cook a little helps soften the spinach color and taste. It's worth a shot. Oh, and whether or not you add greens, I suggest that you aggressively top this with Parmesan Reggiano.
Related: 11 super fast pasta recipes you can make in minutes.
What I cook for my family: WEDNESDAY

Hot dogs + Corn + Salad
I almost didn't include this one! Not because it's a bad meal (food writers: they're just like us!), but as a food person I'm more insecure about what I put on the plate. But the truth is that I've got toddlers and the days are long. Sometimes, I'm over cooking and just want to crack a beer and have a low-key grill night. Plus, we really like hot dogs.
No hot dog pics, so I'm showing you the inside of a Dijon mustard jar instead. If you have a jar that's almost finished, you can make a ridiculously simple homemade vinaigrette to top lifesaving pre-washed greens. Since there's a little mustard already in the jar, just add some red wine vinegar, olive oil, salt, and pepper, and shake it up. This will keep in the fridge for a couple of weeks.
If you don't have a nearly empty jar of Dijon or just want more info on ratios, follow our guide on how to make a vinaigrette without a recipe. Just as easy.
What I cook for my family: THURSDAY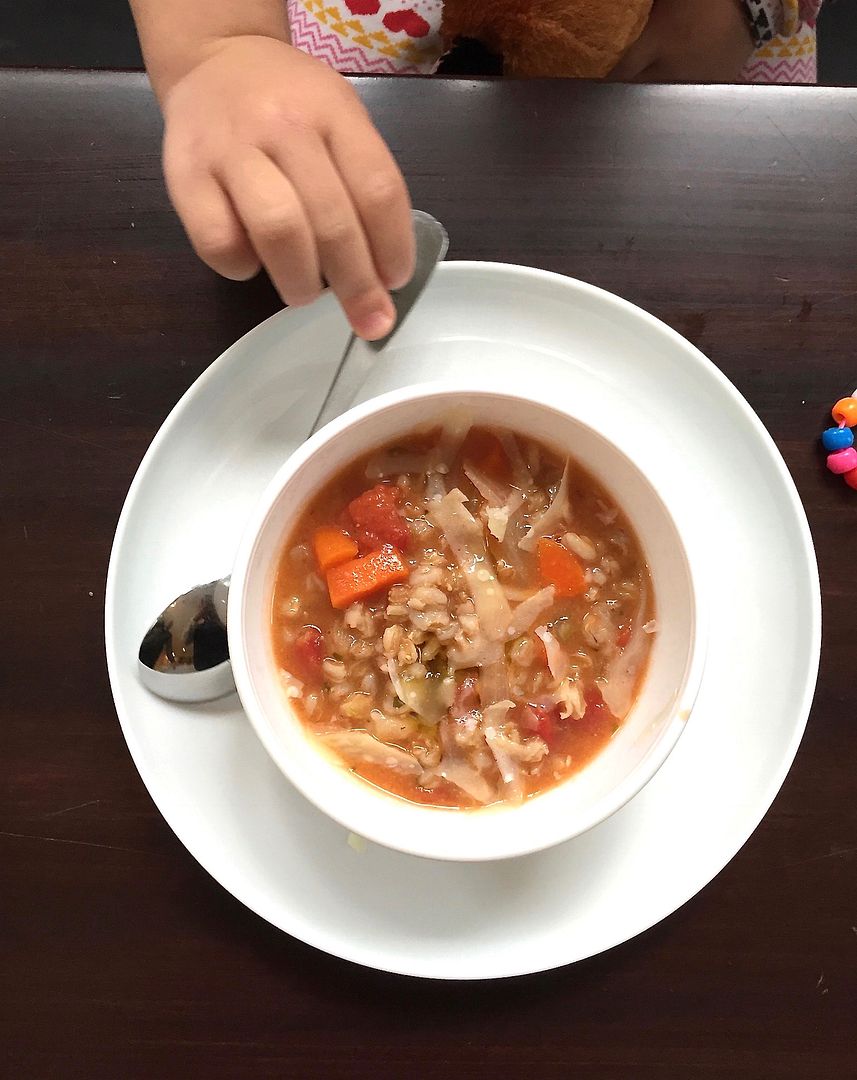 Make-Ahead Farro Vegetable Soup 
Until recently, I rarely made my own broth. I still love boxed broth for convenience, but every month or so I loosely follow this homemade chicken broth recipe (shortcut alert: just break the carrots and celery into pieces and don't bother peeling the onion). I acknowledge that it takes time, but it's mostly hands-off and having shredded chicken in the fridge makes the week a hell of a lot easier. Try it for yourself, at least once.
Oh, and if you have an Instant Pot, scratch the part about it taking time. Stacie has started making chicken broth in the Instant Pot and swears by it.
So, with broth ready in the fridge, I decided on a humble Tuscan Farro Soup that I found at the New York Times. With farro and white beans always stocked in the pantry (yes, I used canned beans), this was a great, inexpensive, clean-out-the-fridge meal. I also added a Parmesan rind (make sure to save those; they keep nicely in the freezer) to give the broth even more flavor.
My little one surprisingly loved this soup! The older one claimed she didn't love it and that she only ate most of it because she was hungry. Good enough for me.
Related: Big-batch recipes you can easily cook in bulk, no extra effort required.
What I cook for my family: FRIDAY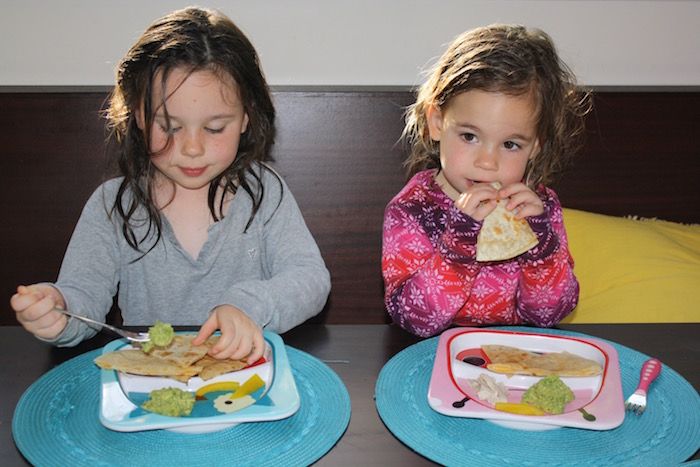 Post-bath disclaimer: My girls do not like me to brush their hair! 
Quesadillas + Guacamole + Sliced Peppers
This was a crazy day and I was making dinner for just me and the girls. With limited time to prep, I reached for tortillas and cheese. And, yup, I used non-chef-y pre-shredded cheese. I know it's not as good as shredding cheese yourself, but with small children and an easy meal like quesadillas, it's soooo nice.
By the way, if you ask me, handmade tortillas should be added to your list of things to always buy at Trader Joe's. They are the jam! They contain no crazy fillers or preservatives and even come in whole wheat. For a quick guacamole, mix a mashed avocado with fresh lime juice, salt, and pepper. And no-cook sliced peppers are always a good side for kids.
What I cook for my family: SATURDAY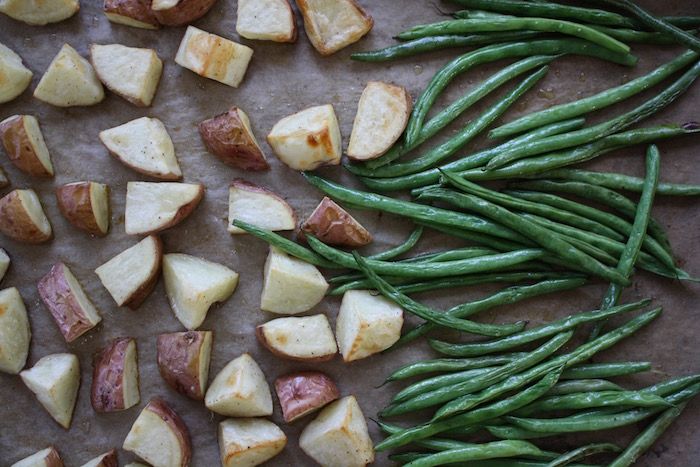 Tip: You can use the same tray, just add the beans towards the end of cooking potatoes.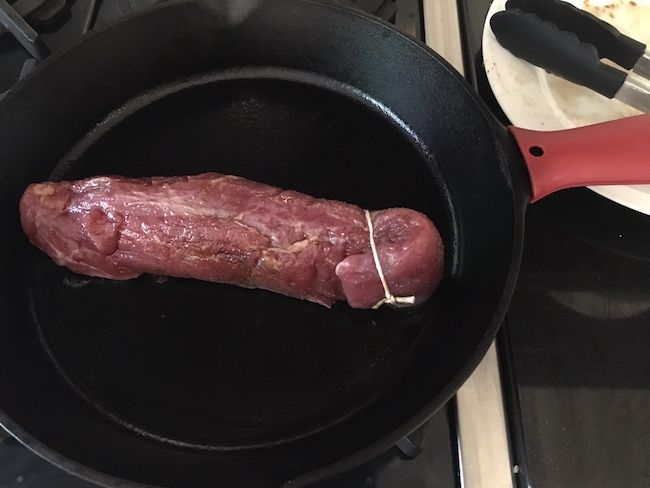 Tip: Fold and tie the thin end of pork tenderloin. This helps the tenderloin cook evenly.
Pork Tenderloin + Roasted potatoes + Green beans
Pork is always a bit iffy with my kids, but hey, sometimes you have to keep trying (and it was on sale). I rubbed the pork tenderloin with brown sugar, cumin, salt, and pepper – delicious, by the way – before searing it in a pan and finishing it in the oven. I always use a meat thermometer when cooking pork; it's too easy to overcook.
I roast potatoes and vegetables like it's going out of style; I'm addicted to the hands-free cooking and caramelized roasted flavor. This type of green beans, though, known as haricot verts, are better sautéed – they dried out a little in the oven. The girls ended up loving the pork and potatoes, so I consider this a win even though it took 45 minutes to get it all on the table.
Related: Scrumptious side dishes made with frozen vegetables to make life easy.
What I cook for my family: SUNDAY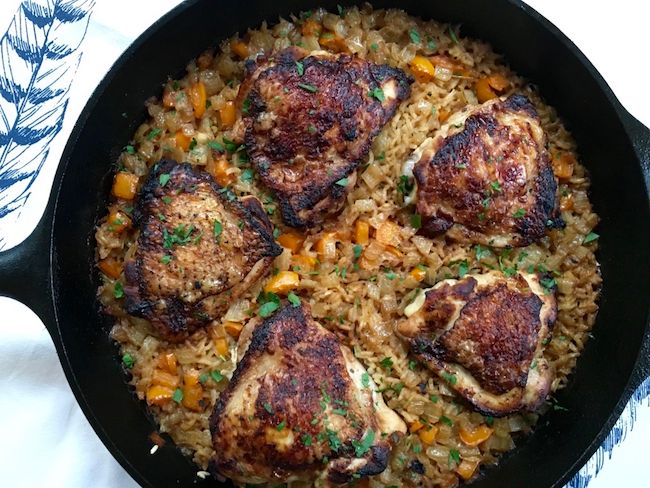 One Pot Greek Chicken + Rice
This dish came out prettier and tastier than I expected. I adapted – I seriously cannot follow a recipe – the One Pot Greek Chicken & Lemon Rice at Recipe Tin Eats. Noteworthy additions were bell peppers (got my veggie in!) and olives for garnish. This is a weekend meal where you can open a bottle of wine and be happy to spend a little time at the stove. This is also great for older kids who can cut their own meat. Or, you know, when you want to eat without the kids.
What I cook for my family: BONUS MEAL!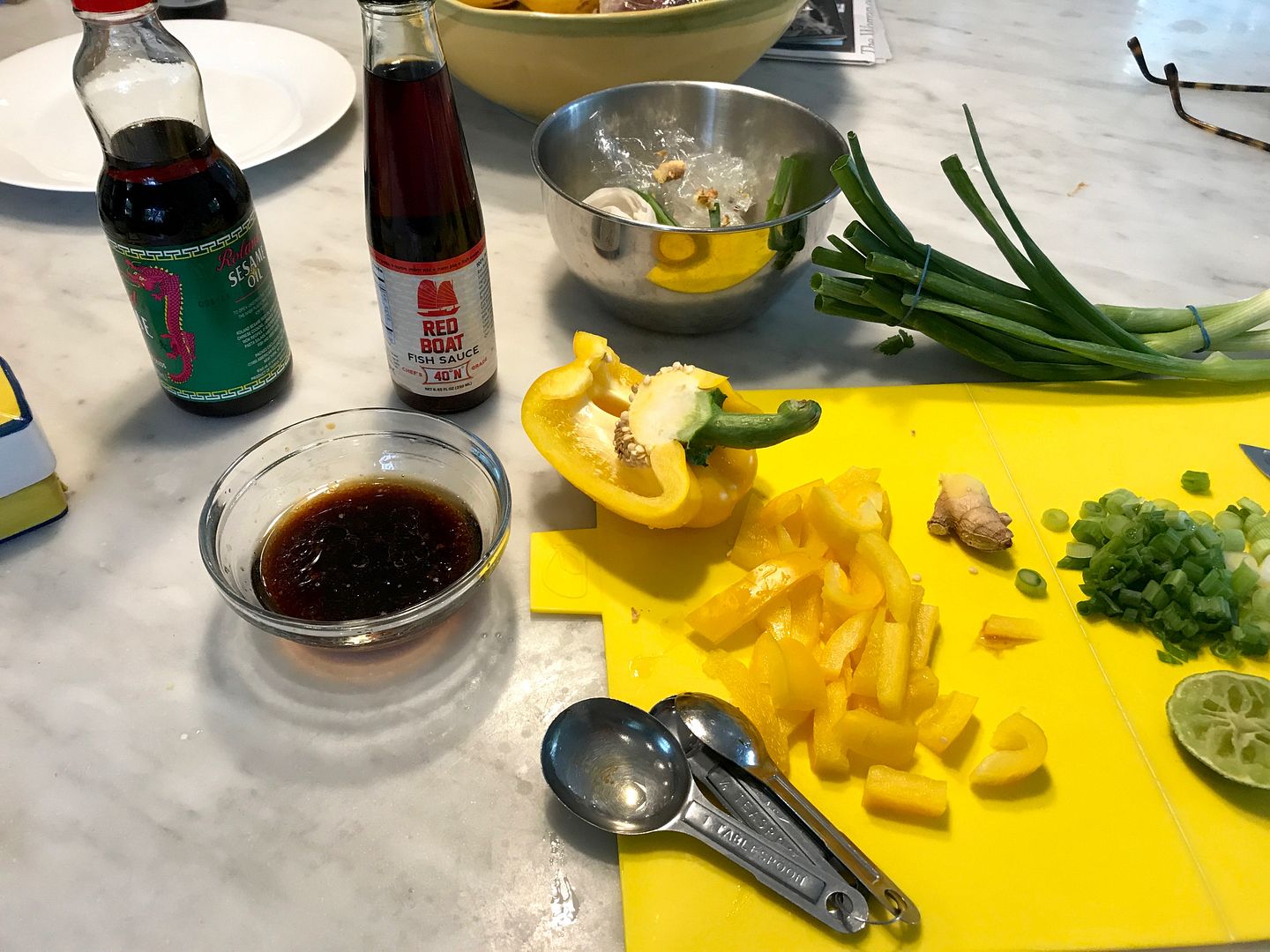 Tip: Always keep a "dump" bowl nearby for easy cleanup.
Chicken Stir-Fry with Peppers, Scallions, and Cilantro
I'm adding an eight meal, because even though I didn't make this during the week I tracked, I throw together a stir-fry nearly every week. Each one has the same basic steps: 1) brown sliced or ground chicken (or pork) and remove from pan, 2) sauté onion, bell peppers, shredded carrots, or whatever firm veggie I have until softened, and 3) return chicken to the pan with a kick-ass sauce (it's all about the sauce). Our favorite is a mix of soy sauce, fish sauce, fresh ginger (you can use ginger powder), lime juice, and sesame oil. The Adult version of this meal is always paired with cilantro, Sriracha, and a beer.
By the way, even though fish sauce smells super funky, it doesn't make food taste fishy. Rather, it adds a punch of umami flavor that is hard to explain, but always makes the dish better. The best brand I've tried is Red Boat. Also, check out my time-saving tips for stir-fry freezer packs so that this is always ready to go, no prep required.