I have seen the Disney Cars movie, release in 2006, the year before my first son was born, about 1200 times. My little one, who is seven and a half, still loves it. And the last time it was on, though he complained about having to watch a "baby movie," my 10-year-old watched the entire thing rapt and slack-jawed, just like he did the first time I ever put it on. So, yea, we're fans and beyond excited for today's Cars 3 movie release.
Yes, even me. I love this franchise more than I'm usually willing to admit.
Even though my kids can't wait to catch the Cars 3 movie in the theater, they're probably beyond having a Cars 3 themed birthday party, but yours may not be. I admit that there isn't all that much Cars 3-specific inspiration out there yet — the movie is just out today! — but I couldn't help gearing up. Here are some Disney Cars party treats to warm our engines and get everyone excited.
Related: Easy Star Wars party snack recipes for a Star Wars party big or small.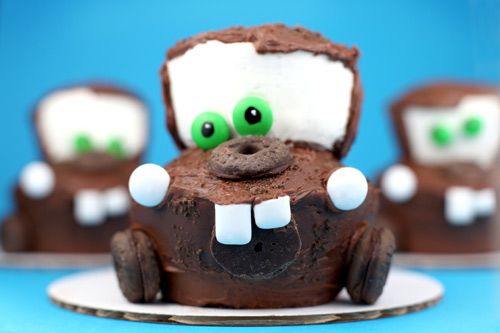 Of course these are the cutest Tow Mater Cupcakes ever (above & top) — they were made by Bakerella. While Angie's creations can sometimes be hard to recreate if you're not super — or even remotely — skilled at cake decorating, these are actually pretty easy to assemble. The only catch is that the link on her site seems to be broken, so try this one for the full how-to.
These Cars cookies at Disney.com aren't the most gorgeous you'll find on the internet, but they are the most achievable. If you are as terrible at cookie decorating as I am, you'll be relieved to know that this is as easy as slathering on icing — like to cover the whole cookie, no detail work required — and sticking on some marshmallows and licorice. There's even a free printable template to get the shapes right.  Oh, and Mater, Sally, and Lightning McQueen (obviously) are all in Cars 3 too.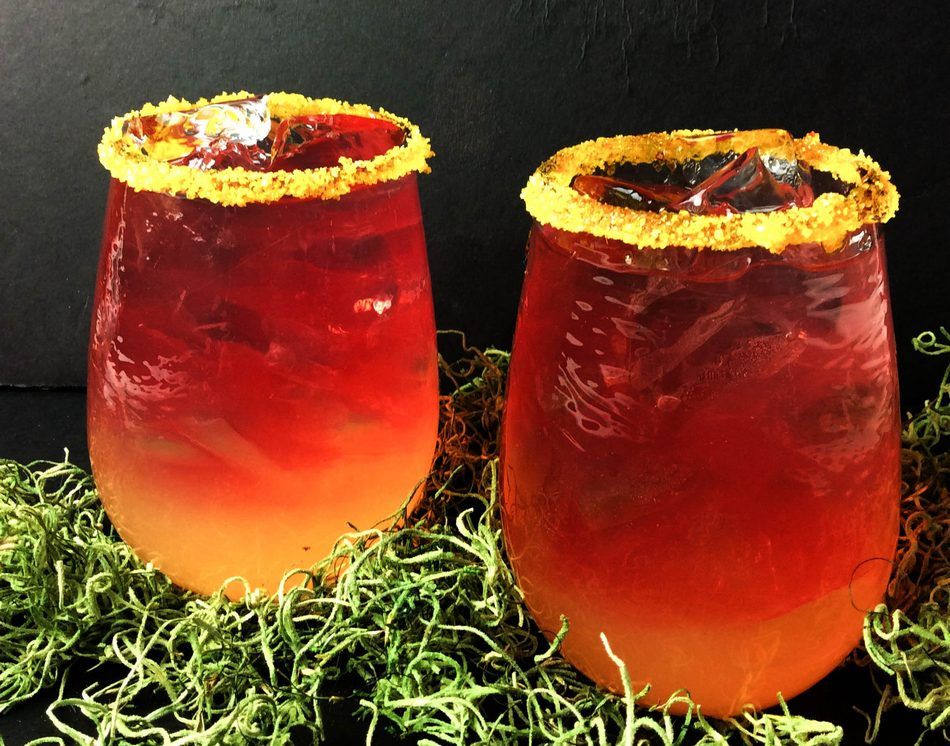 Olfa at Our Family World got a head start on the Cars 3 party treats with this Cars 3 fruit punch recipe. It's simple and draws inspiration from the yellow color of one of the new hot rods in town, Cruz Ramirez.
Related: Super cool dinosaur birthday party cakes that are actually easy to make.
These Lightning McQueen Oreos at The Mommyhood Chronicles are a craft project for sure, but one that I feel totally capable of handling. And that says a lot. Dip, trace, cut, and paste your way to these tasty party treats that are perfect for a Cars 3 themed bash.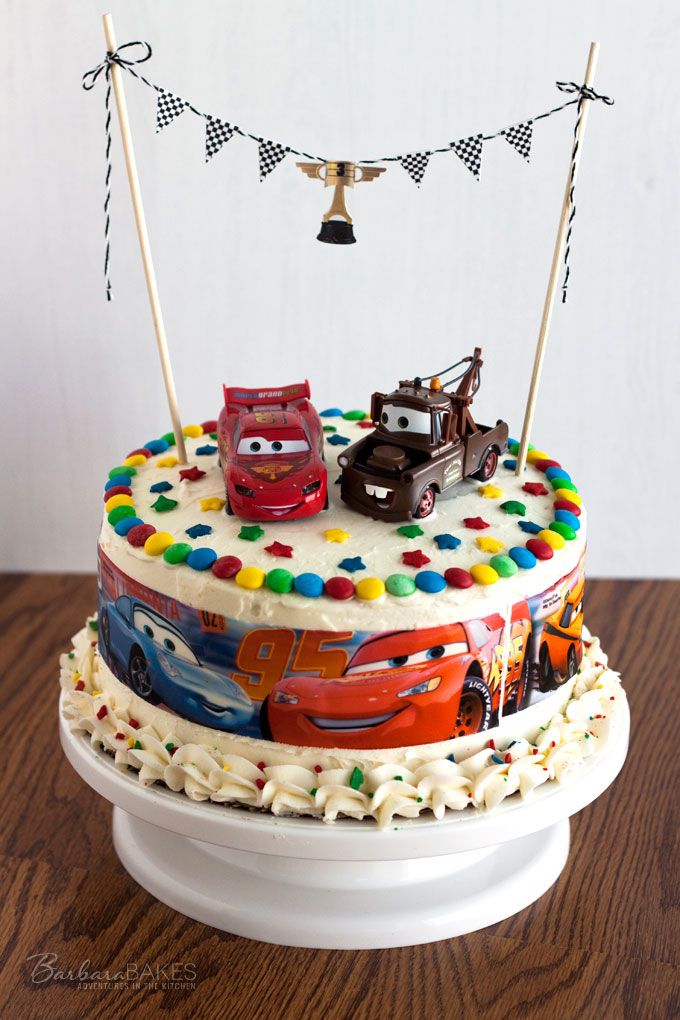 If you hate cake decorating, but are fine making a homemade cake (even from a box counts — we love the all-natural box cake mix from Miss Jones Baking Co), this easy Cars birthday cake at Barbara Bakes is right up your alley. Bake, ice with one of our favorite frosting recipes, dot with M&Ms, grab a few Cars 3 Matchbox toys, and call it a day.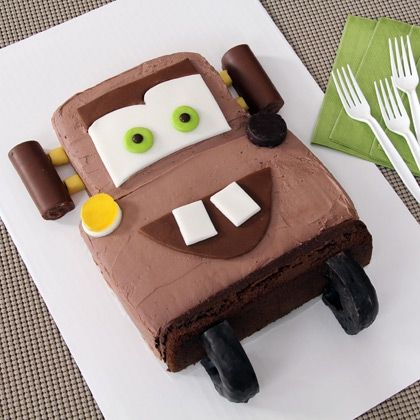 Lightning McQueen is the star of all three Disney Cars movies, but let's be honest: Tow Mater steals the show each and every time. If your child agrees, whip up this easy Tow Mater cake at Disney.com. It's so adorable, and any cake that includes frosted donuts for wheels wins for me.