I've got some easy to prepare, semi-homemade last-minute 4th of July themed desserts for you that will have your guests saying, "Baby, you're a firework!"
Because I've been there: The 4th of July picnic is in a few hours, and I totally forgot I volunteered to bring a dessert. So no need to panic — or show up with a package of Oreos under your arm. (Although everyone would forgive you.) Dig into one of these genius, festive cake and treat recipes instead.
Top: Easy July 4th Ice Cream Cake | Just a Taste
CMP is an rstyle affiliate
Since this Coconut Berry Icebox Cake from Self Proclaimed Foodie is no-bake and low-fuss, it's a perfect, easy last-minute 4th of July dessert recipe. I'd even say you're guaranteed to arrive at the family picnic fresh and unfazed and ready for whatever inappropriate questions your relatives throw at you (well, maybe.). I love that this recipe takes one my favorite cookies – Trader Joe's Toasted Coconut Cookie Thins – and then layers them between whipped cream and fresh fruit. In fact, I'm not going to wait until I see my relatives to make this one.
Related: Easy last-minute 4th of July treats that kids can make themselves: Yay for independence!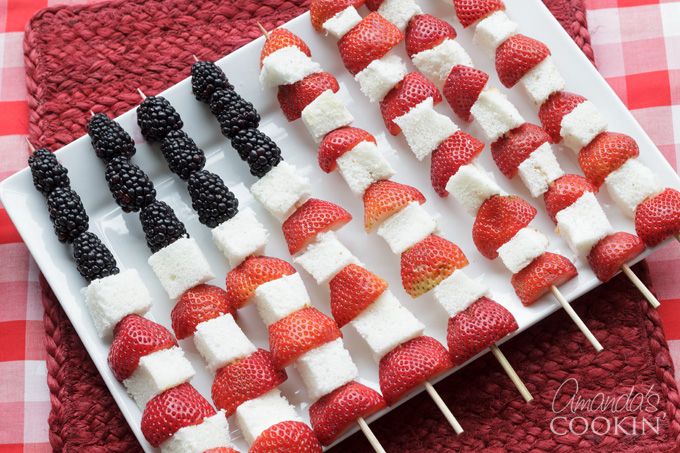 Yep, more berries! Is there a more perfect way to get instant red and blue into a 4th of July dessert recipe? Featured in last year's roundup of easy 4th of July Recipes, we are all still fans of the American Flag Kabobs from Amanda's Cookin'.  You can use angel food cake or marshmallows to represent the white in the flag, and serve on their own or with vanilla ice cream — if you're sure the carton won't be melted in four seconds this year.
Can you say, easiest dessert, ever? These 4th of July Ice Cream Sandwiches at Eating On A Dime are such a brilliant idea you're going to want to make them all summer long. They're so festive and fun, and require only two ingredients – ice cream sandwiches and sprinkles. (Although you can always make your own from scratch with this DIY ice cream sandwich making gadget we found.) The kids can definitely make this easy, last-minute 4th of July dessert on their own, but you might want to be sure they don't eat the ingredients first.
I finally bought myself this trifle bowl from Crate & Barrel earlier this year, because I was tired of never having the best-looking dessert at the party. The perfect use for it right now: this Red, White and Blue Berry Tiramisu by Suburban Soapbox. The result is gorgeous, and I'm imagining fellow guests falling at my feet like I just walked in with a giant bowl full of In-n-Out Burgers. (Note to self: Make a trifle layered with In-n-Out Burgers.) Check out the easy, no-bake recipe on the site, which was inspired by Giada DeLaurentis's own Raspberry Tiramisu. In fact, you  can adapt the recipe and layer different kinds of fruit, too. Because trust me – everything looks beautiful in a trifle bowl.
What could be easier (or tastier) for an easy, last-minute 4th of July dessert than these Chocolate Dipped Ice Cream Cones, with a recipe by our very own Stacie Billis? Just add ice cream and you've got the perfect treat for a warm afternoon, after the picnic games and before the fireworks start. It's simple enough for kids to help with, and I'd be down with making these — and eating them — all year long.
Related: 10 of the very best grilling hacks for an ultimate summer of cookouts. 
You can't have a July 4th party without watermelon, so why not make it super fun for the kids to eat (and make!) Featured in last year's post about easy last-minute 4th of July treats that kids can make themselves, these Watermelon Star Bites from Weelicious are so cute and simple, and only require a few ingredients. The only downside: Get ready for your kids to want their watermelon cut into star shapes all the time from now on.
This easy homemade July 4th Ice Cream Cake from Just a Taste looks so impressive and delicious, you would never know it's made entirely from all store-bought ingredients. The trick is in the layering, and Kelly Senyei describes a method that just may be my favorite dessert hack of the year: stacking it all in the container the pound cake comes in! You have to click over for the secret; I think even our Founding Fathers would have been proud of this kind of thinking. Or at least the ones who were actually helping in the kitchen. (That would be Ben Franklin.)
Another variation on a great, fruit-based, semi-homemade 4th of July cake is this Angel Food Cake With Berries that I found at Hoosier Homemade. It seems like the perfect last-minute, crowd pleasing, easy 4th of July dessert since it takes only fifteen minutes to prepare! Start with a store-bought angel food cake and the brilliant trick she offers for making your slices come out even. After adding the layers, you'll still be done before the fireworks even start.
Walking into a party with these 4th of July Brownie Bites from Real Food By Dad will be like arriving with a tray full of puppies – everyone will "ooh" and "aaah" and want to touch them and take them home. I love that they're made with store-bought brownies, meaning they really couldn't be easier. And definitely easier than a tray full of puppies.