If you're a regular reader, you know that CME has your back when it comes to amazing 4th of July recipes. And this year we're providing a slew of easy treats that the kids can make themselves (or with just a little help from mom or dad). So while you're busy grilling the burgers or sipping on a patriotic cocktail, the kids can be hard at work — or okay, hard at play — with their own red, white, and blue snacks.
Recipes that produce tasty treats and keep them away from firecrackers? We're so in.
Top: Watermelon Star Bites | Weelicious
Related: 30+ delicious 4th of July treats for your next cookout.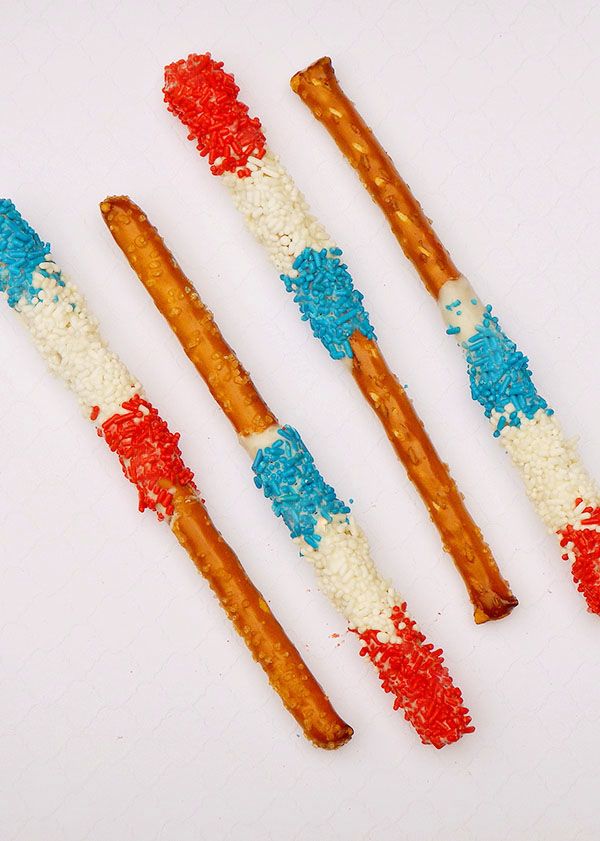 These Firecracker Pretzel Sparklers at Frosting and a Smile capture the magic of sparklers without presenting a fire hazard, which I think all parents will appreciate this 4th of July. Kids can replicate the stripey pattern or go all Jackson Pollack with their pretzel stick. Either way, so fun!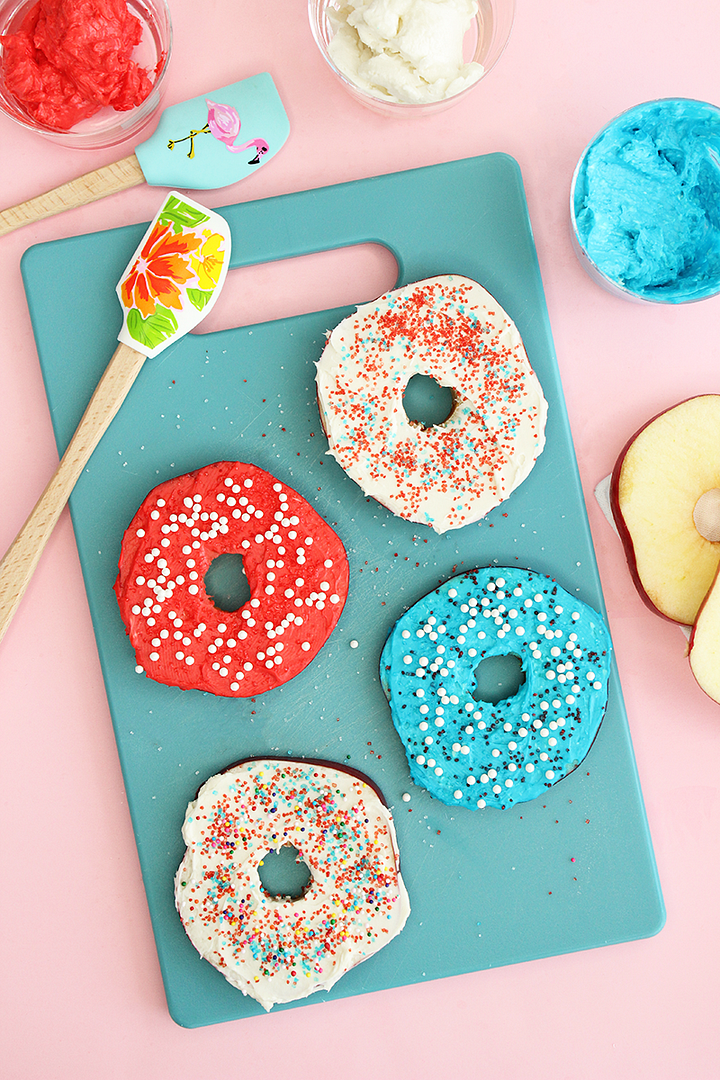 How cute are these Apple "Donuts" at Glitter and Bubbles? They're an easy way to get festive without packing in tons of sugar, although I might rename them so that little ones don't get their hearts set on fried dough.
Watermelon is a must-have at any 4th of July celebration, and I love the look of these easy-to-eat Watermelon Star Bites at Weelicious (above & top). Check out our guide to picking a ripe watermelon, then carve and let the kids go crazy with a cookie cutter.
Related: The ultimate 4tho f July recipe guide.
Our editor Stacie showed us how to make these awesome Chocolate Dipped Ice Cream Cones in her video tutorial, and it's easy to see how much fun she and her boys had in the process. If you don't mind a little clean up (hey, maybe they can help with that too!), these will take your ice cream to the next level.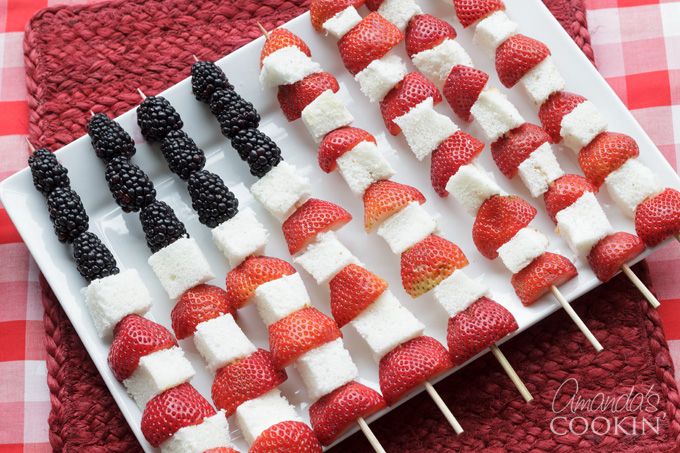 These American Flag Kabobs at Amanda's Cookin' make for a fun exercise in patterns, as well as a lovely 4th of July centerpiece. Serve with vanilla ice cream for a super simple dessert.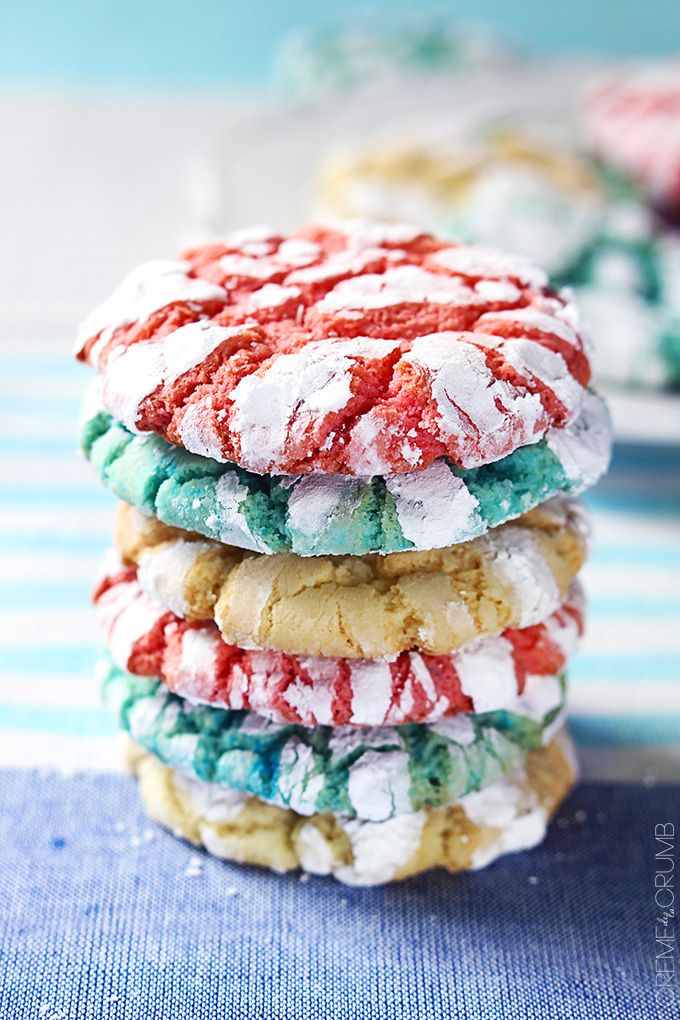 These Red, White, and Blue Crinkle Cookies at Le Creme de la Crumb require turning on the oven, but they're still ridiculously easy with only five ingredients. Perfect if you have a little cake boss who insists on baking something for the big day.
Related: 8 red, white, and blue 4th of July dessert recipes perfect for a crowd.
It doesn't get more simple than these beautiful Red, White, and Blue Cherries at The Semisweet Sisters, especially since there's nothing like ripe cherries in the summer time. Well, except ripe cherries dipped in chocolate! Plus, they're picnic ready in five minutes flat.
Ashley at Simply Designing shows us how to transform store-bought ice cream sandwiches into these fun 4th of July Sandwich Pops. Perfect for younger kids who want to help with the meal and, you know, eat ice cream sandwiches.
If you're looking for something festive, but a little outside the typical 4th of July color scheme, check out these adorable Firecracker Kabobs at Fork and Beans. So easy and healthy too!