I am admittedly not the biggest soup fan, but when it comes to cold soups in the summer? I could devour them daily.  I often keep a big bowl of gazpacho in the fridge to grab for lunch on hot days, or for an easy dinner with a salad, but there's more to cold soup than gazpacho.
So I've put together some amazing cold soups for summer that I'm dying to try, whether for an easy family meal, or an impressive dish for outdoor entertaining before firing up the grill. With the abundance of so many fruits, veggies, and herbs in season right now, I can't think of a better way to make use of your farmer's market bounty.
Oh, and if you're one of those people complaining that gazpacho is "just salsa" — you obviously haven't had great gazpacho yet.
Top image: Chilled Avocado Soup from Weelicious
Related: Clever ways to get kids excited about healthy eating before they sit at the table.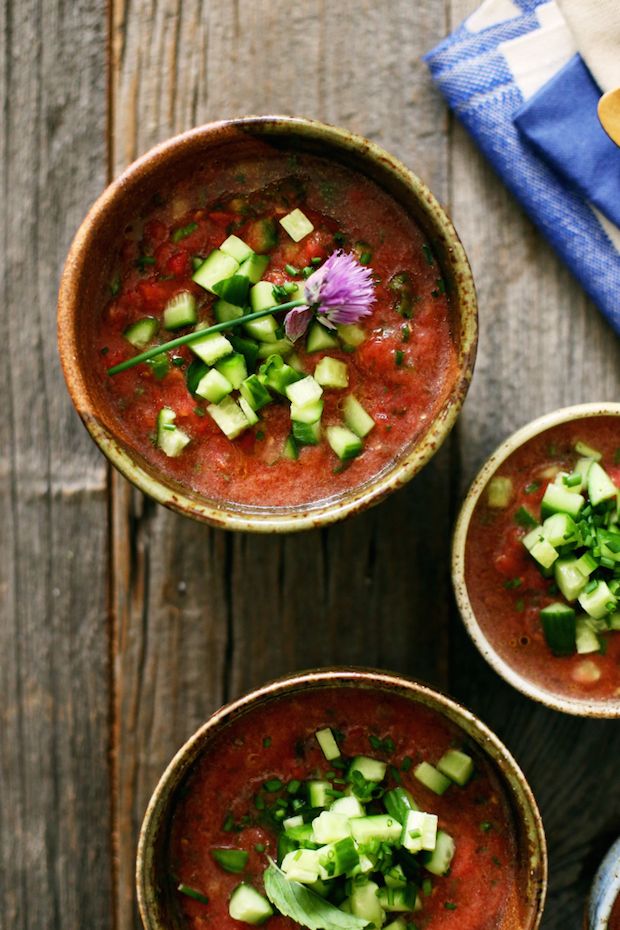 Allison Day's Tomato Mint Gazpacho recipe at Yummy Beet
Summer Gazpacho, 5 Ways | Various
From sweet to savory, Kate put together these fabulous gazpacho variations and I am grateful. Because gazpacho is always my first stop when I'm thinking summer soups to stash in the fridge. There are sweeter gazpacho recipes, more savory or spicy recipes, and frankly, I'd try every single one over the course of the season.
Cold Cucumber Soup with Dill | What a Girl Eats
She had me at "throw everything in the blender" but this entire recipe is really well-considered, including a trick to sweat the cucumbers, resulting in a thicker, creamer soup. Cynthia McCloud Woodman's recipe is also vegetarian and gluten-free, so if you're looking to please a variety of eaters, it's a great cold soup option. And I just love how she serves it in small glasses instead of bowls. Stemless wine glasses would be fabulous too.
Sweet Corn Gazpacho | Spoon Fork Bacon
Okay,so one more gazpacho recipe, but since it's not tomato based, I think of it more like "gazpacho." No matter —  I can't get enough of sweet corn in the summer, and this is a wonderful way eat it off the cob, too. We actually included this recipe from Spoon Fork Bacon in a  fabulous summer recipe meal plan roundup a while back, and it's still a winner. Even kids who are iffy about cold soups may go for this one.
Related: Our favorite corn on the cob hacks and serving ideas you have to try this summer.
Chilled Cantaloupe Soup with Crispy Prosciutto | Lauren Rothman for Serious Eats
I can absolutely devour melon all summer long, and a melon soup? Sign me up for a few gallons worth. I really love the creativity of pairing a cold cantaloupe "gazpacho" with prosciutto, for a twist on the classic Italian appetizer that perfectly blends savory, salty and sweet. Genius! The only baking required is to crisp up the prosciutto in the oven for 9 minutes but hey, you could always just serve it on the side.
Chilled Avocado Soup | Weelicious
Another food I can't get enough of these days is avocado, and I know I'm not alone here. (Amirite Millennials? Kidding.) Catherine McCord of Weelicious never steers us wrong when it comes to easy, simple recipes that are family-pleasers, and this four-ingredient soup fits the bill. You're literally just dumping it all into a food processor, then topping with one of her recommended garnishes to bring a little color and texture to the bowl.
Photo by Julia Gartland
Chilled Caramelized Onion and Zucchini Soup with Sage by Judy Haubert on Food 52 
If you want a cold soup for entertaining that's bound to impress , this looks exquisite.And surprisingly simple — just five ingredients! Besides, I'd eat caramelized onions on nearly anything. The recipe looks to have the perfect balance of depth and lightness, body and flavor; refreshing but still ample enough to call a meal with a side of crusty bread or a simple salad. How gorgeous does it look with that drizzle of olive oil over top of the crisped sage leaves? Oof.
Cold Minted Pea Soup | James Beard
I rarely go wrong with a recipe from James Beard, and this cold soup recipe is fabulous because it's so elegantly pared down. It's a perfect proving ground for the adage about how only great ingredients make great dishes. So be sure to pick the best mint, a high quality yogurt, and the freshest shelled peas; you can use frozen according to the recipe, but hey, fresh peas in season now.
Related: Weekly Meal Plan: 5 easy dishes all using fresh summer foods in season right now
Chilled Hiyashi Chuka Ramen from Blue Apron
If your kids slurp down ramen like mine do in the colder months, this could be a great dinner (or lunch) go-to when it's too hot for hot soup. I love the idea of crunchy green beans in there and eggs to bolster up the protein. You can easily adapt the ingredients to taste; all of them are fairly basic with the exception of Furikake, a Japanese seasoning. You could substitute with sesame seeds, according to Gourmet Sleuth, or just skip it.