Grab your pen and grocery list, because this week's meal plan is ready! This week I'm embracing the hot summer weather, with cool, easy summer dinners.
I'm trying to think of lighter meals that won't make you feel bleh (you know) after eating them, and won't require spending a whole eveningin the kitchen. These summer recipes have all been crowd-pleasers for us in the past, so I'll be adding a few items to my grocery list, and making them again.
At top: 30-Minute Blackened Salmon Caprese Skewers at How Sweet It Is;
Tomato Mint Gazpacho recipe at Yummy Beet
Related: 6 no-sweat, no-cook dinner recipes for summer
These Vegan BBQ Jackfruit Sliders at Neurotic Mommy are one of my favorite #MeatlessMonday summer dinners. It has a similar taste to pulled chicken BBQ, and one batch can make a whole tray of sliders. I I usually make it even easier by popping all of the BBQ ingredients in an Instant Pot so it's tender — but spicy!
PS For more great Meatless Monday ideas that are kid pleasers, we've got a list of our favorites.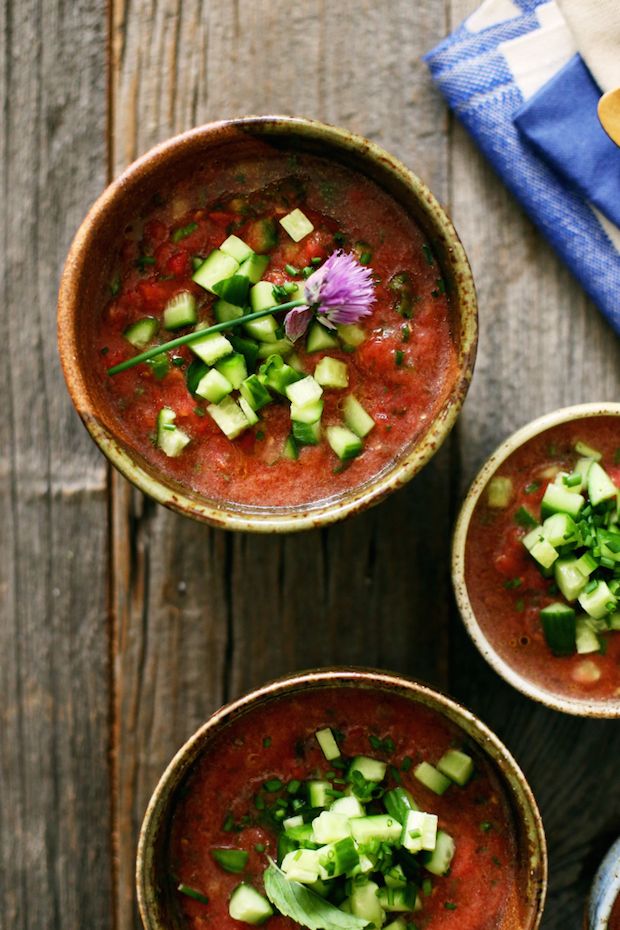 I generally think of soup and sandwiches or salad as a winter meal, because, soup. But Allison Day's Tomato Mint Gazpacho recipe at Yummy Beet reminds me how perfect a chilled soup can be for summer. I'd serve with some grilled cheese sandwiches or just a salad for a really light dinner. Or, serve as a side to some grilled fish or meat for a quick, easy dinner.
Liz got us hooked on these Asian Chicken Crunch Wraps last summer with her post on favorite dinners all under $10. Making these with baked chicken tenders is such a smart, easy shortcut for days you don't feel like cooking. They also pack up great for a picnic, a quick dinner at the community pool, or a socially distant pot-lock in a neighbor's backyard if those options are safe for you right now.
If you're buying big quantities of chicken  parts or making use of a whole chicken for your weekly meal plan, it's a terrific idea to toss into the staple of recipes.
Related: 5 favorite dinners from our past meal plans
Marsha rounded up some of her favorite cold noodle salads for summer dinners, and I'm kind of obsessing over these Vietnamese Noodles With Lemongrass Chicken at Recipe Tin Eats. That seasoned chicken, fresh crisp veggies, cold noodles make it a perfect dish for a hot night, and it's a great way to use up the rest of the chicken for the week if you're buying in bulk,
I feel like kids are always more willing to try foods when they're served on a stick, right? These 30-Minute Blackened Salmon Caprese Skewers at How Sweet It Is are easy, healthy, and still perfectly satisfying for a warm summer night's dinner. Serve with a green salad or maybe one of our favorite grain salads for summer, and you have an easy dinner, done. Or just use this as inspiration, and stick whatever proteins, veggies, or herbs you've got left in the fridge on a stick. It's hard to go wrong!