I adore pumpkin spice but may have maxed out on it this year after enjoying it in everything from coffee to bagels to Cheerios ever since the first leaf turned red. But that doesn't mean I should back off on enjoying pumpkin on its own since this nutritious squash makes such a great addition to so many dinner recipes.
Whether you choose to grab some fresh pumpkins to cook while they're in season or stock up on cans of pumpkin to use at any time of the year, let's celebrate pumpkin with these 14 delicious dinner recipes that have all the goodness of this seasonal squash without their ubiquitous spice add-ons. (Tip: when fresh pumpkin is not in season, butternut squash can be used without any significant change in flavor)
Top Photo: Pumpkin dinner recipes from She Likes Food and How Sweet Eats
Purchases through affiliate links in this post may generate a small commission that supports our work at no additional expense to you. Thank you.
1-pot Pumpkin Yellow Curry
I don't often think of pumpkin and curry in the same recipe, but this 1-Pot Pumpkin Yellow Curry recipe from Minimalist Baker makes the combo sound like a delicious idea. I love that there's only 15 minutes of prep and dinner can be on the table in less than an hour…plus one-pot dinners have long been a favorite of ours since our kids' after-school schedules have gotten so busy.
This recipe as made is vegan, which my middle daughter will appreciate, and can be easily made gluten-free as well. If these dietary needs aren't necessary, I think it'd taste delicious with some cooked, shredded chicken added at the end for some extra protein or to use up some leftovers in the fridge.
Related: We really love pumpkin dinner recipes! Check out all our recipes we've covered over the years.
Creamy Pumpkin Parmesan Chicken with Wild Mushrooms
Don't be intimidated by this recipe for Creamy Pumpkin Parmesan Chicken with Wild Mushrooms from Abra's Kitchen, which includes three distinct steps to prepare the chicken, pumpkin sauce, and crispy, wild mushrooms: Each step is quick and easy and since this calls for pureed pumpkin, even easier to pull together with a can of puree from the pantry.
Pumpkin Lasagna Roll Ups
Move over tomato sauce, these creamy and cheesy Pumpkin Lasagna Roll Ups with Crispy Sage from How Sweet Eats are where it's at. (Though, interestingly, Jessica mentions in the comments that this is also delish with red sauce instead of white in case you'd prefer that).
This is a fun dish to assemble with the kids as your sous chefs—just let the noodles cool off a little bit before letting little fingers handle them. She also gives you tips for how to prep this dish the day before so you can pop it in the oven the next evening.
Thai Pumpkin Soup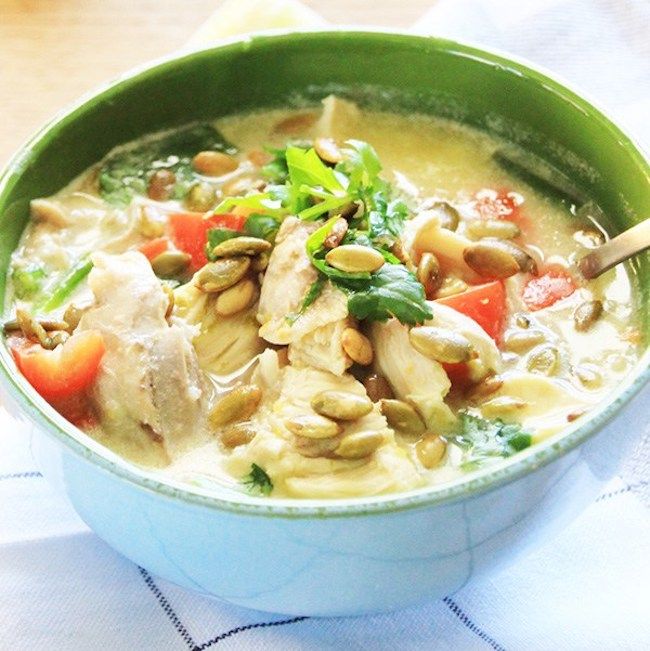 This bowl of Thai Pumpkin Soup at Fusion Craftiness tastes like a delicious lemongrass and ginger curry with the addition of hearty chunks of pumpkin. I love that it's a light dinner that still has lots of fall flavor because that mix can be really hard to find. Don't miss Tina's tips on making this quick and easy which can make this a great weeknight dinner.
Related: All the pumpkin spice recipes that you actually want to eat.
Persian Pumpkin Soup
Keep traveling on your pumpkin culinary odyssey and try this full-meal Persian Pumpkin Soup from My Persian Kitchen. Full of lentils and chunks of pumpkin and some other recognizable spices you probably already have in your spice rack.
Serve the above soup in a roasted pumpkin bowl as shown using Sanam's detailed instructions, or grab a couple of these adorable and affordable Pumpkin Shaped Tureen at Pottery Barn (it's on sale right now!). They're the perfect vessel for this yummy soup but then can be a seasonal decoration when not in use.
Vegan Pumpkin Casserole
Don't be turned off by the "v" word at the start of this recipe: Forkful of Plants' Vegan Pumpkin Casserole looks incredibly yummy even if you normally don't shy away from dairy, eggs, or meat. Roasted pumpkin is topped with a creamy white-bean sauce and then sprinkled with crunchy stuffing mix before getting baked all together.
As the recipe states, this would make a great Thanksgiving Day side, but is easy enough to throw together for a regular old Tuesday night dinner.
Pumpkin Risotto with Bacon
A no-stir risotto recipe that also includes bacon? That's exactly what is promised in this Pumpkin Risotto with Bacon recipe from Cooking and Beer which does most of its cooking on its own without needing the babysitting that most risotto recipes require. The finished dish is perfect for those first cold nights of fall when you just want some comfort food.
Related:  A week full of fabulous fall comfort meals. . .just replace the butternut squash with pumpkin for even more pumpkin dinner recipes to enjoy!
Pumpkin Frittata with Fried Garlic and Herbs
I don't often think of pumpkin with eggs, but this Pumpkin Frittata recipe from Cotter Crunch would make a fabulous dinner with a green salad. Feel free to add leftover shredded chicken or turkey to this recipe which happens to also be gluten free. (Tip: this would also make a great brunch dish).
Pumpkin Polenta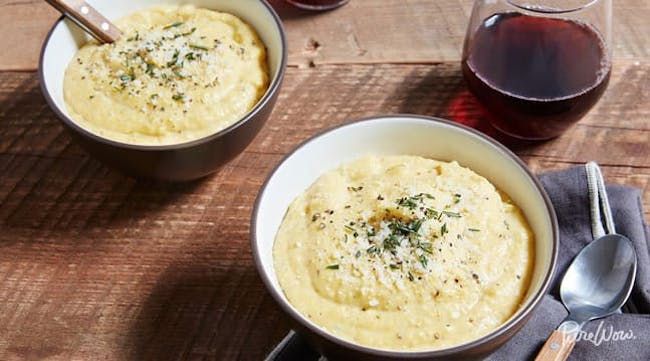 (Photo by Liz Andrew & styling by Erin McDowell for PureWow)
Mmmmm, this Pumpkin Polenta recipe at PureWow might become a staple in my fall meal rotation. Not only is it made with easy canned pumpkin, but any time that I can hide veggies in my kids' carbs—which they're guaranteed to eat—I'm all in. During the week, this can be served with kid-friendly bolognese sauce over the top. Then, once it's a hit, consider making it a side with turkey and Brussels sprouts for Thanksgiving next month.
Pumpkin Quesadillas
I already love black beans and sweet potatoes, so I think that these Pumpkin Quesadillas by She Likes Food will be right up my alley. Plus, there is nothing like the ease of quesadillas on a busy school night. Dinner on the table in under 30 minutes FTW!
Beef and Pumpkin Chili Mole

Because pumpkin is a little less sweet than butternut squash, it works great in hearty meals like this Beef and Pumpkin Chili Mole at The View from Great Island that we put on a recent weekly meal plan. The longer this simmers, the more infused the flavors will get, and you can freeze leftovers for a quick and tasty weeknight dinner later. That is, if you manage to have any leftovers.
Pumpkin Penne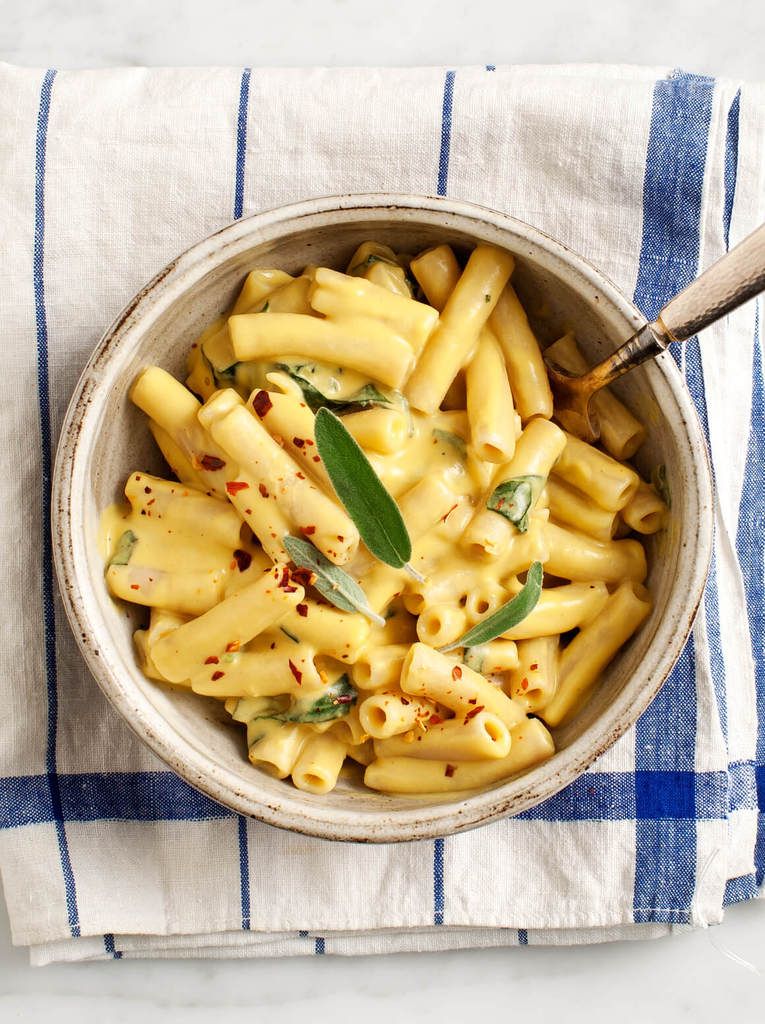 This creamy bowl of Pumpkin Penne at Love and Lemons that we included in another one of our fall weekly meal plans looks over-the-top decadent, but is actually a healthy vegan recipe! If dairy is okay in your house, skip the step of soaking cashews overnight and substitute heavy cream instead. But if you follow the recipe, you'll have a protein packed meal that might even pass for mac and cheese.
Pumpkin and Sausage Gnocchi
You don't even have to boil the gnocchi to get this decadent Pumpkin and Sausage Gnocchi recipe on the table. Full of sausage and kale, this recipe from Fox and Briar uses white wine, cream, canned pureed pumpkin, and chicken stock to create a sauce that will cook the gnocchi all the way through. I'd make this meatless with vegetable stock and meatless sausage, and would probably have to double the recipe so there would be leftovers.
Roast Pumpkin Pizza
Try something different on Pizza Night with this Roast Pumpkin Pizza recipe from Cook It Real Good. Check out the two-ingredient pizza dough recipe (bet you can't guess the two ingredients!)) or grab some balls of pre-made dough from the supermarket or your local pizza shop. Roasted pumpkin enhances the sweetness which goes so well with the salty olives and crunchy peppers, but this is flexible enough for you to play with your own combination of toppings too.