I love Indian and Thai food, but when I think of cooking it myself, I imagine a long list of exotic spices, special trips to the International Farmer's Market, and dishes that need to simmer for hours on end. And I think I speak for all of us when I say, ain't nobody got time for all that. Which is why I'm excited to share these easy, super fast curry recipes that require no expertise, come together fast, and taste so good, the kids won't even how many veggies they're eating.
Well, probably.
Top: Thai Green Curry with Eggplant, Snowpeas, and Tofu at Whisk Affair | Creamy Thai Sweet Potato Curry  at Pinch of Yum
Related: The best stir fry recipes for kids — and parents, too.
I first noticed the Thai Green Curry with Eggplant, Snowpeas, and Tofu at Whisk Affair because of its vibrant colors, but this all-veggie recipe also boasts a complex flavor with basil, chili, fish sauce, and lemon, too. If your kids are skeptical about tofu, you may have better luck lightly frying it before adding it to the recipe, which I always do to give my tofu a crispy texture. Also, two of the ingredients in this list are in metric, so unless you feel like brushing up on your high school math while cooking for hungry children, just remember that 100g = 3.5 ounces.
Green curry is the lesser-known curry of the family, but is every bit as delicious as yellow and red curries, which is why I'm glad I found two easy versions. If tofu and veggies just won't fly in your house, this Thai Green Chicken Curry at Kendra's Treats has chicken, mushrooms (which are easy to pick around), and zucchini noodles, or "zoodles," as she calls them. Not only are "zoodles" just about the most kid-friendly way ever to serve veggies, but "zoodles" is a word that definitely needs to be in your kids' food-cabulary.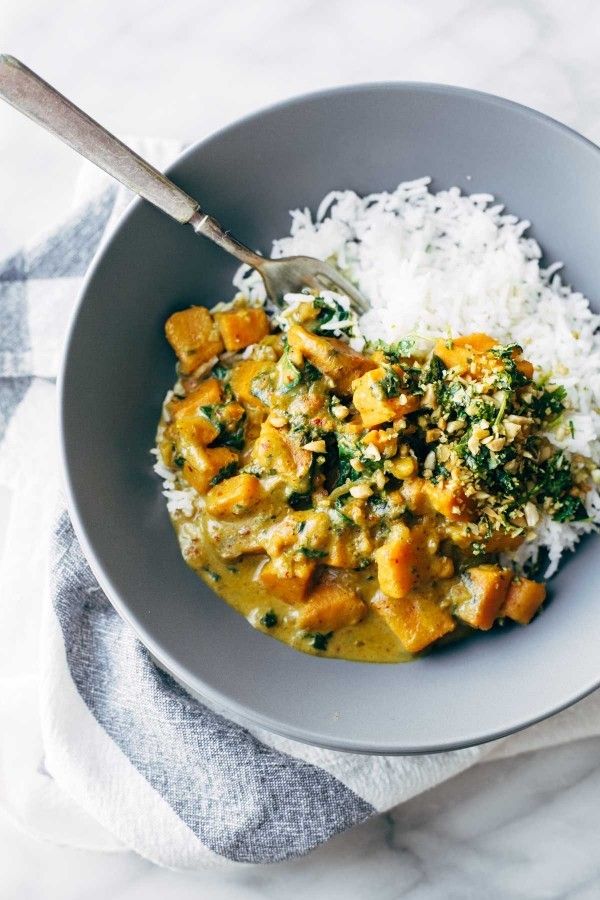 I'm already a fan of Lindsey, the food bloggess extraordinaire behind Pinch of Yum, but this recipe brought me to a new level of adoration. I love how easy and healthy her Creamy Thai Sweet Potato Curry is, packed with spinach and, well, sweet potatoes. Kids will love the mellow flavor, making it a great choice for, uh, selective eaters who may not be used to eating curries. If you have more than 30 minutes to spend on this meal or some time to prep ahead on the weekend, consider trying the incredible-looking homemade Yellow Curry Paste, too.
Related: 8 kid friendly vegetarian recipes for #MeatlessMonday.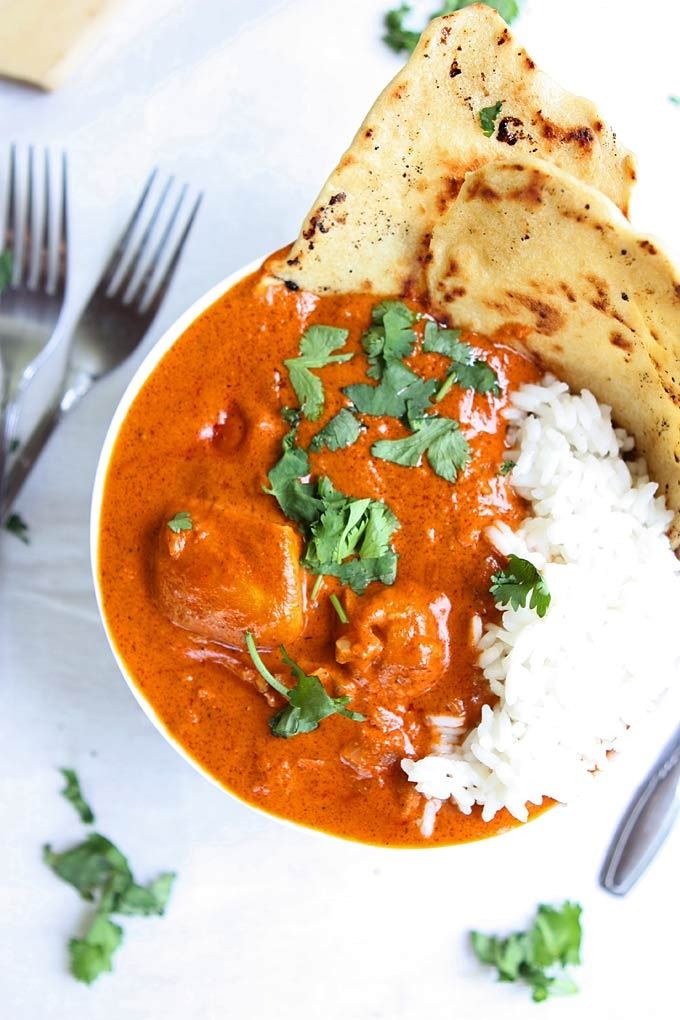 I have to confess that when I first heard of butter chicken, so many years ago, I pictured something slathered in grease and totally unappetizing. How could I have been so wrong? Yes, it's a rich dish, complete with—you guessed it—a sizable helping of butter and no small amount of cream. But the lovely aromatic spices, cilantro, hint of lime, and generous tomato balance the heavier ingredients to make this Indian Butter Chicken at The Kitchen Paper a dish no one in your family will want to stop eating. Ever. Also, try Mary's quick naan recipe if you have time—this sauce was made to be sopped up with bread.
I had to throw this one in for those of you with meat-insistent children. It's easy to find vegetarian curry recipes, but a Thai meatball recipe that's ready in 30 minutes? Amazing. I kind of outdid myself with this find, guys, but all the real credit should go to Vicky at Things I Made Today for the standout Thai Meatballs with Red Curry Coconut Sauce recipe, of course. I love that it combines pork meatballs with classic Thai flavors. It's immediately going at the top of my to-try list.
Related: Spice things up with these 8 flavor-packed Mexican dinner recipes that aren't tacos.
I had to include this vegan, veggie-packed Creamy Curried Quinoa at The Full Helping to balance out the butter chicken, but also because it looks truly delicious. The recipe calls for boiling the quinoa in coconut milk and curry (so clever!), then adding a host of colorful vegetables. Don't mention the word "vegan," and kids will never suspect how healthy it is.
Like many of you, I've been following the Pioneer Woman for several years and, at this point, I'd pretty much trust Ree Drummond with my life. Or at least the contents of my kitchen. She brings a laid-back simplicity to her recipes without losing even a hint of amazing flavor. Case in point: her Coconut Curry Shrimp. If you aren't already convinced by just the name of this dish (coconut! curry! shrimp!), trust me, you're in good hands with Ree.
Related: How to cook with frozen shrimp, plus 8 kid-friendly, super-fast shrimp dinner recipes.
According to Gin at Eat Healthy Eat Happy, this recipe takes eleven minutes to complete. . .  Sold. If you're not already convinced, know that it's also full of fiber, protein, and kid-friendly flavors. Plus, rice bowls make awesome re-heatable meals. At this point, I'd probably cook this meal for the sheer convenience factor, even if it tasted like burnt toast, but Gin has added a perfect combination of Indian spices along with (surprise!) a hint of peanut butter to make sure that these Quick Curried Veggie Brown Rice Bowls are better than that. Way better.