When the Commodores sang the song Easy Like Sunday Morning, clearly they didn't have a wiggly one-year-old they were trying to dress in suspenders while also cooking an elaborate brunch on their Sunday mornings! Know what I'm talking about? Then these fabulous make-ahead Easter brunch recipes are for you!
All seven ideas are impressive, delicious, and will keep you from scrambling on Easter morning.
Okay, at least they'll help you scramble less. Because in the parenting world, even small wins still counts as wins.
Related: 6 more amazing make-ahead recipes for Easter brunch.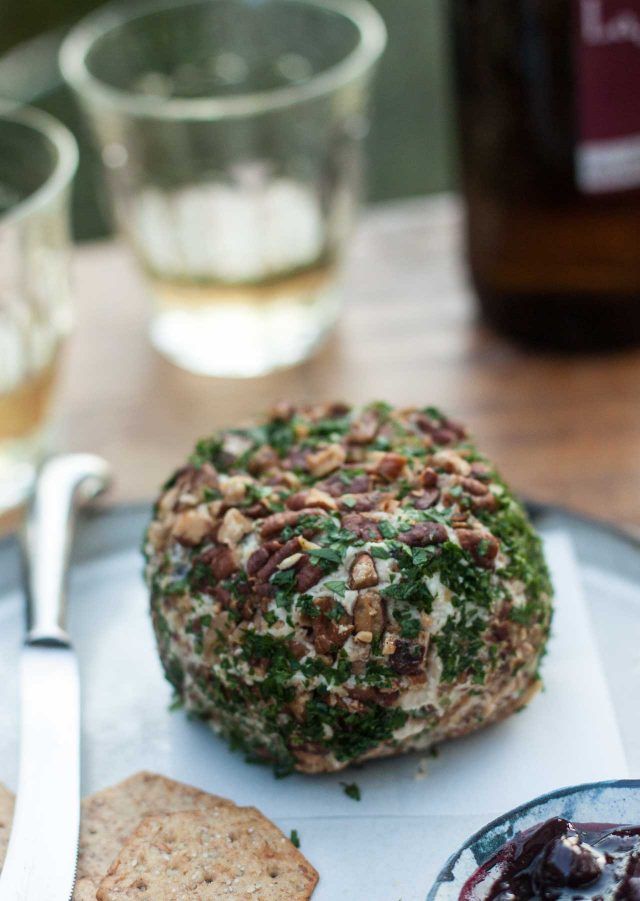 This much I've learned. If you want to be the most popular person at a potluck party, bring a cheese ball. And while I usually opt for this unbelievable date and nut-covered Cheese Ball recipe from David Lebovitz. Though I'm currently feeling a colorful, slightly lightened-up Brunch-Worthy Veggie Cream Cheese Ball from Peas and Crayons, as a smart, make-ahead Easter brunch idea. It could make a big splash at the dinner table too, to keep the hunger at bay while guests wait for the main course.
My culinary tastes are pretty eclectic, but my very Southern family fully expects a traditional roast ham at Easter every year. I may not be able to change up the main dish much, but I can still introduce some fresh new tastes for Easter appetizers, like these Southern Bacon Deviled Eggs from Seasoned to Taste. Prepare the deviled egg recipe the night before and garnish right before you are ready to serve them.
Related: The trick to make hard-boiled eggs 100% perfect every time
Our managing editor Stacie is raving about a new cookbook called Eating from the Ground Up — and especially author Alana Chernila's gorgeous Pea Soup recipe from the book that we shared. I personally can't wait to get my hands on both. It's a chilled soup, so it truly is the ideal make-ahead recipe for Easter brunch.
Related: 9 timesaving kitchen cheats to make holiday cooking (and everyday meals!) easier
I've been really into grain salads lately, since they're heartier and last longer in the fridge than greens-based salads. This Spring Farro and Asparagus Salad from Italian Food Forever looks like the perfect way to incorporate a big helping of spring veggies to welcome the season and brighten your table. Just make sure to wait until the last minute to dress it so it stays crisp and delicious.
Related: 5 sticky bun recipes perfect for an Easter brunch spread–complete with make-ahead instructions. 
This Italian Easter Bread is similar to sweet and fluffy challah bread, one of my all-time favorite things to bake. Only Sprinkle Bakes' recipe serves up more color and seasonal cheer. You can bake this bread the night before to save yourself some time; or just make the dough ahead and reserve enough time for braiding (plus an hour of rising) on Easter morning. Check out the whole awesome tutorial for great tips including how to save time with the hard-boiled eggs in the center.
Brunch never feels complete without some form of eggs, and if you're looking for a solid make-ahead main dish for Easter, I think this Make-Ahead Egg Bake (or Fritatta) with Spinach, Tomato, and Feta from Sally Vargas for Simply Recipes will totally fit the bill. If you ask me, family-style eggs are totally the way to go when you want to spend less time in front of the stove and more time with your friends and family.
Of course I can't leave out my own family's traditional must-have Easter dish, and it turns out you can make it ahead! This gorgeous Easter Ham recipe at My Kitchen Love requires only four ingredients that you probably already have on hand, and a mere 5 minutes of prep — time even I can manage on a Saturday night. Just score and marinate this ham the night before and then pop it in the oven half an hour before brunch. Check out all the details on Samantha's site, including some fantastic, simple side dish ideas.
Did you think I was going to forget dessert? Never! Carrot cake traditionally tends to dominate Easter in the South, but I'm a big fan of its yummier cousin (if you ask me), Hummingbird Cake. This recipe comes courtesy of Imma at Immaculate Bites. It trades the carrot for crushed pineapple and banana and, trust me, you won't miss them at all. Plus, we just love Imma's writing style, right down to her "nerdy research" about Hummingbird Cake's origins, and all of its colorful aliases.
Happy eating, everyone!