Now that St. Patrick's Day is coming up and it's Lucky Charms treat season, I'll confess: I used to believe that you either love Lucky Charms marshmallows or you don't. As a kid, my sister eagerly slurped up every last clover and horseshoe, along with my extras. But I have to admit that I've come to appreciate an occasional dose of the stuff, especially when used for more than just a bowl of cereal.
Besides, with cereal companies finally taking out the artificial food dyes, it's just one more excuse, right?
These easy, delicious, Lucky Charms treats for St. Patrick's Day have me thinking that you can fall somewhere between liking the cereal  or not—especially on St. Patrick's Day, and still devour these treats.
Because, come on, tell me these don't all look magically delicious.
Top: Lucky Charms Cupcakes via Inspired by Charm
Related St Patrick's Day Treats you'll like: 
13 rainbow recipes from breakfast to dessert to try this St. Patrick's Day.
Even more Lucky Charms dessert recipes to help you taste the rainbow
7 creative, cute rainbow desserts from easy to OMG. Perfect for St. Patrick's Day…or any day!
Easy, edible St. Patrick's day crafts and activities for kids. With absolutely no glitter.
DIY copycat Oreo Shamrock Shake recipe
6 Easy Lucky Charms Treats for St Patrick's Day
1. Lucky Charms Cupcakes

If your kids get excited for cupcakes, they'll flip for the Lucky Charms Cupcakes via Inspired by Charm (above). With boxed cake being one of the main ingredients, this straightforward cupcake recipe would be a great project for little bakers. Forewarning though, the frosting does contain Crisco, so if you're not a fan, you could always make a basic buttercream frosting and add the Lucky Charms cereal as garnish.
2. Lucky Charms Cookies
Vanilla pudding mix makes the Lucky Charms Cookies from Is This Really My Life not only deliciously soft and sweet, but also super easy to make. And, somehow, I feel like eating Lucky Charms in cookie form is totally acceptable. Like, it's not even trying to be breakfast.
3. Lucky Charms Cereal Milkshakes…two ways
I may have to vote for the mocktail version of these Boozy Lucky Charms Cereal Milkshakes at How Sweet Eats, especially for the kids (ha) but, hey, whatever makes you happy. Vodka decision aside, a milkshake made of Lucky Charms marshmallows, ice cream, and whipped cream would excite even the sweetest of sweet tooths. And if you skip the whipped cream, it's basically like having a bowl of cereal, right?
4. Lucky Charms Marshmallow Popcorn
Well, this is brilliant and totally easy: A Lucky Charms Marshmallow Popcorn recipe from Paper & Stitch. You probably get the gist, but you should hop on over for the link to a brilliant shortcut so that you can mix in just the marshmallows wit the popcorn. Or, of course, you can also put the kids to work doing all the sorting. What? It's good math practice!
5. Lucky Charms Rice Krispy Squares
We can't rightly talk cereal recipes without including a version of the classic marshmallow treat. These Lucky Charms Marshmallow Squares at Serious Eats are simple, delicious business. A little butter, a box of cereal, and more marshmallows transform a classic treat into a St. Patrick's Day special. A favorite kid cereal turned into a favorite kid dessert? I know a certain sister who will be happy.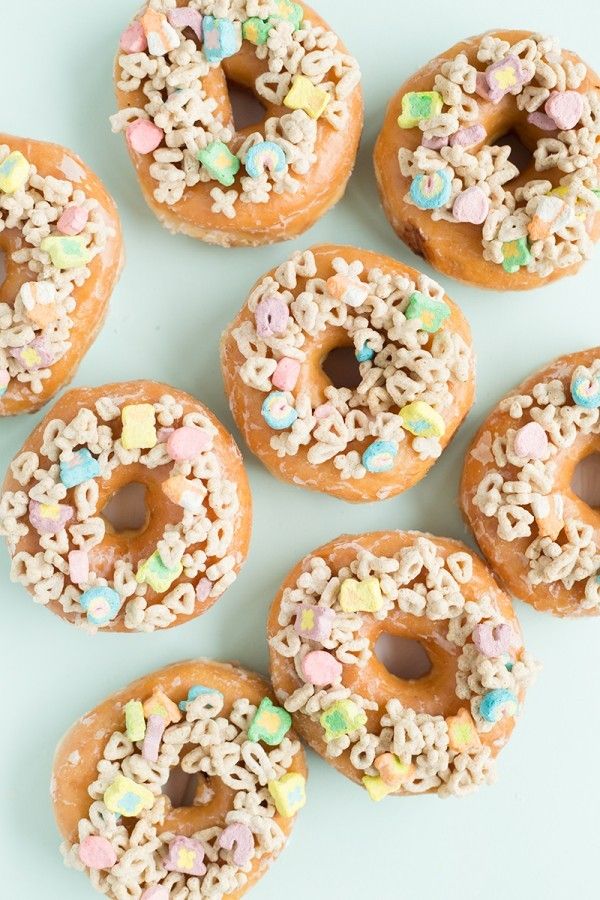 6. Lucky Charms glazed donuts
These are a favorite St. Patrick's Day treat around here, maybe because of how easy and cute they are. And also maybe because donuts. Duh. You don't have to bake (or fry) up donuts from scratch to make these Lucky Charms Donuts, but you do need to make a super simple glaze, so be sure to visit Studio DIY for the easy how-to. Then get eating!
Need more ideas? Also check out:  The ultimate last minute St. Patrick's Day recipe guide: 50 meals, snacks, drinks & desserts that are magically delicious.