St. Patrick's Day is coming up fast, you guys! Sure, we could celebrate by eating corned beef and shepherd's pie, but why would we when we could spend the weekend eating the rainbow instead? From sweet to savory, breakfast to dessert, we've found 13 rainbow recipes that are perfect for celebrating the holiday with your kids all day, er, weekend long.
Go ahead and stock up on your food coloring now! (Natural food coloring works, too, by the way. Phew!)
Top: Smoothie Rainbow Popsicles | The First Year
Related: 4 rainbow foods that go too far. Or do they?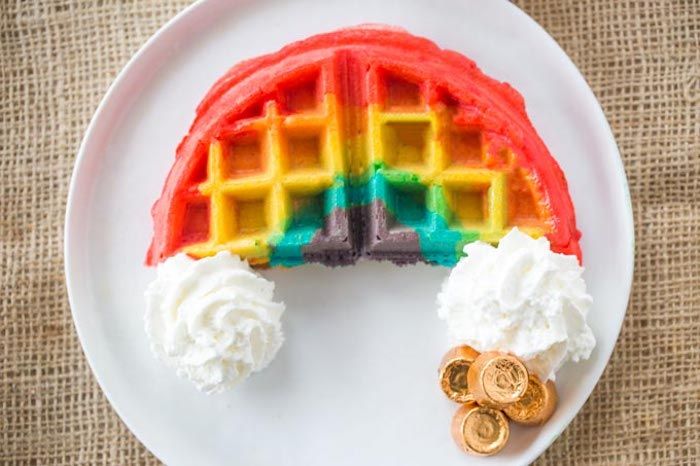 You'll totally win the "fun mom" award with this happy Rainbow Belgian Waffles recipe at Dinner then Dessert. And the whipped cream clouds are perfection.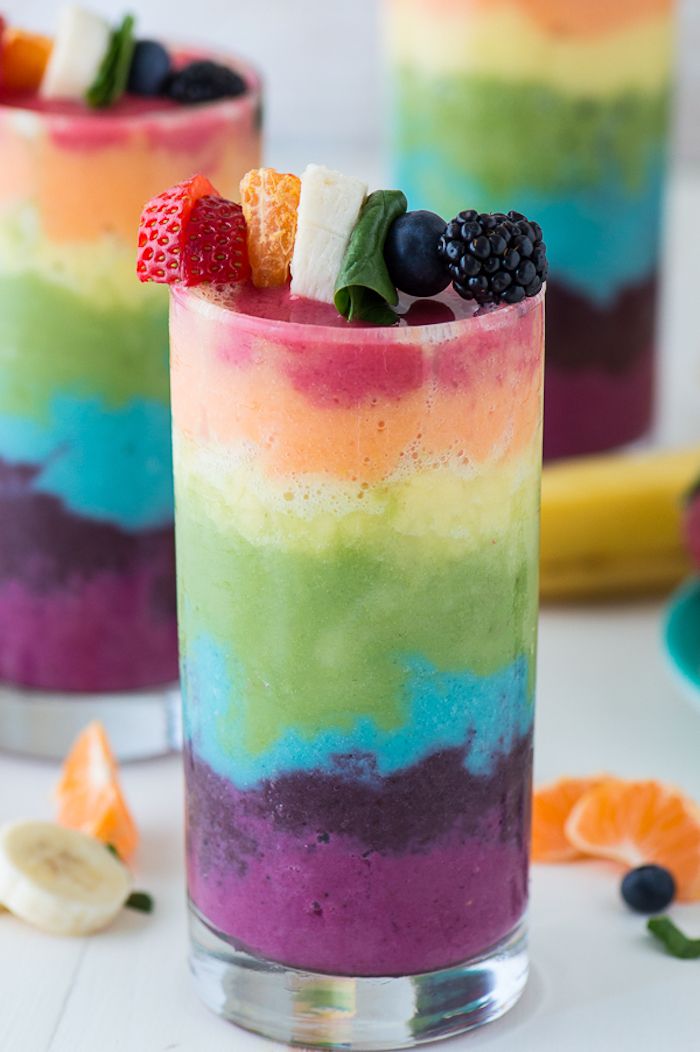 This Rainbow Smoothie at The First Year deserves major wow points. Isn't it gorgeous? This one isn't for the mom who likes to sleep as late as possible in the mornings though (ahem, me), because you're basically making 7 different smoothies. That said, if you want to make them ahead of time, you can freeze them as popsicles too (very top). And popsicles for breakfast is pretty cool.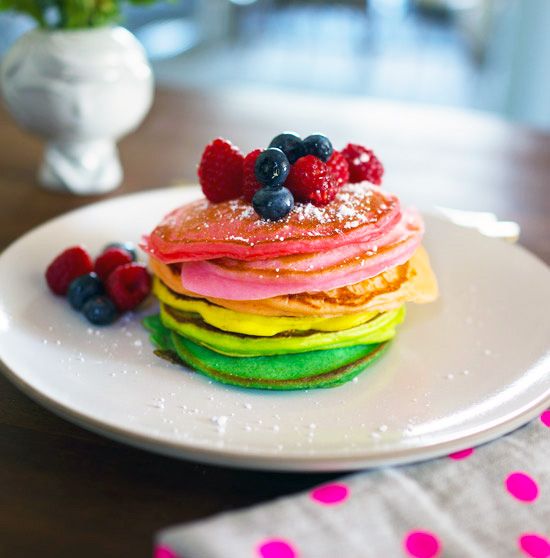 Rainbow Pancakes | Oh Joy!
These rainbow pancakes at Oh Joy! are such a fun way to start your St. Patrick's Day — in fact, they've been on our list of favorite rainbow recipes for St. Patrick's Day for years! If mixing up all these different colors of pancake batter on a school morning overwhelms you, though, you can always prep these the night before so that you can whip them up quickly in the morning.
Related: More great rainbow recipes for a lucky St. Patrick's Day.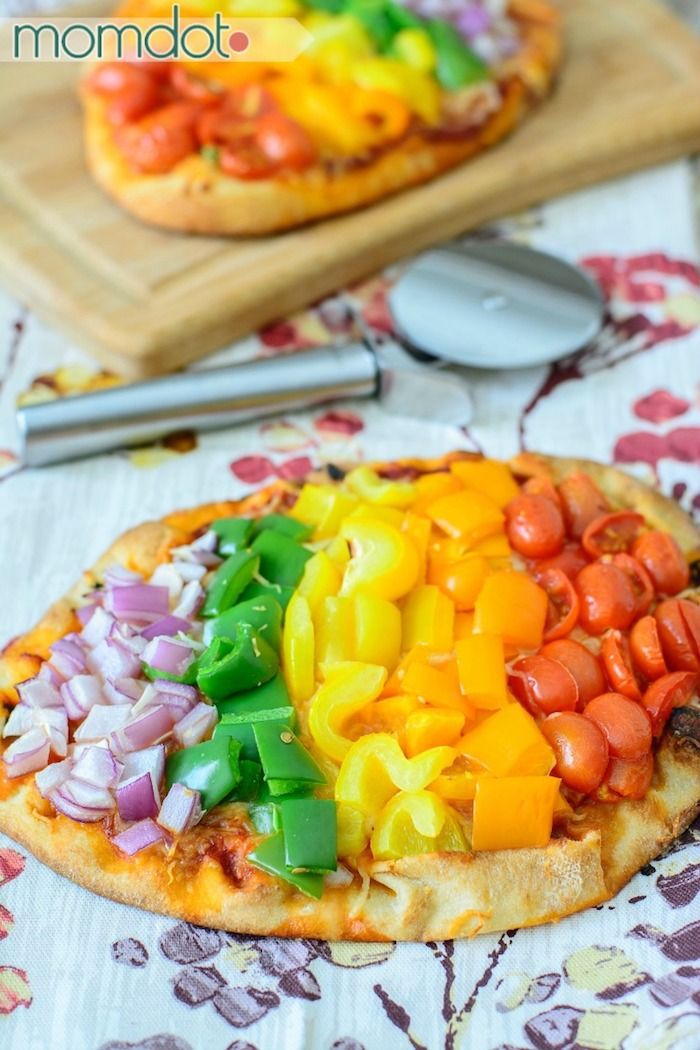 Ooh, I love how pretty this Rainbow Veggie Pizza is at Mom Dot. If your family members are Friday Night Pizza regulars like mine, this will be such a fun way to incorporate the holiday. Although, I'll probably make a rainbow spread of topping options so that my picky-eaters can choose how colorful they want their own to be.
Rainbow Grilled Cheese | Photo by Leah Nolan for Glitter and Bubbles
Wow: not quite sure what to think of the Rainbow grilled cheese trend, but this recipe at Glitter and Bubbles is pretty amazing. Would you dare?
Since St. Patrick's Day is also the first day of our spring break (early, I know), I'm planning to fire up the grill for these tropical Rainbow Hawaiian Chicken Kebobs at Gimme Some Oven. Yay for spring weather!

Did you catch our tutorial on how to make Rainbow Pasta? This would make such a fun dinner tossed with some grilled chicken and veggies. We'd skip the heavy sauce, though, since it will ruin the impact of the colorful noodles.
Related: 12 amazing unicorn party treats. Because unicorns love rainbows too.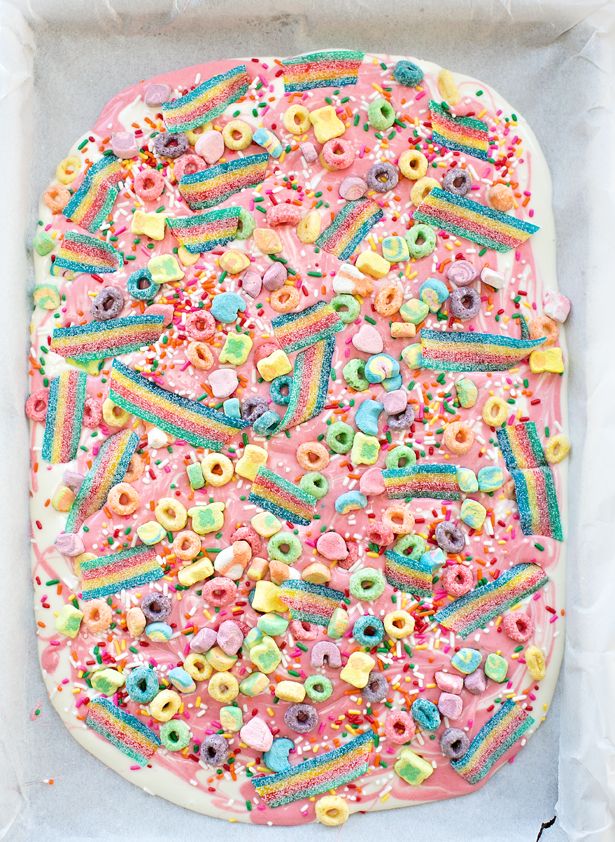 Unicorn Candy Bark | Hello, Wonderful
I think my kids would explode with excitement if I made the Unicorn Candy Bark at Hello, Wonderful that Stacie found while rounding up unicorn party recipes. Because unicorn and rainbows go hand in hand, right? And even if not: wow. Just, wow!

Let's say that this Rainbow Funfetti Dip at Twinspiration is healthy since it's made with low-fat yogurt, because this is a seriously big bowl of awesome that your kids will love. Reason enough to make it. But, you know, the yogurt helps.
The Rainbow Pudding that Katie of Good Life Eats whipped up for Make is so colorful and fun, but I was wary of mixing so many flavors in one serving. Then I realized that this was actually a very simple from-scratch pudding recipe — all vanilla flavored. Yum! This would be such a fun after-dinner treat for the kids.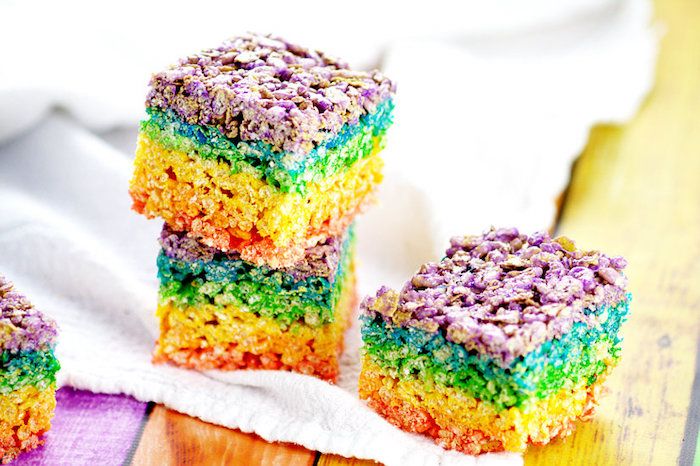 Mmm, I have such a hard time turning down a homemade Rice Krispies Treat, and these Rainbow Rice Krispie Treats at The Gracious Wife are perfect for St. Patty's Day. Don't miss Michelle's tips for making those layers go down without too big a mess.

Claire's recipe for Rainbow Mini Cakes at Sprinkles and Sprouts is from scratch, but you could easily replicate it using a boxed cake mix in a pinch. That said, don't skip reading her recipe — she has some great tips about getting the colors right and cutting those tiny layers so that they don't all apart.
How crazy fun is this Rainbow Twizzler Cake at Cake Whiz! Those of us who don't have the time (or, um, maybe won't take the time?) to make a big cake like this from scratch can totally dress up a store-bought cake with these cute embellishments. But be sure to read her tips on how to get the Twizzlers to stay on, because it would go from really fun to really sad if all these decorations fell off.