If you have picky eaters or family members with different dietary restrictions, it can be challenging to make a meal that pleases everyone. One of my favorite hacks is DIY dinners. I just set out all the ingredients and let my family members prepare their own meal with the ingredients they can (or, will) eat.
When I saw this thread with so many creative DIY dinner ideas on our Recipe Rescue group on Facebook, I knew we needed to share these with our readers. These go way beyond DIY taco night or baked potato bars to give so many creative, fun dinner ideas.
With some of these DIY dinners, there's no cooking involved. Just make your own, and you're done! With others, we'll have to cook what they've prepared but it goes quickly, we promise.
Either way, it's an easy way to do dinner that will make them happy and they'll actually eat it, so it's a win in my book!
At top: baked chili nachos at Carolyn's Cooking; Rainbow Spring Rolls at Randa Nutrition; Mediterranean pita bowl at Sarah Gold Nutrition; omelet tutorial at Jessica Gavin; shrimp boil foil packs at Sweet Cayenne
Related: 25 creative pizza toppings for the most awesome pizza party
DIY Quesadilla bar
We've been wanting to try the TikTok quesadilla folding trick that Teighan uses for these folded crispy buffalo chicken wraps at Halfbaked Harvest, but you could use any toppings you (or your kids) prefer when you make your own. Set out ingredients like grilled chicken, ground beef with Mexican spices, peppers, rice, lettuce, jalapeño ranch, cilantro, grilled onions, diced tomatoes, or anything else you like on your tacos or burritos. You can even make these vegan with vegan cheese, beans, veggies, salsas, and more. Have everyone fill and fold their own, then bring them to heat on the griddle until their cheese is perfectly melty!

DIY Spring roll bar
This idea of having the family gather around the counter to roll their own DIY spring rolls is so fun! You can give everyone the option of thin slices of asian-marinated meat, shrimp, or tofu, rice noodles, shredded cabbage, cucumber, carrot, peppers, basil and mint, edamame, japchae noodles, dipping sauces. Before you fill yours, read Randa Nutrition's Rainbow Spring Rolls recipe, which has a good tutorial on how to wrap those thin, stretchy spring roll papers, along with tons of filler ideas and a spicy pineapple dip recipe too.
DIY Lasagna roll-up bar
Everyone at my house likes their lasagna just a little bit different, so I love the idea of DIY lasagna roll-ups. I'd start with this recipe for lasagna roll-ups at Monster Foodie, then set out some other ingredients my family can add to it. You can do several sauces, from béchamel to bolognese, then filled like ground beef, sausage, spinach, artichoke, sun tried tomato, mozzarella and ricotta cheese, artichokes, peppers, and even butternut squash puree if you're feeling fancy!
Related: We tested the viral Speedy Skillet Ravioli Lasagna hack. Here's how it went.
DIY soup & salad bar
On those nights when you really don't want to cook at all, putting out ingredients for a make-your-own salad bar is a great idea. If your kids don't like salad, there's no requirement that they have to use the toppings on lettuce. They can just make their own snack plate! Check out our post on 20 unique salad toppings and our tips for making salad into a family dinner to get ideas for what to offer, and just heat up some of your favorite store-bought soups on the stove…or check our post on 10 easy and delicious 5-ingredient soups for some homemade ideas. (Photo by Luisa Brimble on Unsplash)
DIY Mediterranean bowl bar
My family is familiar with make-your-own taco bowl night, but I love the twist to use Mediterranean ingredients for a DIY pita bowl night like these at Sarah Gold Nutrition. Cook up some grilled chicken with Greek spices, then set it out with rice or orzo, chickpeas, cucumbers, tomatoes, red onions, olives, Greek dressing, cucumber sauce, balsamic vinegar, red peppers, feta, hummus, pita wedges, tzatziki sauce, and sliced purple cabbage.
DIY Pizza bar
Make-your-own pizzas are one of my kids' favorites, because they get to have their whole entire pizza to themselves. I usually get store-bought pizza crust dough, but you can also use English muffins or bagels for smaller, more manageable portions. Check out our 25 favorite pizza toppings for DIY pizza night for some inspiration beyond pepperoni and sausage. If you're feeling really adventurous, you could wrap them up and make DIY calzones instead. (Photo by Chad Montano on Unsplash)
Related: A perfect cast-iron pizza crust recipe
DIY omelet bar
Since my family are big on breakfast-for-dinner, I loved the idea of setting up a make-your-own omelet bar for dinner…along with some muffins, fruit, and smoothies, of course. Give each kid a bowl and let them add their choice of ingredients, like several cheese options, diced ham, diced peppers, red onions, spinach, diced tomatoes, bacon, mushrooms, sausage, or even some diced leftover steak. Then they can bring it to you at the stovetop, where you can mix it into your omelet base and make a custom dinner they'll love. This omelet tutorial at Jessica Gavin gives you tips on how to make them two different ways.
DIY nachos
We have a mixture of dietary restrictions at our house, which makes DIY nachos a really easy dinner for us. Everyone can grab a half-sheet pan to customize their own, then we bake them like these baked chili nachos at Carolyn's Cooking. Set out several Mexican cheeses, ground beef or pulled chicken, beans, peppers, onions, jalapeños, corn, rice, refried beans, black olives, and anything else you'd add from your favorite Mexican restaurant. When they come out of the oven, you can have salsa, sour cream, lime wedges, creamy jalapeño sauce, or guacamole available to add to the top.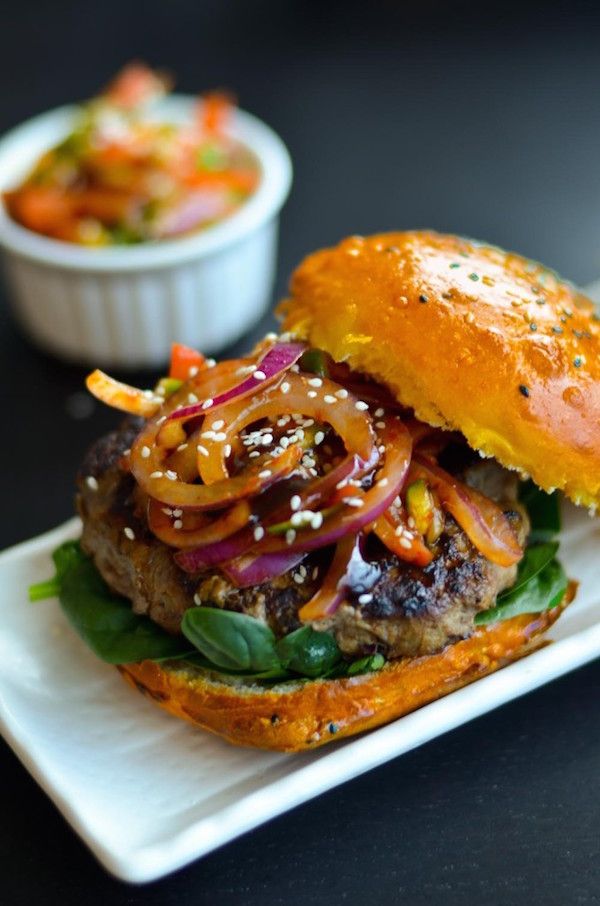 DIY burgers and hotdogs bar
I'm dreaming of warmer temps (and hopefully, having friends over to grill out again someday), so I had to include our ideas for an amazing hotdog toppings bar. Or, if you prefer burgers you can also set out fancy cheeses, grilled onions and mushrooms, bacon, pineapple (yes, really!), cole slaw, and guacamole…along with the typical lettuce, tomato, pickles, and ketchup, mayo and mustard, of course. For more inspiration, check out some of our favorite international-inspired burger recipes, like these Japanese Hambagu Burgers with Spicy Sesame Salad at Chindian Kitchen.
Related: 13 ideas for creative hot dog toppings. No offense, mustard!
DIY pasta bar
We love the idea of building a DIY pasta bar to feed hungry teens or picky kids, and we shared tips for making a perfect pasta bar with various pastas, sauces, proteins, and other toppings that are fairly traditional. But you can also change things up and go with Asian, Mexican, Italian, or Greek pasta dressings with tons of add-in ideas you can set out on the counter and let your family add to their cooked pasta as they please. My personal favorite: this Mexican-inspired pasta salad with creamy chipotle sauce at Bianca Zapatka.
DIY sandwich bar
Before charcuterie, we had smörgåsbord! It was always a favorite of mine growing up, and I'm planning to work this back into our rotation because it's so easy. Start with several bread options—wheat, rye, sourdough, flatbread wraps, pita bread, subs or baguettes, and even large lettuce leaves for lettuce wraps. Then, set out meats (deli slices, leftover steak or meatloaf slices, chicken salad, tuna salad), tons of veggies (from lettuce and tomato to roasted peppers and avocado slices), cheese slices, and some non-meat fillings like egg salad or pimento cheese. Don't forget plenty of tasty sauces, from dijon mustard to hummus to spicy mayo. And of course, some of your favorite potato chips too. (Photo by Eaters Collective on Unsplash)
DIY foil packs bar
Take a nod from our favorite camping dinner and do a "make your own" foil packs dinner at home, like these shrimp boil foil packs at Sweet Cayenne. Give everyone a plate with aluminum foil on it and have them write their name on the outside of the foil before they fil it. Then, set out proteins like chicken, steak, kielbasa, or shrimp. Then include veggies like corn on the cob (cut short), new potatoes, asparagus, peppers, broccoli or cauliflower, mushrooms, red onions, zucchini. Add some grated cheese, if you like. Then, finally, set out seasoning options—anything from Creole to Greek, garam masala to steak seasoning. Everyone can fill their packet the way they like, then fold it closed with a tight seal and stick it on the grill (or in the oven at 400 degrees) to cook. It takes about 30 minutes for chicken, 15-20 minutes for shrimp and steak.