We're big proponents of empowering kids to take responsibility in the kitchen, so of course we're sharing healthy breakfast ideas kids can make themselves.
Whether we're tasking our children with making their own school lunches or stocking up on our favorite cookbooks for kids to get them cooking dinner, it's all important! We know that our guide to getting kids in the kitchen by age has been a helpful start for many of you, and because our aim is always to help solve problems, we also love offering up recipes and quick meal ideas too.
For a lot of us, getting a healthy breakfast on the table fast enough so that we can still get out the door on time in the morning is a challenge.  So hopefully these terrific, easy breakfast ideas for kids will help your mornings run more smoothly, so you can focus on things like making sure everyone grabbed a face mask on their way out the door. Sigh.
– This post is newly updated for 2021 –
Related: The essential school lunch shopping list: Everything you need in your pantry + fridge
9 healthy breakfast ideas kids can make all by themselves. (Well, maybe not toddlers.)
1. English Muffin Breakfast Pizzas
Every kid loves an English muffin pizza and this breakfast version for English Muffing Breakfast Pizzas from Two Peas & Their Pod is a morning favorite. Save even more time and swap the scrambled eggs with hard boiled eggs. Keep a big bowl of hard boiled eggs in the fridge ready to go and then all the kids have to do is toast, slice, top, and broil.
Tip: If you don't have a toaster oven like this one for easy broiling and your kids aren't quite ready to use the oven, the cheese can easily be melted in about 20-30 seconds in the microwave. Or, skip the cheese all together. With that hard boiled egg, they still get plenty of protein.
Related: 7 clever, meat-free ways to sneak a little more protein into your kid's diet.
2. Yogurt Parfaits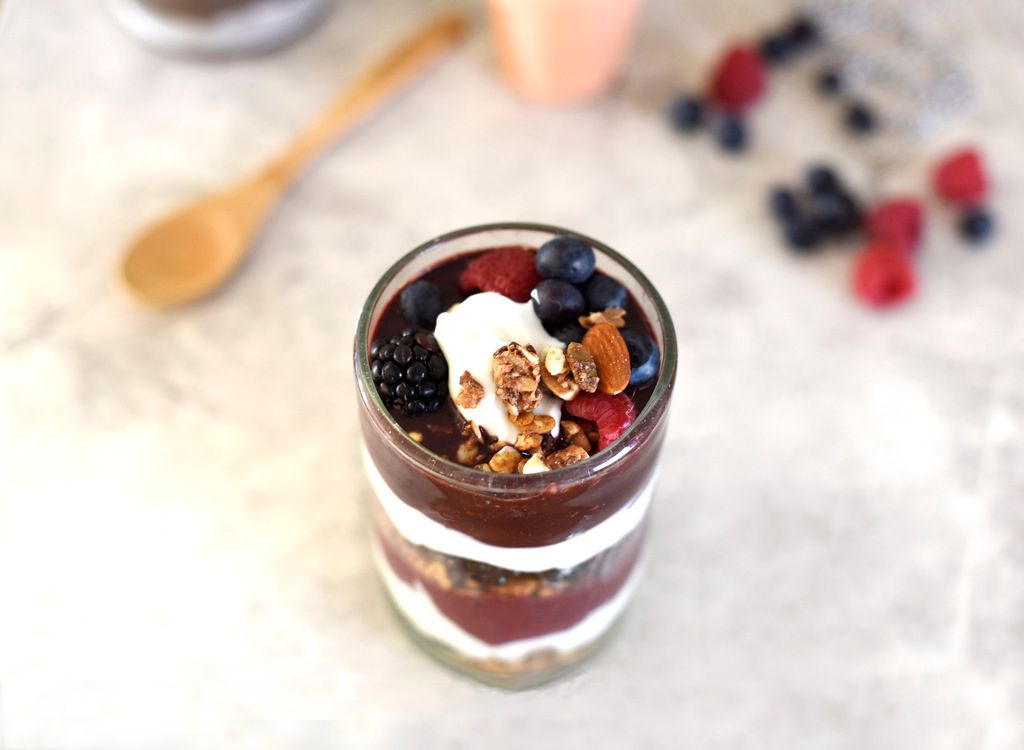 The right yogurt can be an incredibly healthy way to start the day (here are our favorite store-bought yogurts to get you started) but often our kids tend to just stare at the yogurt container or just eat half of it. If you put that container of yogurt into a bowl and set up bowls of toppings, it makes for a quick, fun yogurt parfait DIY breakfast situation. It really is one of the easiest breakfasts kids can make themselves.
Tip: Take five minutes the night before to set up sliced fruit, granola, nuts, seeds, dried fruit, or whatever else your kids like with their yogurt. Keep them out in separate containers or line them up in the fridge if you're working with fresh fruit. Then, kids will be way more inclined to make these parfaits themselves. What can we say? We all love a good food bar!
3. Breakfast Banana Split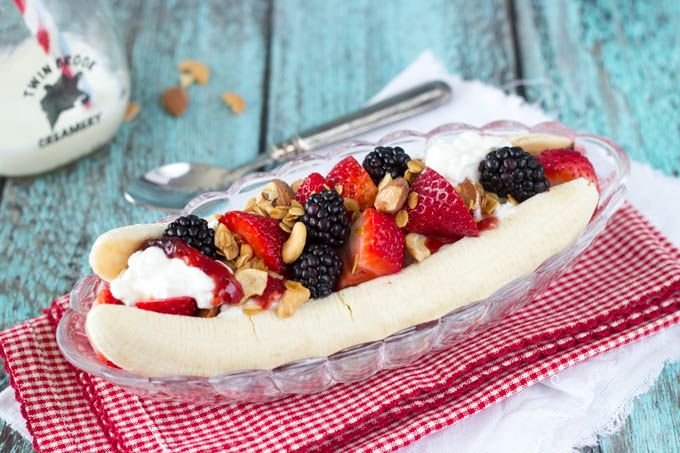 This is another great example of how far presentation goes when feeding kids: These Breakfast Banana Splits at Simple Healthy Kitchen are a major hit! Just like with the yogurt parfaits, slice berries the night before, and shake some granola into a little bowl In the morning. Then all your kids have to do is cut a banana and top as they wish.
Tip: Cottage cheese is another great source of protein, so feel free to substitute yogurt if that works better with your brood. Greek-style yogurt will pack in more protein, which is always a good way to start the day.
4. Banana Bread Muffins in a Mug
We love this recipe for Banana Bread Muffins in a Mug from Skinny Taste because not only are there only 5 ingredients, they come together in just 5 minutes. So while they are cooking your kids can fill up their water bottles. It's a great way to use up those brown bananas. It's an easy breakfast kids can make themselves — and we all know how much they love mug cakes.
Tip: For a little more protein punch, your kids can top these with almonds or granola rather than sprinkles. Although rainbow sprinkles really do make for a good start to any morning no matter how old you are.
5. Pancake Tacos
Pancake Tacos | The Starving Chef

A while back, Pancake Tacos took over social media and, while cute, we all thought: There's no way that I'm going to take time to make pancakes and then take even more time to turn them into tacos. But now that our kids are making breakfast themselves, pancake tacos are on!
When making pancakes on the weekend, you can totally double batches to keep extra on hand in the freezer. Then, kids just toast (or microwave) to defrost and pile fruit in the middle. Check out the recipe for Fruit-Filled Pancake Tacos at The Starving Chef which is a fantastic place to start. She has really creative ideas for toppings. Or, fillings. And hey, there is nothing wrong all with picking up a box of pre-made frozen pancakes if that works for you.
Tip:  To bring in more healthful ingredients, let kids spread the pancakes with yogurt or applesauce before topping with fruit. Or hey, just drizzle with maple syrup for a treat.
6. Smoothies Made Easy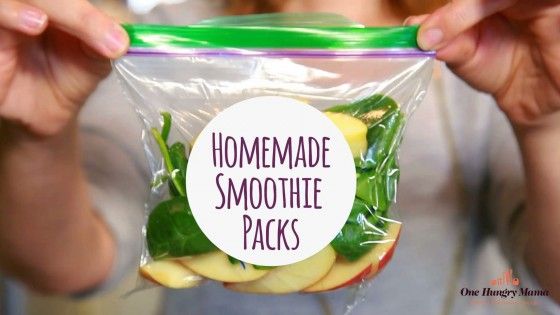 via One Hungry Mama
When thoughtfully mixed, smoothies are a great way to start the day and a super easy breakfast kids can make themselves. There are just a couple of challenges, though: One is that thoughtfully mixed is not always so easy; blending up a well-balanced smoothie and making sure it's sweet without tons of added refined sugar can require a whole lot of ingredients.
Which brings me to challenge number two: measuring and chopping a million different ingredients first thing in morning.
Tip: Make-ahead smoothie packs to the rescue! You (or the kids, for that matter) can take time on the weekend to chop and measure ingredients that come together into a healthy smoothie—from fruit to veggies and coconut oil to chia seeds—then add to baggies that can be stored in the freezer.
On busy weekday mornings, all your child has to do is dump the contents of one baggie into the blender, add liquid, and blitz.
7. A Three-Minute Microwave Omelette (really)
If this recipe had you at 3-minutes, join the club! What a revelation that you can cook tasty eggs in the microwave. This 3-Minute Microwave Omelette recipe from One Sweet Appetite is a welcome change-up from hard boiled eggs and they don't require the kids to work the stove in the morning. Because groggy kids and an open flame don't mix.
Tip: As with the yogurt parfaits above, help make these easier by prepping just a few mix-ins the night before these are on the kids' breakfast menu. It really makes a huge difference. (Why is it that dicing ham or chopping spinach just feels like sooooo much more drudgery before 8 a.m.?)
8. Toast with Healthy Toppings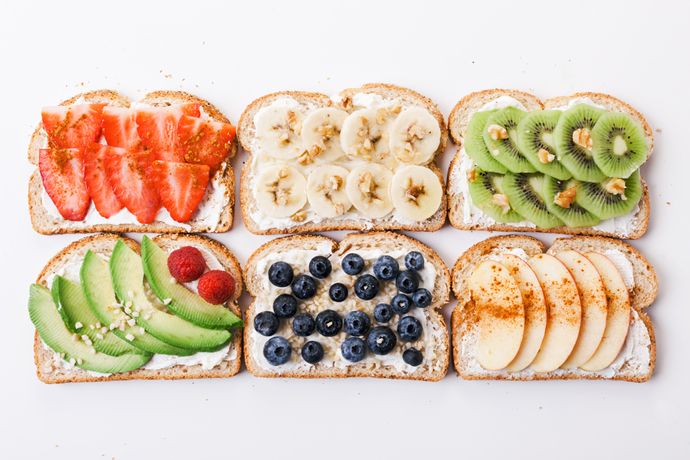 Breakfast Toasts | Hot Beauty Health
Toast is an obvious choice for an easy breakfast kids can make themselves on busy mornings, especially on those days when the kids have to eat on the go. But bread and butter alone don't make for the best first meal of the day. We've shared five healthy ways to top toast, from sweet to savory, including some of the smart ideas shown here from Hot Beauty Health. Check out the site to find just what goes into each of the fabulous topping ideas shown above.
Tip: With this one, kids really just have to toast, slice, and spread—and we just have to make sure that they have their favorite toppings on hand. Set out the ingredients on the counter in the morning, whether it's an avocado (fresh or pre-packaged) or a banana, right next to the multigrain bread. This helps remind them to grab an option other than just butter. Sometimes just putting stuff at eye-level for a kid makes a huge difference.
9. Healthy Breakfast Balls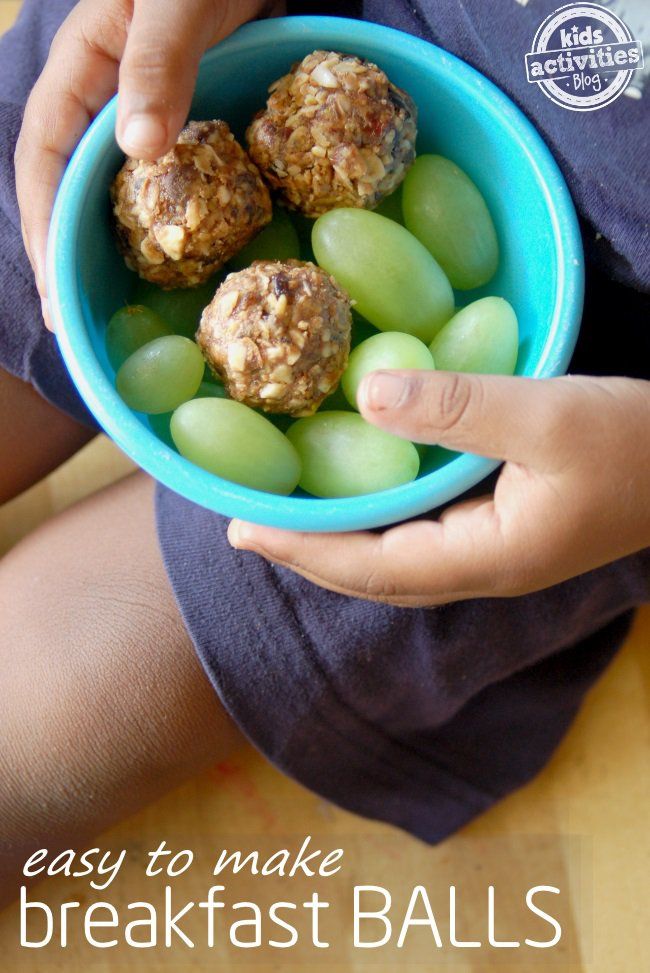 These are a make-ahead breakfast for sure, but if you can lure the kids into the kitchen over the weekend, they can easily whip up a batch of these Healthy Breakfast Balls from Kids Activities Blog so they'll be ready to grab for a healthy breakfast on the run. These taste a lot like PB&J, but you can always change up the recipe. That's the beauty of these: They are endlessly adaptable. We also add a little bit of coconut oil and lots of flax and chia seeds to ours, because why not.
Tip: Once made, these can be stored in the fridge for a week. Then you've got a breakfast that's perfectly well-rounded, paired with nothing more than a banana or your kids' own favorite grab-and-go fruit. This makes these especially great for kids who are always late for that darn bus.