My favorite part of any holiday is the food, and Mother's Day and Father's Day are no exception, so you can see why I'm so taken with food bar ideas. I mean, hat I want most this year (especially this year!) is to sit around the table with family eating and laughing.
One of my new favorite ways to make everybody happy, including me, the cook, is to set up one of these easy food bars. Because I don't want to be rushing around the kitchen, stressing about cooking, and missing all the good conversation. And I really, really don't want my kids to whine about the food either.
We have so many food bar ideas for you to make it easy to plan and set up, even at the last minute, since it can be put together from either homemade food bar goodies or store bought food; a combination works, too!
Food bars also work for breakfast, lunch, or dinner, so you can make one of these for any kind of entertaining, no matter what day — or what time of day — you're celebrating.
It's really as simple as preparing a "base," setting out toppings in bowls, then letting everyone make their own meal just the way they like it. Whoo!
Updated for 2021
This post contains affiliate links, and sales may generate a small commission to help support our work at no additional cost to you. 
Related: 9 impressive appetizer ideas for summer parties that can make a whole meal
French Toast Food Bar Ideas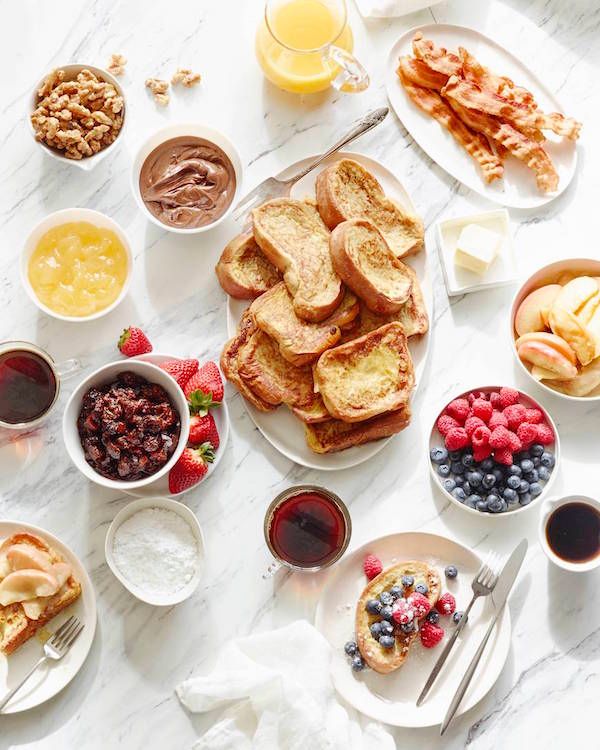 It's kind of cliche, but I do love brunch for Mother's Day. Or any day. To put a fun twist on it, set up a French toast bar with these food bar ideas from What's Gaby Cooking and it's a crowd-pleaser.
While you're making the French toast — maybe this Baked Blueberry Lemon French Toast at Damn Delicious that can be made ahead — you can have the kids fill bowls with toppings. I'm dying over Gaby's Nutella and lemon curd topping ideas. (Not together.) My kids would request chocolate chips, coconut, sliced bananas, peanut butter, or ricotta cheese.
Add a side of maple-glazed bacon, or even the regular stuff, but make it easy on yourself by cooking it in the oven at 375 degrees for 10 minutes. So much better than standing over a frying pan of hot grease when you have a crowd.
Oh, and it also works great for pancakes or waffles.
And psst…if you're eating outdoors, which makes food bar clean-up even easier, check out these lovely modern melamine serving trays we found on sale right now. Food always looks better on simple, solid dishwater, I think.
Related: 6 easy Father's Day treats kids can help make, from sweet to savory
Bruschetta or Crostini Food Bar Ideas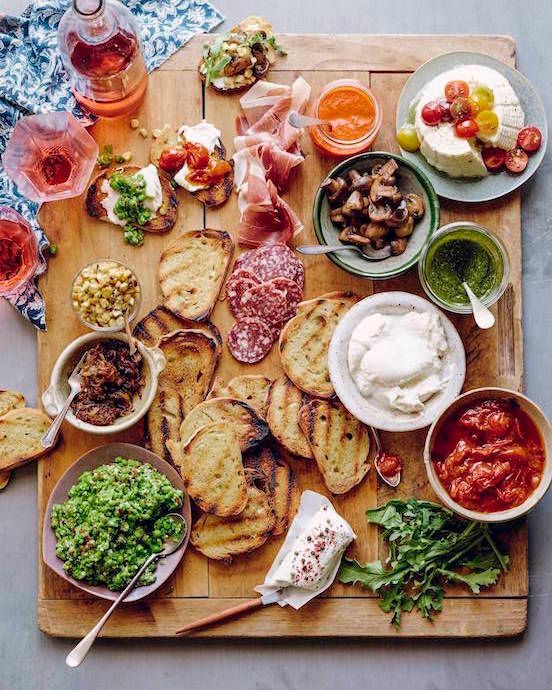 If you're going for a savory meal with your food bar, set up a bruschetta appetizer bar for your guests, like this beautiful spread from What's Gaby Cooking — clearly one of our go-to sites for clever cooking ideas of all kinds. In fact, she even has her own Fire Roasted Bloody Mary Mix exclusively at Williams-Sonoma now. How's that for a perfect brunch accompaniment? With our without vodka, of course.
If you're not craving Italian flavors, you can let everyone choose their own toppings by putting together an easy crostini bar like the one from Honestly Yum.  We love the range of suggestions for sweet to savory toppings  — think about pesto, hard-boiled eggs, cucumbers and dill for the savory, and simple strawberries or crushed nuts and honey over the ricotta for sweet. This is one food bar that's sure to keep all guests nibbling while they wait for the main course, or make enough to call it lunch. Works for me!
Then pop them all on a big charcuterie board, or even a whole bunch of unbreakable outdoor serving platters. We also love this gorgeous serving tray spotted at West Elm, which happens to be perfect for Mother's Day breakfast in bed (hint) too.
One of our top food bar ideas whether you're doing bruschetta or anything, really: you can swap in store-bought ingredients any time to make this even easier.
Related: The best boards for charcuterie boards (like, the actual boards)
Taco Bar Food Bar Ideas

I love quiche as much as anyone, but there's no reason why Mom can't crave a taco bar from Wicked Tacos for Mother's Day, above [note: site is no longer up, sniff ] — and don't forget one of these amazing margarita recipes.
There are so many easy taco bar fillings that can be pulled together with minimal effort, as you can see above: Grilled shrimp takes no time, seasoned beef can be made ahead, and verde chicken is as easy as mixing rotisserie chicken with your favorite green salsa.
Want a vegetarian option? Try pinto beans, which come together in a snap. Lots of salsas and sauces are a good idea, too. You can get store bought or try my current favorite: ranch dressing with a handful of cilantro and some jalapeños in the blender. Yum!
To make it more fun, check out the cool taco holders we found. They're affordable and so cute — the kids will love them.
Related: 7 totally delicious and easy-to-make breakfast taco recipes to spice up your morning routine.
Dessert Bar Ideas. (Couldn't forget dessert!)

Here's possibly our favorite food bar tip of all: Dessert bars are not just for weddings!
To make a fun, easy dessert bar, whip up some panna cotta like this gorgeous recipe from Food 52. Alternately try one of our favorite simple pudding recipes (which the kids will love!) and let them chill in individual jars. (If you don't have time for all this, you can always buy pudding at the store, of course.)
We also love how they serve them in these mini glass seal jars, which of course are reusable forever.  Or use this as an excuse to stock up on 4 oz mason jars, which are right-sized for little desserts.
When it's time for dessert, set out different toppings, from chocolate sauce to fresh berries with herbs, and people can top their own. It's a light finish that is still incredibly delicious. And so, so easy.
Of course, there's always a DIY ice cream sundae bar (you can make your own chocolate shell!), a cheesecake bar, make-your-own cookie-ice cream sandwiches…get creative and then even a simple brunch can end with a big finish.
Related: 5 beautiful and easy Mother's Day cakes the kids can make themselves (almost)
Mimosa Bar or Easy Beverage Bar Ideas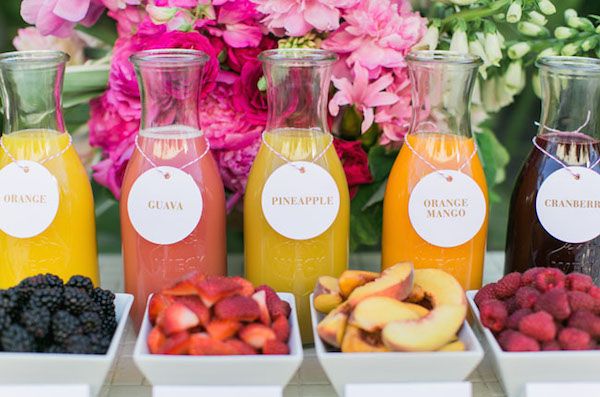 Mother's Day is a pretty good excuse to put together beverages with more flavor, and of course, mimosas kind of scream Mother's Day. So I like the idea for a DIY mimosa bar, like this pretty one with fresh fruit garnishes at Green Wedding Shoes. Isn't that clever? Just set out a bottle of Sprite or Ginger Ale for those who those who aren't partaking in alcohol.
A set of glass carafes like these are pretty affordable, and you'll use them forever too.
Of course, you could also try an iced tea bar with fruit juices and garnishes — raspberry syrup, mint, sliced citrus, grenadine, infused simple syrups. Get creative! My favorite is  tea with orange and pineapple juice and a bit of ginger ale.
Casamigos Cocktail Mixer Trio. Yum!
Or make it easy by setting out a bunch of ready-made cocktail mixes, and then say, vodka or Prosecco — whatever goes with them. People can fix their drinks how they like, or stick with cocktails.
An important note about food bars: Please, please, please mamas, do not stress about your food bar looking as picture-perfect as these do. Mother's Day is about celebrating our mothers, and mothers celebrating motherhood, not being queen of Instagram. That said, if you mix-and-match your dishes, add natural touches to the table like a wooden cutting board, a wooden spoon, or some craft paper, and make your textures interesting with pretty dish towels or cloth napkins, you can wow your guests without a lot of effort.
Have fun, relax, and enjoy your day with your family. You deserve it!