Unless you're vegetarian, it's hard to resist a big, juicy steak every once and a while. I'm not a huge meat eater myself—I only eat red meat several times a month—so when I do, I want it to be good. Really good. A tender steak with a crispy, flavorful exterior always hits the spot. It took some trial and error, but learning how to cook steak perfectly has been one of my best kitchen moves.
Top: Grilled Skirt Steak with Tomato Salad at What's Gaby Cooking | Filet Mignon with Porcini Mushroom Compound Butter at FoodieCrush
Updated for 2022
Related: 7 amazing burger recipes to up your burger game

It took me years to learn how to select and cook steak perfectly. I used to buy pre-packaged meat from the supermarket refrigerator case until, one day, I started chatting with the butcher. Being a midwestern gal, I asked the difference between a NY Strip, Strip Steak, and Shell Steak (they're the same). He then said, "Let me cut you something a little special." That day changed everything for me, but what if a butcher is nowhere to be found? Short List magazine has the ultimate steak manual, a wonderfully comprehensive guide that'll have you up to speed in no time.
Once you're familiar with the different cuts of beef, you have to learn how to cook them. If it's a tender, tasty cut, fast with high heat is usually best. Below are five of my favorite recipes broken out by cut.
Strip Steak
Cooking a perfect New York Strip Steak at home is really not very difficult, but you will want to use your cast iron skillet to get that perfect sear. This simple recipe for the Perfect New York Strip Steak at Healthy Recipes lays out six simple steps – just make sure you get that skillet really hot! And if you are in the market for a new cast iron skillet check out this Lodge Sugar Skull Skillet from our affiliate Williams Sonoma – it's amazing (and also, you will want to grab this Lodge Cast Iron Care Kit for that new cast iron skillet).
Related: Our picks for must-have grilling tools

Filet Mignon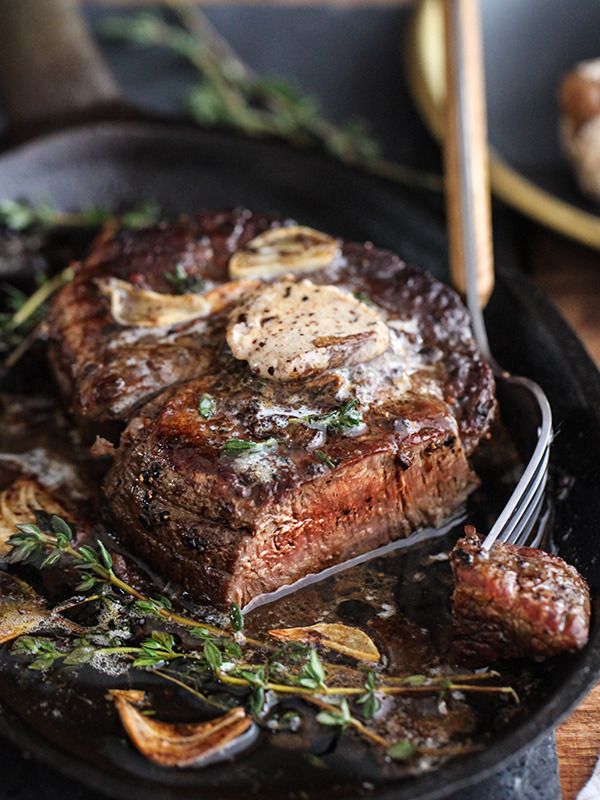 Once you've mastered the simple seared steak, it's time to make that steak sizzle with extra flavor. Heidi at FoodieCrush makes a Filet Mignon with Porcini Mushroom Compound Butter that's particularly decadent and perfect for Father's Day. And, by the way, butter isn't just gilding the lily: Tenderloin (aka filet mignon) isn't marbled with fat like other cuts and needs butter. Yes, needs.
Skirt Steak

I absolutely love skirt steak and have wondered why it has such a bad rap. I think that maybe it gets confused with its tougher cousin, flank steak. If cooked quickly to rare or medium-rare, though, skirt steak's texture is tender and flavor deliciously beefy. Try this super easy and summery Grilled Skirt Steak with Tomato Salad at What's Gaby Cooking and you'll see.
Flank Steak

Though flank steak isn't the most tender cut, be sure not to dismiss it altogether. Because it's a less expensive cut, flank steak is great for when you're feeding a big group and these Flank Steak Tacos at Not Without Salt are my favorite way to do that. Tacos are always fun, the steak cooks quick and easy, and taco fixin's help the meal go far.
Related: The best classic guacamole recipe


This recipe for Thai Steak Salad at Half Baked Harvest also uses flank steak, but this time it's marinated which gives it great flavor and tenderizes it. This colorful salad, with kale, carrots, mango, and more, is as enticing as the steak itself. You'll be getting a huge hit of protein, fiber, and phytonutrients with this flavorful one-bowl meal and nobody will be the wiser.