I love a classic guacamole recipe, a tropical one with pineapple or mango, and — my favorite — guacamole with smoky chipotles and gobs of shredded sharp cheddar. You kind of can't go wrong when you mix a perfectly ripe avocado with lime juice, salt and, well, anything else. In fact, if you ask me, guacamole should be its own food group.
With little more introduction needed, I present my best classic guacamole recipe, reproduced from my cookbook Make It Easy. -Stacie
(This article is adapted from a previous version. Because Cinco de Mayo is coming!)
Related: 12 unexpected ways to eat avocado that kids will love.
The Best Classic Guacamole Recipe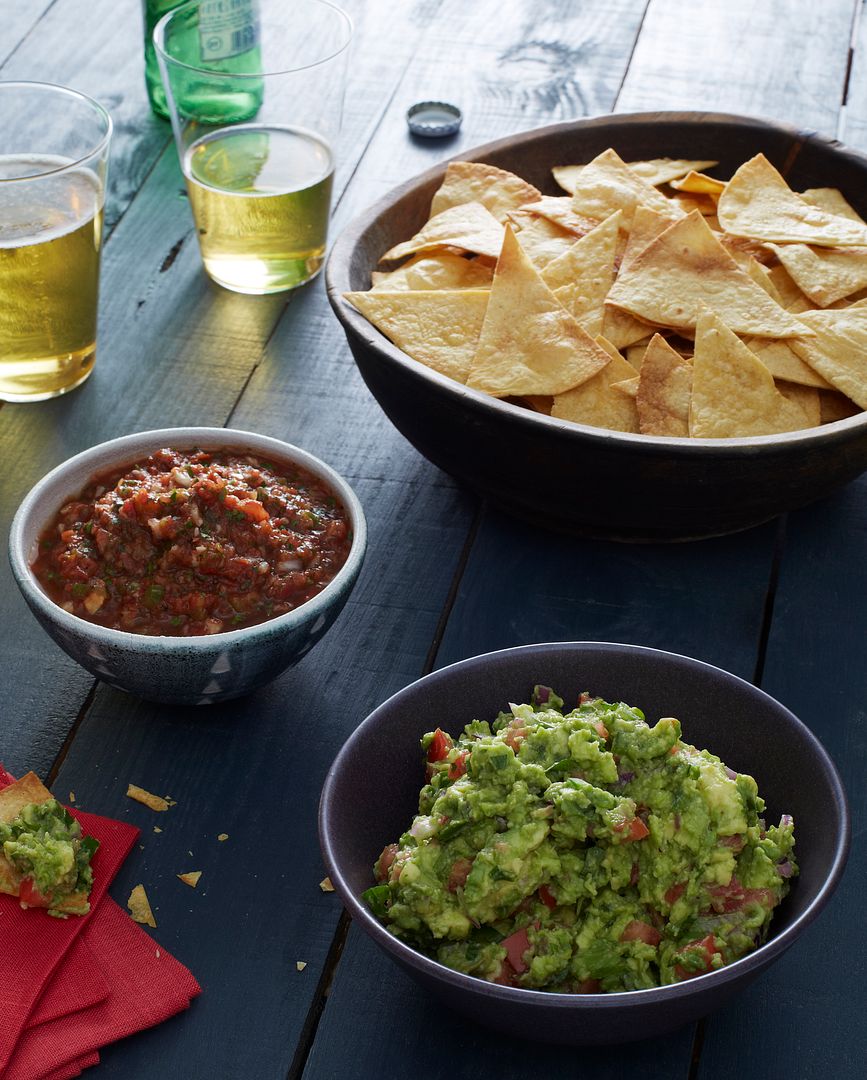 Photo :Naomi McColloch for Make It Easy
Recipe from Make It Easy: 120 Mix-and-Match Recipes to Cook From Scratch–with Smart Store-Bought Shortcuts When You Need Them

(serves 4 as a dip, 8 as a fixing for a meal)
2 ripe avocados
1/2 cup seeded, chopped fresh tomato (from about 1 small to medium-size tomato)
1/4 cup finely chopped red onion (from about 1/2 small onion)
1/4 cup freshly squeezed lime juice (from about 2 juicy limes)
2 tablespoons chopped fresh cilantro
1 tablespoon finely chopped and seeded fresh jalapeno pepper, plus more to taste (optional)
1 teaspoon salt, plus more to taste.
1. Halve the avocados and remove the pit. Scoop out of the skin and roughly cut into 1- to 2-inch pieces. Place in a bowl and mash with a fork.
2. Add all the other ingredients and continue to mash until the mixture reaches your desired consistency. Season with more salt to taste, if desired. Serve immediately…or use the trick above to store for up to 3 days in the refrigerator.
Related: How to keep guacamole from browning: The one (and only!) foolproof method that passed our test.
Even Easier Guacamole:
The "I Have Nothing in my Fridge" 3-Ingredient Guacamole, No Measuring Required
Hey, it's Liz here now!
I looooove guac as much as Stacie does. And having enjoyed her classic guacamole recipe many times — made by Stacie, no less — I can assure you it's fantastic as promised.
However, as someone who does not even have the energy to dice a few veggies some nights, I offer up this can't-fail, super shortcut, easiest guacamole recipe ever.
I make it all the time, and people ask, "what do you use?"
The answer: Just 3 ingredients, provided they're fresh and very good quality.
Besides, parents, the kids may be more likely to eat guac if it has less "stuff" in it, and that's a win for me.
Image by Charles ?? on Unsplash
2 ripe avocados
Freshly squeezed lemon juice to taste (from 1-2 lemons depending on preference)
Salt to taste
1. Halve the avocados and remove the pit. Scoop out of the skin, place in a bowl and mash with the back side of a fork. No need to dice first.
2. Squeeze in lemon to taste — I start with a half a lemon then add more from there. Season with salt to taste, and continue to mash until the mixture reaches your desired consistency.
3. Eat right out of the bowl with chips or veggies, or spread over toast. Feel proud you made something homemade and healthy and that it took about 3 minutes, tops, and you never have to clean a single measuring cup or spoon.
If you have leftovers for some crazy reason,  sure to check out Stacie's video on her favorite fooolproof method to keep guacamole from browning.